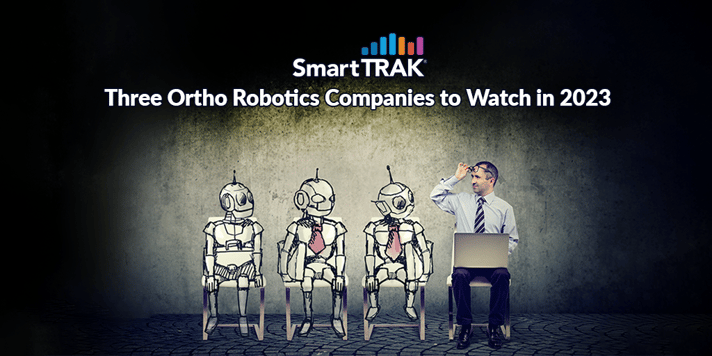 SmartTRAK identifies three orthopedic robotics companies strategically positioned to shake things up this year in the fast-growing robotic-assisted TJA market.
SmartTRAK projects robotic-assisted total knee arthroplasties (TKAs) will account for 48.5% of all US TKAs and 79.6% of all US robotic-assisted joint replacements by 2026E. This growth of robotic-assisted ortho procedures and ongoing adoption of enabling tech continues to drive the US ortho robotics market. In this Market Outlook Article, SmartTRAK identifies and analyzes three robotics companies that may shake things up in 2023 and beyond. They are:
Stryker: Racing Towards New Indications in 2023

On the heels of a record-breaking quarter in Q422 in terms of

MAKO

installations in the US and internationally, market-leader

Stryker (SYK) announced in its Q422 earnings call highly-anticipated timelines for the Company's plans to launch ...


THINK Surgical: Pursuing Two New Robots in 2023

THINK Surgical has a different approach compared to most robotics competitors. The Company focuses on providing robotic systems for joint replacement surgery, with an open implant library as an alternative to closed systems limited to a single manufacturer's implants. At the Canaccord Genuity Healthcare Conference in 2022, the Company revealed plans to ...


Globus Medical: Bringing Knee Enabling Tech to Market in 2023

Since

Globus Medical (GMED) acquired Stelkast in 2019 as a foundation for expanding into the total joint market, an orthopedic robotic system from the Company has been looming on the horizon. In the last two years, GMED has been consistently submitting intellectual property applications related to ...

To read the complete "Three Ortho Robotics Companies to Watch in 2023" Market Outlook article by By Shelly Caruso, SmartTRAK's Market Analyst/Medical Writer, Just click the button below.
---
SmartTRAK is the Medtech industry's only global Insights-as-a-Service solution for the Orthopedics, Wound Care, Regenerative Medicine and Neuro Therapy markets. SmartTRAK's propriety methodology turns disparate data from hundreds of sources into powerful insights customers can rely on as the trusted source for strategic decision-making. The SmartTRAK enterprise platform includes rich daily updates, comprehensive market coverage and simple-to-use tools and dashboards for market, product and financial analysis. Customers leveraging the SmartTRAK platform also have direct access to market experts for inquiries and advisory services. If you would like a demo of what SmartTRAK has to offer and see how we can help increase proficiency, improve productivity and reduce costs for your company, just click here.