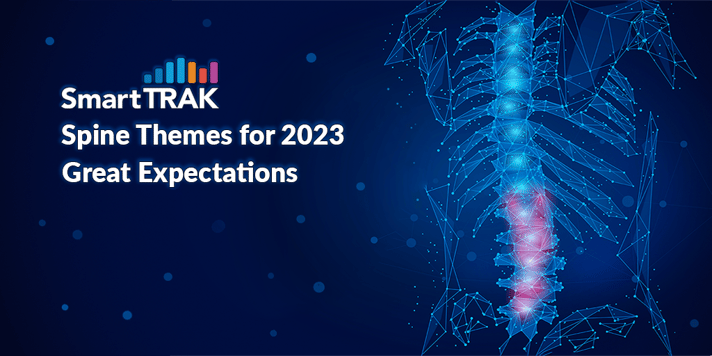 For FY23, SmartTRAK expects to see M&A activity create both opportunities and challenges, the impact of positive swings in reimbursement furthering growth in SI joint fusion and disc replacement and for ongoing hospital limitations and the persistent adoption of MIS techniques to perpetuate the movement of spine cases to the ASC environment.
SmartTRAK expects to see several trends evolve in the spine market in 2023, shaped by current events and changing market dynamics in recent years. Over the past several years, organizational consolidation has continued as the market demanded scale to compete. An evolution in innovation and advancements in surgical techniques continues to push categorical growth in minimally invasive surgery (MIS) and other procedures that lean on technology to maximize surgical efficiencies for both patients and surgeons.
In this comprehensive Market Outlook article, SmartTRAK examines, in detail, the following issues confronting the Spine market in the year ahead:
Corporate Consolidation Activity is Creating both Opportunities and Headwinds

Two important mergers transpired last year which will undoubtedly cause major market disruption in 2023: Orthofix/SeaSpine and Globus/NuVasive. For both deals, SmartTRAK expects to see ...



An Evolving Reimbursement Landscape is Driving Continued Growth in SI Joint fusion and Disc Replacement

There continue to be two spine procedures commanding attention for similar reasons. Historically, sacroiliac joint (SIJ) fusion and total disc replacement (TDR) have been simple and innovative solutions with limited clinical data available, both plagued with reimbursement challenges. The demand for both has been growing for years ...



Ongoing Hospital Constraints and Continued Adoption of MIS Techniques Further Procedural Migration to ASCs

The macroeconomic climate has caused systemic budget cutting and restructuring in healthcare, which has challenged staffing abilities in already overburdened facilities. Hospital executives' demand for efficiency and optimization often put surgeons in a position of ...
To read the complete "Spine Themes for 2023: Great Expectations" Market Outlook article by Courtney Sheedy, SmartTRAK's General Manager, Spine, Just click the button below.
---
SmartTRAK

is the Medtech industry's only global Insights-as-a-Service solution for the Orthopedics, Wound Care, Regenerative Medicine and Neuro Therapy markets. SmartTRAK's propriety methodology turns disparate data from hundreds of sources into powerful insights customers can rely on as the trusted source for strategic decision-making. The SmartTRAK enterprise platform includes rich daily updates, comprehensive market coverage and simple-to-use tools and dashboards for market, product and financial analysis. Customers leveraging the SmartTRAK platform also have direct access to market experts for inquiries and advisory services. If you would like a demo of what SmartTRAK has to offer and see how we can help increase proficiency, improve productivity and reduce costs for your company, just click here

.