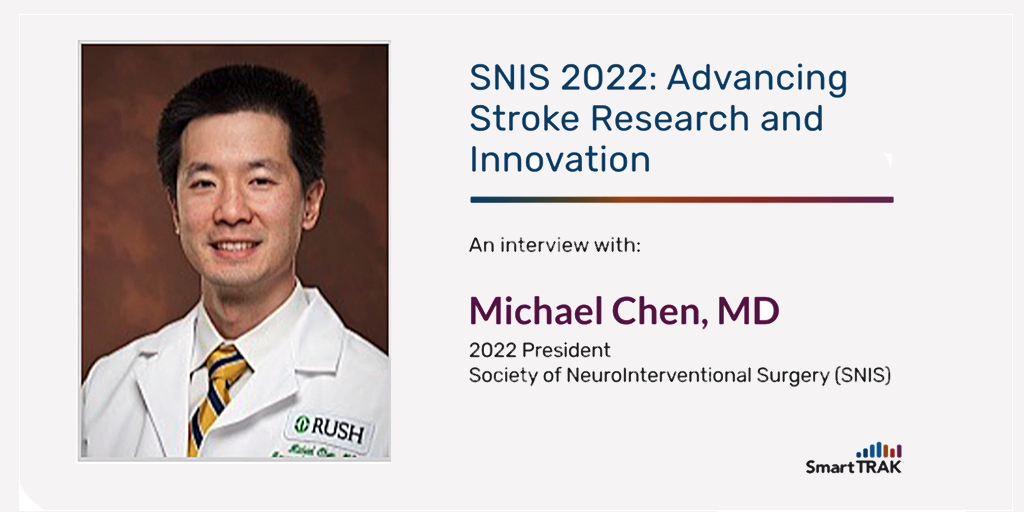 SNIS President Michael Chen, MD discusses advancing stroke research and innovation in an interview with SmartTRAK at SNIS 2022.

Michael Chen, MD, the 2022 President of the Society of Neurointerventional Surgery (SNIS) and a neurointerventionalist at Rush University Medical Center in Chicago, discusses advances in stroke care research and innovation in an interview with

SmartTRAK

at the SNIS 19th Annual meeting held in Toronto, Ontario, Canada July 25-29, 2022.



To find out more about emerging devices for the treatment of hemorrhagic and acute ischemic stroke, advancing the stroke systems of care, physician practice trends and how manufacturers can further innovate to improve care, click on the following video to listen to the interview (23:47 min). A link to download the complete transcript of the interview is also provided below.
SmartTRAK: Anne Staylor here with BioMedGPS. I'm at the Society of Neurointerventional Surgery annual meeting in Toronto, and today I'm talking with SNIS President, Michael Chen, MD. Dr. Chen, thank you for talking with me today.
Michael Chen, MD: Thank you for having me today, Anne. Look forward to talking with you.

Well, this has been a great meeting so far. In terms of research, can you highlight some of the key research presented so far at the meeting?
MC: There were a surprising number of impactful research studies that were announced at this meeting. A couple of the studies that were announced involved long-term outcomes of devices that have been recently approved, including the intrasaccular flow diverters. There is also significant research reports related to newer devices, including the brain-computer interface Stentrode, which had its first in-human implant. Those results were announced at this year's meeting as well.

In terms of the intrasaccular devices, are there any particular studies you can point to?
MC: Yes. The long-term results of the intrasaccular device was specifically the WEB-IT study. It had results up to five-year outcomes. There was also a newer report of some pilot study results of the Nautilus intrasaccular neck cover device, which tries to achieve the same goal that intrasaccular flow diverters like WEB-IT does in terms of trying to achieve a high-density seal at the neck. There was also reports on outcomes of the treatment of basilar artery occlusion of a large-scale study as well as the use of intrasaccular flow disruptors from a multi-center international study, which included a much larger number of patients and reported on those outcomes as well.
Lastly, one of the additional research reports was an introduction of a novel platform that ....
To download the complete transcript of the Michael Chen, MD interview "Advancing Stroke Research and Innovation" just click the button below.
---
SmartTRAK
is a comprehensive, easy-to-use, business intelligence solution for the Life Sciences Industry that provides breaking updates on pertinent company news, potential treatments and guidance, international survey results, statistical analysis by country, studies, trial results, financial impact and more. All subscribers receive a Daily Updates email containing the latest need-to-know news curated by our expert analysts. It's the perfect way to start your day! If you would like to learn more about SmartTRAK, just click
here
.