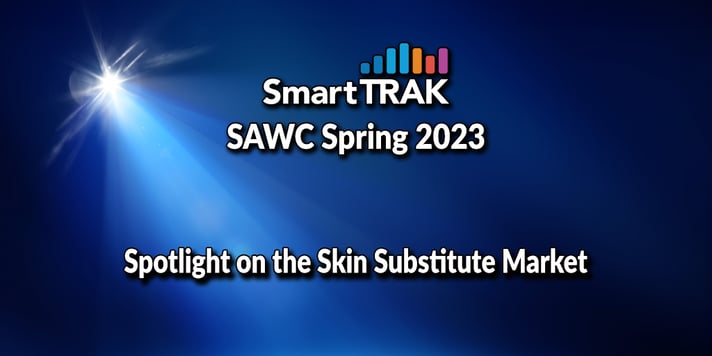 SmartTRAK highlights the latest news from SAWC Spring 2023 for the ever-changing, continually growing skin substitute/CTP segment.
The skin substitute/CTP segment has seen double-digit growth year after year. Although the category has been known as the skin substitute or CTP (cellular and/or tissue-based products) market and has been dominated in recent years with amniotic tissue and xenograft products, it has recently grown to include non-biologic or synthetic-based products such as those based on polyurethane, polylactic acid, and bioabsorbable glass. The Journal of Wound Care recently published an international consensus document on "best practice for wound repair and regeneration," with the clinical panel concluding CTPs weren't the best terminology for the category. The panel suggested a more accurate name is "cellular, acellular and matrix‑like products (CAMPs)," expanding the definition to include "A broad category of biomaterials, synthetic materials or biosynthetic matrices that support repair or regeneration of injured tissues through various mechanisms of action."
This SAWC Spring 2023 perspective article extensively covers a wide range of topics pertaining to skin substitutes and Cellular and Tissue-based Products (CTPs), offering in-depth insights and analysis, and highlights a multitude of areas for discussion. Some of the key topics explored in this article include:
CAMP Companies and Products Dominate

Spring SAWC was dominated by companies showcasing their CAMPs, with nearly 30 companies exhibiting this year. The market is currently led by ...


Reimbursement: It's Complicated

Skin substitute utilization is heavily influenced by reimbursement and setting of care. The physician office currently captures the largest share of the skin substitutes market. This is primarily driven by ...


Emerging Sites of Care

In its Site of Care module,

SmartTRAK

currently tracks the use of CTP or CAMP products in the surgical suite, HOPD, physician office, VA Health system and burn center. In discussions at SAWC,

SmartTRAK

learned

...

Future Growth

Despite reimbursement hurdles,

SmartTRAK projects strong growth for this segment in the coming years, primarily due to ...

To download and read the complete "SAWC Spring 2023: Spotlight on the Skin Substitute Market" market perspective article by Susan Paquette, SmartTRAK's VP & General Manager, Wound, just click the button below.
---
SmartTRAK is the Medtech industry's only global Insights-as-a-Service solution for the Orthopedics, Wound Care, Regenerative Medicine and Neuro Therapy markets.

SmartTRAK

's propriety methodology turns disparate data from hundreds of sources into powerful insights customers can rely on as the trusted source for strategic decision-making. The

SmartTRAK

enterprise platform includes rich daily updates, comprehensive market coverage and simple-to-use tools and dashboards for market, product and financial analysis. Customers leveraging the

SmartTRAK

platform also have direct access to market experts for inquiries and advisory services. If you would like a demo of what

SmartTRAK

has to offer and see how we can help increase proficiency, improve productivity and reduce costs for your company, just click here.