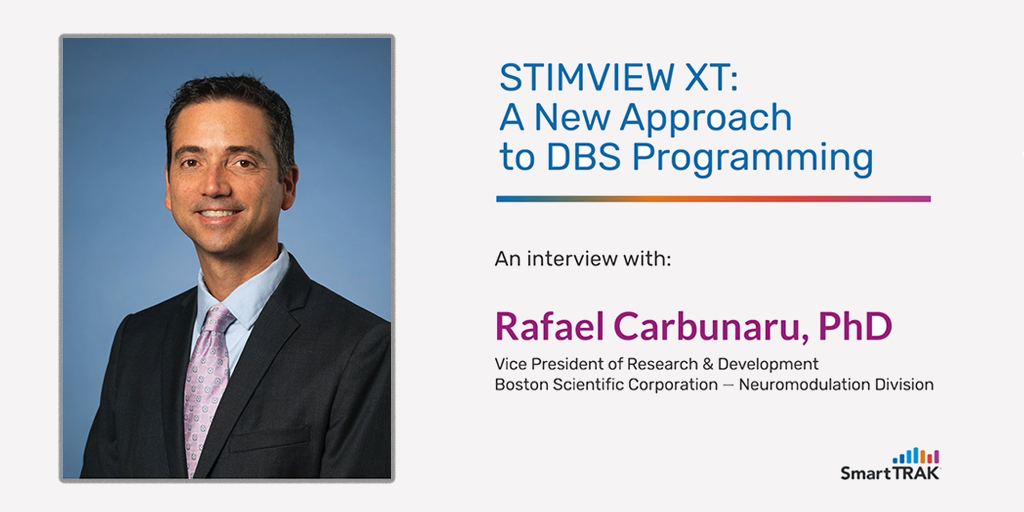 Rafael Carbunaru, PhD, Boston Scientific's VP of R&D, discusses DBS therapy and STIMVIEW XT, the Company's new advanced visualization software for DBS programming, in an in-depth interview with SmartTRAK at INS 2022
Rafael Carbunaru, PhD, vice president of research and development for Boston Scientific (BSX), discusses deep brain stimulation (DBS) and STIMVIEW XT, the Company's new advanced visualization software for DBS programming in an in-depth interview with SmartTRAK at the International Neuromodulation Society (INS) World Congress in Barcelona, Spain held May 21-26.
Used with the Vercise Genus DBS portfolio and developed in collaboration with Brainlab, STIMVIEW XT uses patient-specific 3D visualization of patient anatomy and enables clinicians to see, shape and steer DBS therapy using point-and-click interface designed to simplify programming, save time and better personalize therapy.
To find out more about STIMVIEW XT, DBS workflows and BSX's vision for DBS, click on the following video to listen to the interview recorded live at INS 2022 (45:16 min). For more details, interview topics by timecode are provided below. A link to download a complete transcript of the interview is also available below.
Interview Topics by Timecode
00:28 The current workflow in DBS procedures and why BSX designed STIMVIEW XT. Description of the technology itself, how it works and how the procedures are currently performed, including perioperative processes, workflow and programming.

09:08 Asleep and awake DBS, use of intraoperative microelectric recording (MER) and lead placement. Advantages of STIMVIEW XT, including time savings, simplified programming, improved workflow and potentially increasing access to care, etc. Potential for lead migration in DBS vs other types of neuromodulation and supplementing visual programming based on symptoms and clinical observations.

15:11 BSX's vision for AI, external closed-loop and remote programming for DBS. Use of sensing, BSX's CLOVER algorithm and challenges with existing closed-loop DBS systems.

28:51 Collaboration with Brainlab to develop STIMVIEW XT. The process of capturing images and transferring into STIMVIEW XT. Visual, point-and-click programming. Advantages vs other systems (e.g., Lead-DBS). The flexibility of programming. Outcomes and research to date on STIMVIEW XT.

39:50 How STIMVIEW XT will help drive growth for BSX DBS and expand access to care. BSX's Vision for DBS, advancing expanded indications, what's next for BSX DBS ...
To download the complete transcript of the interview with Abbott's Rafael Carbunaru, PhD, just click the button below.
---
SmartTRAK
is a comprehensive, easy-to-use, business intelligence solution for the Life Sciences Industry that provides breaking updates on pertinent company news, potential treatments and guidance, international survey results, statistical analysis by country, studies, trial results, financial impact and more. All subscribers receive a Daily Updates email containing the latest need-to-know news curated by our expert analysts. It's the perfect way to start your day! If you would like to learn more about SmartTRAK, just click
here
.