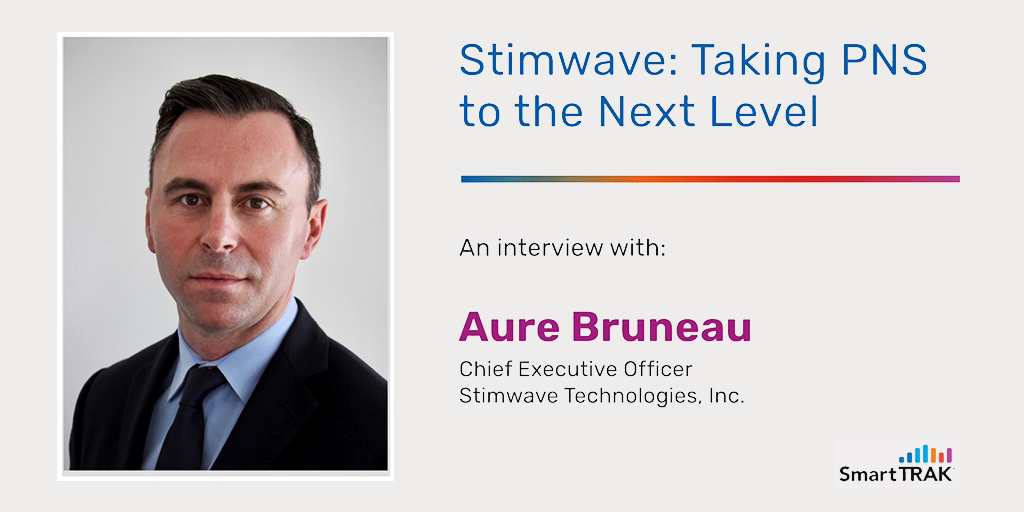 Aure Bruneau, CEO of Stimwave, discusses his vision for the Company and taking peripheral nerve stimulation to the next level in an interview with SmartTRAK
Since starting as CEO of Stimwave in April 2020, Aure Bruneau has brought a new vision, energy and focus to the Company. In the last 12 months, the former Zimmer Biomet executive has been positioning Stimwave for growth, building a high performing team and rebuilding the foundation of the Company, touching almost every aspect of the business, including regulatory, quality, manufacturing operations, marketing, IT, compliance and R&D. Strategically, Bruneau has refined the Company's spinal cord stimulation (SCS) strategy and shifted efforts toward peripheral nerve stimulation (PNS) where he believes the technology will have a more meaningful impact and a market opportunity as big as the existing SCS market. In fact, he estimates the PNS opportunity to be at least $1.5 billion to treat chronic pain just for selected musculoskeletal indications (shoulders, knees, feet, ankles and the SI joint).
Looking ahead, Stimwave is planning to launch new products and a series of clinical trials in 2021 to validate a new standard of care that will help take the Company's PNS platform to the next level and help drive future growth.
To find out more, click on the following video (26:35 min) and listen to SmartTRAK's interview with Bruneau recorded recently via Uberconference. A transcript of the complete interview is also available below.
SmartTRAK: Anne Staylor here with BioMedGPS. Today I'm talking with Aure Bruneau who is the CEO of Stimwave. Aure, thank you so much for talking with me today.
Aure Bruneau: Thanks for having me. I'm looking forward to speaking with you.

You became CEO of Stimwave in April 2020, correct?
AB: That's correct.

So you've been there about a year. And from what I understand previously, you were group president of spine, CMF, and thoracic and robotics at Zimmer and have had a lot of different roles in different medical device companies.
AB: That is correct.

So, let's just start by having you talk a little bit about yourself. What attracted you to Stimwave and what your priorities have been since you've started? I'm sure starting at the height of a pandemic was an interesting experience.
AB: Thank you for the great question and feel free to stop me anytime. What's really been fascinating for me has ...

To download a complete transcript of the "Stimwave: Taking PNS to the Next Level" interview with Aure Bruneau, CEO of Stimware Technologies, just click the button below.
---
SmartTRAK is kicking off 2021 with some exciting new product launches, including Deep Brain Stimulation. Click here to see what we have on tap in the coming months.