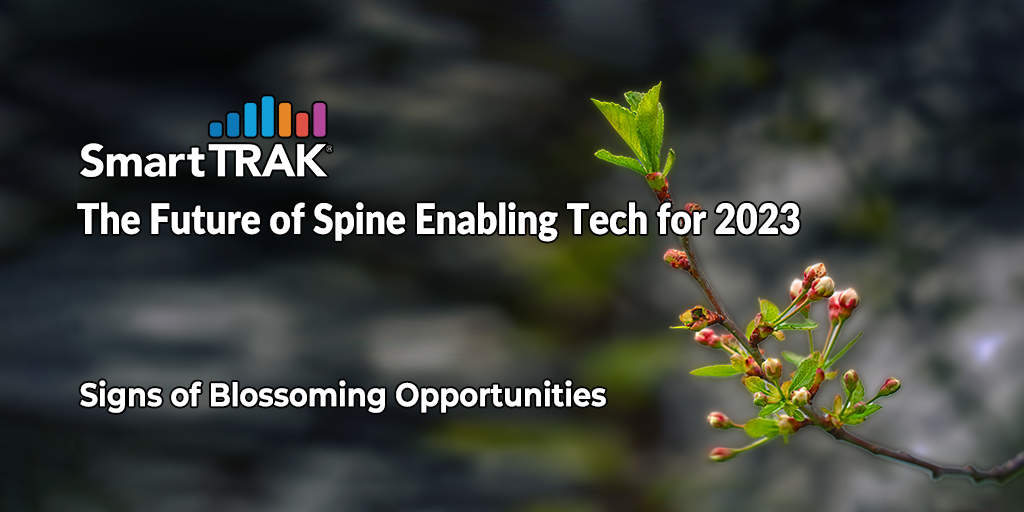 As the US Spine Enabling Technology Market shows signs of blossoming opportunity in 2023, SmartTRAK highlights three distinct trends continuing to gain traction in the coming year.
The US market for Spine Enabling Technology boasted modest YoY gains in nearly every quarter in 2022, showing signs of blossoming opportunity in 2023 as procedure volumes return to pre-pandemic levels. SmartTRAK projects the US Spine Enabling Technology Market will have a five-year CAGR of 25.1%, according to SmartTRAK Spine Enabling Tech Market Overview. Looking ahead, SmartTRAK sees three distinct trends continuing in 2023: the growing use of artificial intelligence (AI), the increasing use of "smart" innovations in robotics and the ongoing shift of spine cases to the ambulatory surgery center (ASC) setting.
Among the trends outlined and discussed in detail in this Market Outlook article are:
Trend #1: Growing Use of AI to Optimize Surgery and Predict Outcomes
It is no secret that AI is here to stay. In recent years, advances in deep learning and deep neural networks have fueled the introduction of a wave of AI and machine learning-based solutions across various medical applications. SmartTRAK reviews the development of AI in healthcare and the implementation of AI-driven imaging in orthopedics and ...
Trends #2: Increasing use of "Smart" Drilling and Haptic Feedback in Robotics. Current evidence remains unclear whether increased accuracy of implant placement associated with robotic assistance in spine surgery translates to improved patient outcomes. Nevertheless, robotic adoption is clearly increasing with market leader MDT highlighting "record-breaking quarters" in Mazor robotics for Q4FY22. SmartTRAK estimates the US Spine Robotics Market will reach ...
Trends #3: : Ongoing Shift of Non-complex Spine to ASCs. During the COVID-19 pandemic, hospital restrictions on non-urgent surgical cases prompted surgeons to take more cases to surgery centers. For a surgeon, ambulatory surgery centers (ASCs) can facilitate better economics, control and patient safety. In the pandemic aftermath, published research suggests there is a renewed focus on ...
To download and read the complete "The Future of Spine Enabling Tech for 2023" article by Shelly Caruso, SmartTRAK Market Analyst/Medical Writer, just click the button below.
---
SmartTRAK
is the Medtech industry's only global Insights-as-a-Service solution for the Orthopedics, Wound Care, Regenerative Medicine and Neuro Therapy markets.
SmartTRAK
's propriety methodology turns disparate data from hundreds of sources into powerful insights customers can rely on as the trusted source for strategic decision-making. The
SmartTRAK
enterprise platform includes rich daily updates, comprehensive market coverage and simple-to-use tools and dashboards for market, product and financial analysis. Customers leveraging the
SmartTRAK
platform also have direct access to market experts for inquiries and advisory services. If you would like a demo of what
SmartTRAK
has to offer and see how we can help increase proficiency, improve productivity and reduce costs for your company, just click
here
.