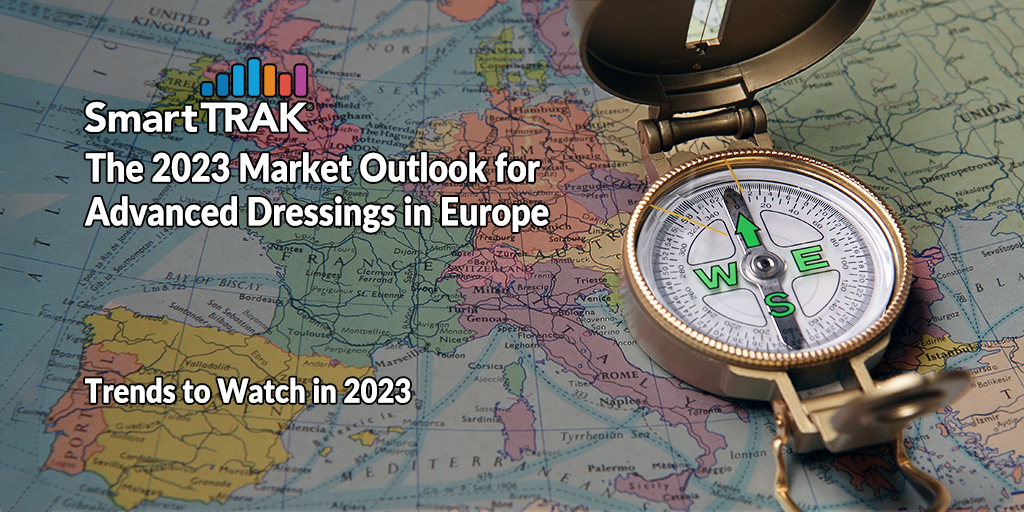 From new products to macroeconomic headwinds and some regulatory turbulence, SmartTRAK looks at trends to watch for in Europe in 2023.
The European Advanced Dressing Market is forecast to grow at a 2021-2026E CAGR of +3.2%, according to SmartTRAK estimates. The market grew +2.9% in Q322 and +4.8% YTD, impacted by strong growth in H122 (+5.8%).
Advanced Dressings is a market that is spread relatively evenly across geographies, with Europe holding a 43.9% share of the worldwide (WW) market, with the US Advanced Dressings Market at a 28.5% share and ROW 27.6%.
In this
2023 Market Outlook article
,
SmartTRAK
highlights market and regulatory factors that will affect growth in the European Advanced Dressing Market in 2023, including:
New Product Launches Coming Back
Transitioning to the

European Medical Device Regulations

Continued Macroeconomic Headwinds

in Specific Countries

The Reimbursement-Related Threat of Silver Dressings in Germany
The last couple of years has seen few major product launches worldwide. The trend of few 510(k)-cleared Advanced Dressings in the US continued throughout 2022. In 2021, there were only three dressings approved by the US FDA. In 2022, there were seven dressings cleared. UK-based Advanced Medical Solutions (AMS) had one dressing approved in 2021 and one in 2022. Resource-demanding MDR preparations and the COVID-19 pandemic were the main reasons behind this slow trend in new product launches in Europe.
SmartTRAK believes 2023 will be the turning point as prominent manufacturers have presented several dressings launches. From a US perspective, FDA has already approved ...
To download and read the complete "The 2023 Market Outlook for Advanced Dressings in Europe" article by SmartTRAK's Lennart Stadler GM, Europe & Senior Analyst, Wound and Anikó Szekér, Senior Analyst, Wound, just click the button below.
---
SmartTRAK
is the Medtech industry's only global Insights-as-a-Service solution for the Orthopedics, Wound Care, Regenerative Medicine and Neuro Therapy markets. SmartTRAK's propriety methodology turns disparate data from hundreds of sources into powerful insights customers can rely on as the trusted source for strategic decision-making. The SmartTRAK enterprise platform includes rich daily updates, comprehensive market coverage and simple-to-use tools and dashboards for market, product and financial analysis. Customers leveraging the SmartTRAK platform also have direct access to market experts for inquiries and advisory services. If you would like a demo of what SmartTRAK has to offer and see how we can help increase proficiency, improve productivity and reduce costs for your company, just click here.