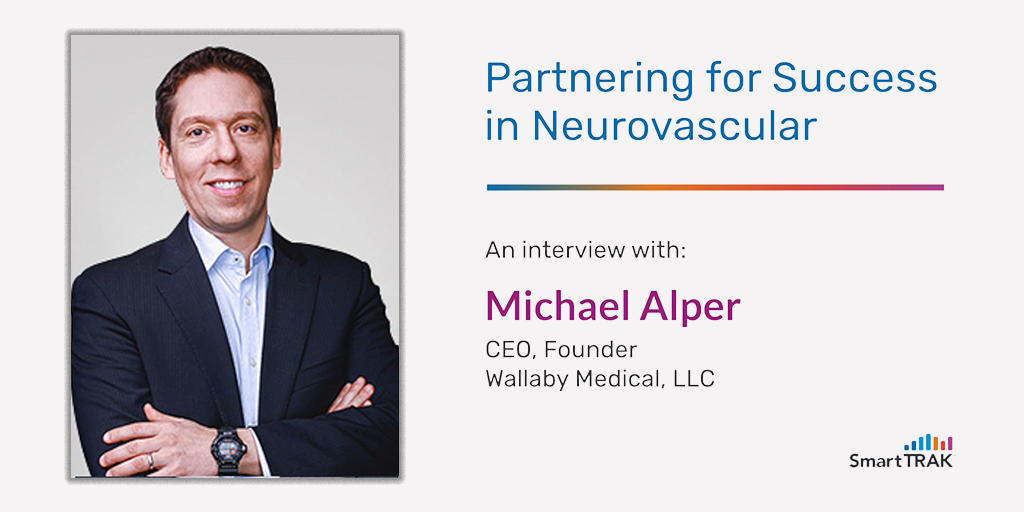 Wallaby Medical CEO and founder Michael Alper discusses the Company's recent acquisition of phenox GmBH and positioning the Company for success in an interview with SmartTRAK
With no overlap from a product or geographic perspective, Wallaby Medical's recent acquisition of phenox GmBH was a "match made in heaven" according to Wallaby's CEO and founder Michael Alper. In an interview with SmartTRAK, Alper discusses the acquisition, company synergies, complementary channels and the Company's strategies for global expansion and becoming a leader in the market for neurovascular intervention.
To find out more, including details about the acquisition, the Company and its key products and markets, click on the following video to listen to the interview recorded via Zoom (21:07 min). A link to download the complete transcript of the interview is also provided below.
SmartTRAK: Hi, I'm Anne Staylor, executive editor for BioMedGPS. Today, I'm talking with Wallaby Medical founder and CEO, Michael Alper. Michael, thank you for talking with me today.
Michael Alper: Thank you, Anne.

Wallaby Medical had some big news recently with the acquisition of phenox GmBH. But before we dive into that news, I'd like to learn a little bit about you and your company. Can you discuss your background and how you became the CEO of Wallaby Medical?

MA: First of all, I'm originally from Flushing, New York. I had studied computer science, undergrad, worked for software for a few years and then went back to business school to do my MBA. While I was actually doing my MBA, I decided that I wanted to change industries. I really like technology, but I really wanted to do something that helps people fundamentally and health was really what I was looking at. And out of business school, I joined Medtronic. I worked there for a number of years. They sent me to Japan and China, where I wanted to be because I really like Asian cultures. Then I left Medtronic in 2010 to start doing consulting. I did consulting in the medical device space, really focused on China. At the end of 2013, a college classmate who was actually at one of the top neuro companies at that time doing marketing, introduced me to the incidence issue among East Asian people. Specifically, we were talking about hemorrhagic stroke in Japan, but actually as it turns out, the incidence issue is not just hemorrhagic stroke, but ischemic stroke as well. So when I learned that there was this huge incidence, very high incidence of stroke among East Asian people, I had a business partner that I was working with named Bing. who had a lot of experience and a lot of personal relationships in this area. It made a lot of sense. I think a lot of it was just these huge incidences and in my position I could really help out in this area. So at first we started to look for opportunities to bring in different kinds of technologies for treating stroke into China. We approached a few different companies. It didn't work out. So we decided, 'Okay, well we're just going to start our own company.' And then ...

To download and read the complete transcript of "Partnering for Success in Neurovascular" interview with Wallaby Medical's Michael Alper, please click the button below.
---
SmartTRAK is a comprehensive, easy-to-use, business intelligence solution for the Life Sciences Industry that provides breaking updates on pertinent company news, potential treatments and guidance, international survey results, statistical analysis by country, studies, trial results, financial impact and more. All subscribers receive a Daily Updates email containing the latest need-to-know news curated by our expert analysts. It's the perfect way to start your day! If you would like to learn more about SmartTRAK, just click here.