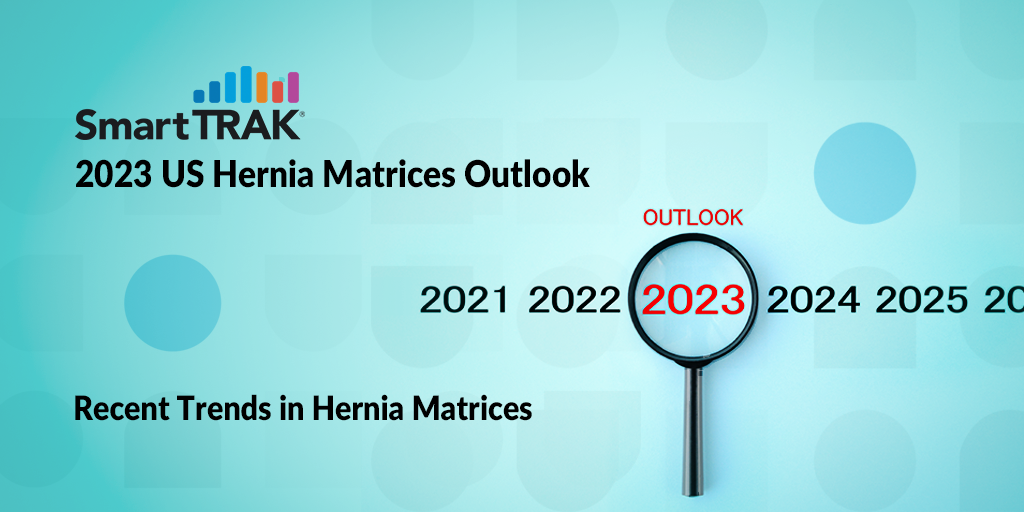 SmartTRAK reviews recent trends in hernia matrices and their potential impact on the US Hernia Matrices Market, which is projected to reach $1.06B in 2023 according to SmartTRAK.
Incisional hernia procedures reached a peak in the mid-2000s, with a gradual decline as surgeons performed fewer abdominal procedures and researchers investigated new techniques for closure. While improved stitching for closure has had mixed results, surgeons are trying other new approaches to reduce incisional hernias such as MSI's DuraMesh* and Deep Blue Medical's T-line mesh* which are being used prophylactically.
In this Market Outlook article, we cover in detail:
Synthetic Matrices Poised for Slow Down
Alternatives to Synthetic Matrices Gaining Favor

Xenograft Matrices
Resorbable Meshes
Reinforced Xenograft Matrices

Expert Analysis and Conclusions
SmartTRAK believes that after a rebound from the COVID-19 pandemic losses, synthetic matrices may undergo slower growth in 2023, potentially leading to ...

* These links can only be viewed by SmartTRAK subscribers. For more information on SmartTRAK, including how to receive a demo and subscribe, please click here.
To download and read the complete "2023 US Hernia Matrices Outlook" article by SmartTRAK's Doug Devens, Product Director and Senior Analyst - Wound, just click the button below.
---
SmartTRAK is the Medtech industry's only global Insights-as-a-Service solution for the Orthopedics, Wound Care, Regenerative Medicine and Neuro Therapy markets. SmartTRAK's propriety methodology turns disparate data from hundreds of sources into powerful insights customers can rely on as the trusted source for strategic decision-making. The SmartTRAK enterprise platform includes rich daily updates, comprehensive market coverage and simple-to-use tools and dashboards for market, product and financial analysis. Customers leveraging the SmartTRAK platform also have direct access to market experts for inquiries and advisory services. If you would like a demo of what SmartTRAK has to offer and see how we can help increase proficiency, improve productivity and reduce costs for your company, just click here.