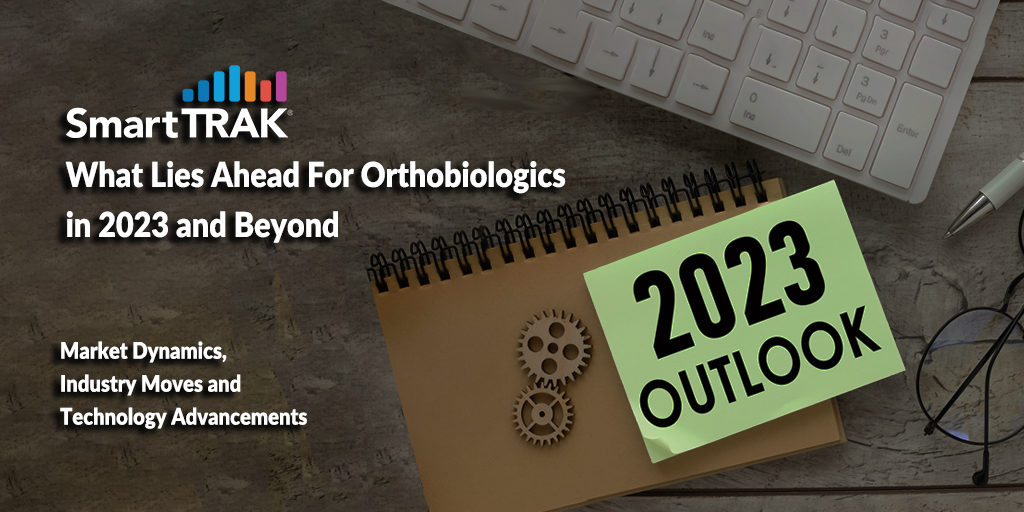 Market Dynamics, Industry Moves and Technology Advancements
In 2022, the Orthobiologics Market encountered both ups and downs. Though companies are still reporting year-end results, SmartTRAK feels the Orthobiologics Market finished on a high note. The 2022 challenges, such as staffing shortages at healthcare facilities, supply chain constraints and inflation, may cause headwind in 2023, stifling some growth.

Nevertheless, SmartTRAK anticipates the potential downsides will be offset by elective procedures returning to pre-COVID levels, along with progressive, transitional initiatives by select market players that have the potential to reshape certain orthobiologics segment landscapes.
Among the many topics covered in this Market Outlook article are:
Reshaping the Competitive Landscape
Shifts in the US Bone Replacement Market
Advancements in Osteobiologics
Shifts in the US Sports Medicine Market
SmartTRAK estimates the Orthobiologics Sports Medicine Market will top $950MM by 2027E, driven by continued growth of REGENETEN, MACI and market adoption of alternative technologies. Technology advancements will continue to garner premium ASPs, expand surgical options and ...
To download and read the complete "What Lies Ahead For Orthobiologics in 2023 and Beyond" article by Kim French, SmartTRAK's GM, Orthobio, Regen, OA Iinjectables, just click the button below.
Are you going to the big Orthopedics conference this month You can find us at Booth #3959. Want to be seen as the expert in Ortho? We can help you make that happen...just click here.
---
SmartTRAK is the Medtech industry's only global Insights-as-a-Service solution for the Orthopedics, Wound Care, Regenerative Medicine and Neuro Therapy markets. SmartTRAK's propriety methodology turns disparate data from hundreds of sources into powerful insights customers can rely on as the trusted source for strategic decision-making. The SmartTRAK enterprise platform includes rich daily updates, comprehensive market coverage and simple-to-use tools and dashboards for market, product and financial analysis. Customers leveraging the SmartTRAK platform also have direct access to market experts for inquiries and advisory services. If you would like a demo of what SmartTRAK has to offer and see how we can help increase proficiency, improve productivity and reduce costs for your company, just click here.