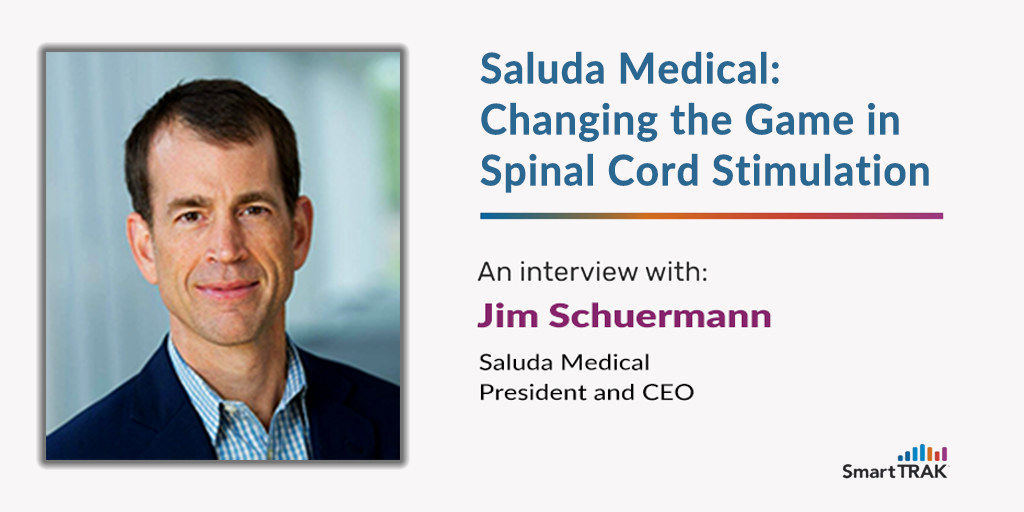 Saluda Medical President and CEO Jim Schuermann discusses the Company, the Evoke System and changing the game in SCS in an interview with SmartTRAK
With the US launch of the Evoke System, Saluda Medical is changing the game in spinal cord stimulation (SCS). At the North American Neuromodulation Society (NANS) Annual meeting in Las Vegas in January, researchers presented impressive 36-month data from the Company's Evoke Study and the Company was showcasing its Evoke System for the first time on the NANS exhibit hall floor. As the first commercially available closed-loop SCS system using evoked compound action potentials (ECAPs), Evoke is unlike anything on the market. The technology automatically adjusts stimulation to maintain precise and consistent neural activation to the spinal cord for the treatment of intractable low back and leg pain. The Company received FDA PMA for Evoke in February 2022 and announced a limited US commercial release in December 2022, calling it the first and only 'SmartSCS" in the US.
Saluda Medical President and CEO Jim Schuermann discusses bringing Evoke System to market, the Company's US launch and commercialization plans, the newest generation of Evoke, his vision for the future and Evoke's potential impact on the market in an interview with SmartTRAK. Click the button below to download and read a complete transcript of the interview.
---
SmartTRAK is the Medtech industry's only global Insights-as-a-Service solution for the Orthopedics, Wound Care, Regenerative Medicine and Neuro Therapy markets. SmartTRAK's propriety methodology turns disparate data from hundreds of sources into powerful insights customers can rely on as the trusted source for strategic decision-making. The SmartTRAK enterprise platform includes rich daily updates, comprehensive market coverage and simple-to-use tools and dashboards for market, product and financial analysis. Customers leveraging the SmartTRAK platform also have direct access to market experts for inquiries and advisory services. If you would like a demo of what SmartTRAK has to offer and see how we can help increase proficiency, improve productivity and reduce costs for your company, just click here.