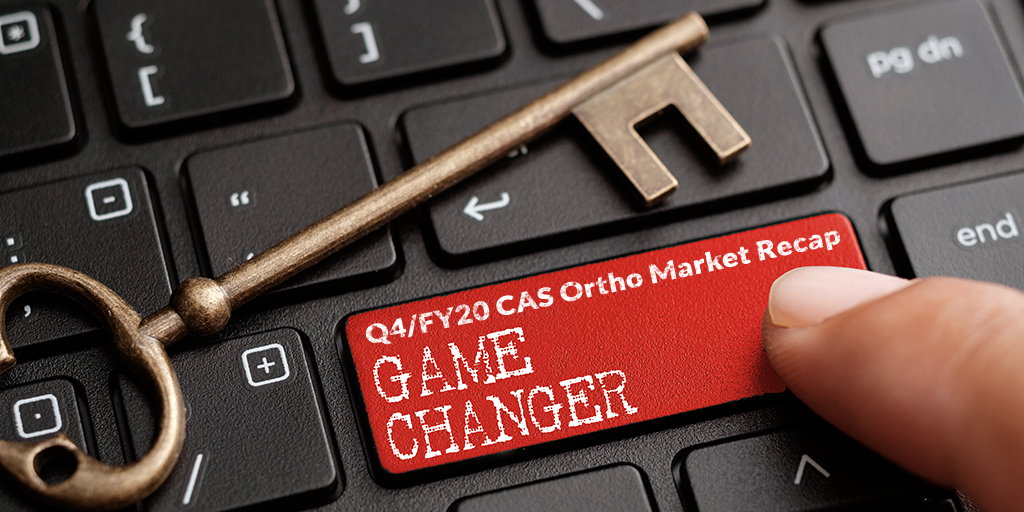 Despite market challenges due to the COVID-19 pandemic, 2020 was a game-changing year for enabling technology for orthopedic surgery with robotics hitting an inflection point in acceptance, with record placements in Q420, and enabling technology across the entire continuum of care making significant inroads.
In Q420, MAKO* robot demand drove much of the 12.3% growth in Stryker's* US Ortho Other segment. In 2020, MAKO's installed base grew by 33%, and in Q420 hit a milestone of > 100 system installations at major teaching institutions, ASCs and in competitive accounts in the quarter. In fact, according to the Company, MAKO is now available in ~50% of fellowship programs at teaching institutions in US, as well as some in Europe, which will help the transition to standard of care. Stryker noted that new market entrants (Zimmer Biomet's* ROSA*, Smith & Nephew's* CORI* and DePuy Synthes'* VELYS*) have not slowed MAKO momentum.

Among the many topics covered in the comprehensive Q420/FY20 CAS Ortho Market Recap* are:
Complete CAS Ortho Market Overview
Companies' Revenues and Market Share
Robotics Hit Tipping Point in 2020
Digital Ecosystems Across the Continuum of Care
Smart Implants: An Emerging Market Driver
Augmented Reality Becomes a Reality
Preoperative Planning Technologies
Handheld Navigation Systems
Weightbearing Imaging Systems
Artificial Intelligence-Based Imaging
Another important trend in orthopedic enabling technology is smart implants, and Zimmer Biomet is expected to be the first market entrant. Canary Medical, a developer of smart sensor technology that is incorporated into medical devices and implants, expects FDA approval and launch of the Persona-IQ* TKA smart implant, through its partnership with Zimmer Biomet, in H121. Canary's business model includes revenue from devices and also from ...
Read the entire Q420/FY20 CAS Ortho Market Recap including news, data, charts, company revenues, shares and analysis*
*The entire article and the links can only be viewed by SmartTRAK subscribers to this module. For more information on how to receive a demo and subscribe, please click here.
---
SmartTRAK is kicking off 2021 with some exciting new product launches, including Arthroscopic Technologies. Click the button to see what we have on tap in the coming months.