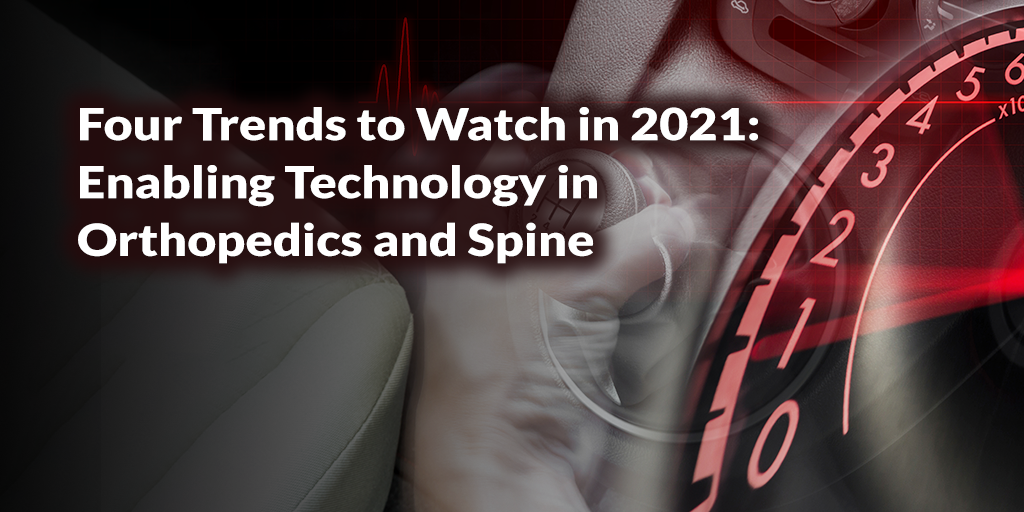 COVID-19 threw a curveball to spine and orthopedic implant companies in 2020 with the downturn in elective procedures, but one area that continued to make inroads was enabling technologies. Given increasing advances and expanding adoption of these technologies, even during uncertain times, SmartTRAK highlights some significant trends to watch in 2021, including:
1. Flexible Business Models
Companies with robots (Stryker*, MAKO*, Zimmer Biomet*, ROSA*, Smith & Nephew*, NAVIO*/CORI*, Medtronic*, Mazor X*, Globus*, Excelsius GPS) continued to grow at above-market growth in 2020. Record-breaking robotic and navigation system placements in Q3 and Q420 bode well for ...

2. Enabling Technology Targeted to ASCs
As orthopedic and spine surgery increasingly shifts to the ambulatory surgery center (ASC) setting, manufacturers are targeting their assistive technologies to address the size and budget constraints associated with ASCs. For example ....

3. Intraoperative Augmented Reality Becomes a Reality
While augmented-reality (AR) has been used for some time in surgical training, the summer of 2020 brought the FDA clearances and commercialization of the first intraoperative AR systems for orthopedics and spine ...

4. Smart Implants – The Next Frontier in Recon
Smart implants, particularly from implant manufacturers with patient management applications and robotics, can provide companies and providers with data spanning the entire continuum of care from ...

To download the complete article "Enabling Technology in Orthopedics and Spine: Four Trends to Watch in 2021" just click the button below..
*The links can only be viewed by SmartTRAK subscribers. For more information on how to receive a demo and subscribe, please click here.
---
SmartTRAK is kicking off 2021 with some exciting new product launches, including Arthroscopic Technologies. Click the button to see what we have on tap in the coming months.