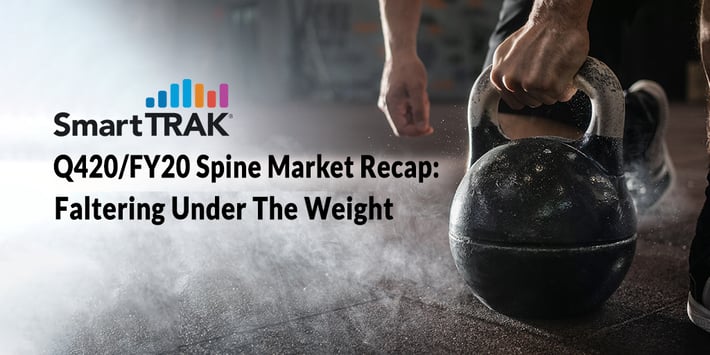 An initially promising Q4 faltered under the weight of the COVID-19 resurgence, leading to a Q420 WW Spine Hardware Market decline of -1.0%.

The continued rebound that everyone had been hoping for was dampened by the COVID-19 resurgence in Q420. While the quarter got off to a promising start, COVID headwinds picked up negatively impacting Spine procedure volumes due to challenges with hospital resource utilization and renewed restrictions around elective procedures. For example, NuVasive* management noted that the Company entered Q4 with relatively stable case volumes but experienced market disruption from the resurgence of COVID-19 at the exit of the quarter, most notably in parts of the US and Europe.

Among the many topics covered in the comprehensive Q420/FY20 Spine Market Recap * are:
Complete Market Overview
Companies' Revenues and Market Share
Top Players' Results
Notable Companies' Results
Q420 Spine Regulatory Highlights
The impact of the COVID resurgence on Spine procedures varied quite significantly by region. WFS analysts reported that NuVasive (NUVA) experienced sharper declines in the Midwest and Western regions of the US as compared to the East during the fourth quarter. Stryker CEO Kevin Lobo reported that SYK's Spine business held up slightly better during this latest COVID spike with ...



Read the entire Q420/FY20 Spine Market Recap including news, data, charts, company revenues, shares and analysis*

*The entire article and the links can only be viewed by SmartTRAK subscribers to this module. For more information on how to receive a demo and subscribe, please click here.
---
SmartTRAK is kicking off 2021 with some exciting new product launches, including Pediatric Spine. Click the button to see what we have on tap in the coming months.