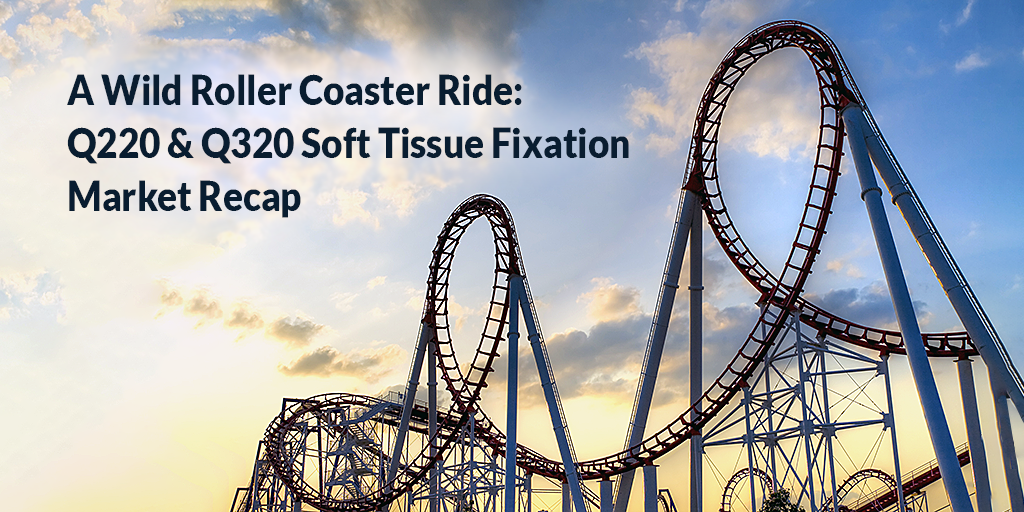 Although the COVID-19 roller coaster was a tough ride in Q220, Soft Tissue Fixation was stepping out and looking good in Q320

When an unpredictable COVID-19 roller coaster hit the tracks, companies saw revenue plummet in Q220 as stay-at-home orders were implemented (mid-March) and elective surgeries were canceled or postponed indefinitely. The impact of COVID-19 that forced government-imposed restrictions was felt throughout the 2nd quarter with substantial internal and financial disruptions to businesses in the Soft Tissue Fixation market. Reprieve was in the air though, and at the turn of the quarter going into Q320, what was a dreadful situation turned more positive.



Among the many topics, including company revenues, shares, charts and expert analysis, covered in the comprehensive Q220 & Q320 Soft Tissue Fixation Market Recap* are:
Complete Market Overview and Highlights
Top Competitor Results including


Arthrex
Smith & Nephew
JNJ/Depuy Synthes

Q220 and Q320 Clinical & Regulatory Highlights
Although not everything and everyone finished the quarter in the "green", according to SmartTRAK Financial Dash, results for Soft tissue Fixation market segments and companies landed far from the dismal results the market had seen in Q220. While Q320 results improved with social distancing restrictions relaxed due to the number of COVID-19 cases stabilizing and/or declining, caution is still in the air and market rebound could be a short-term event. SmartTRAK expects that Q420 and Q121 Soft Tissue Fixation procedure volumes will be ...

Read the entire Q220 & Q320 Soft Tissue Fixation Market Recap including news, data, charts, company revenues, shares and analysis*
*The entire article, including revenue, shares and links can only be viewed by SmartTRAK subscribers to this module.
---
To see all the new and exciting offerings coming to SmartTRAK in 2021, or to request more info about what SmartTRAK can do for you, just click the button below.