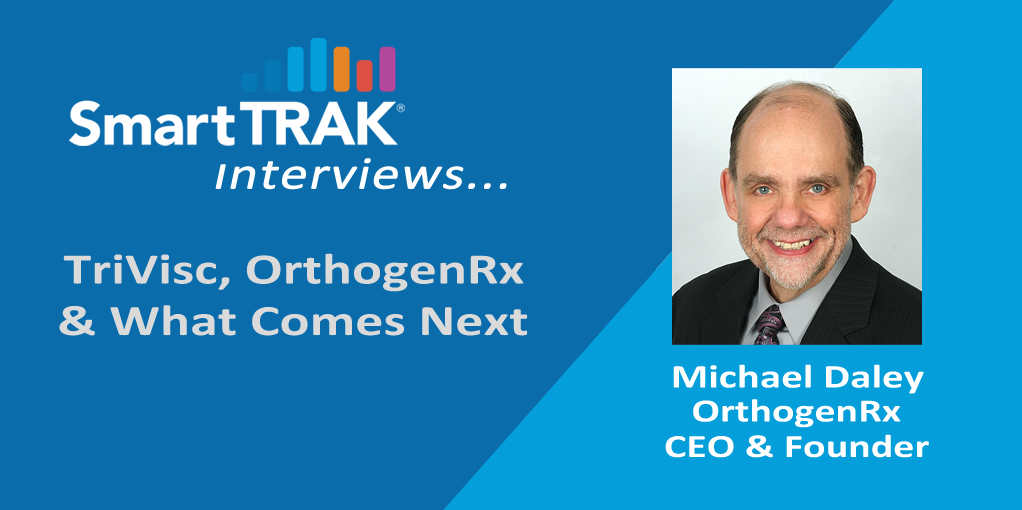 OrthogenRx CEO & Founder Michael Daley talks about the Company's new 3-injection HA product, TriVisc and what will come next.
Michael Daley, CEO & Founder of OrthogenRx, a US medical device company focused on treatments for musculoskeletal conditions, talked about TriVisc, the Company's new 3-injection hyaluronic acid (HA) product for knee osteoarthritis, as well as the future at OrthogenRx, in an interview with SmartTRAK at the American Academy of Orthopaedic Surgeons 2019 Annual Meeting held March 12-14, 2019 in Las Vegas, NV.
What is the rational for OrthogenRx to bring TriVisc now to a very crowded 3-injection HA segment?
To have a presence in the entire US HA market, OrthogenRx aims to provide... more choices to healthcare professionals and their patients, all the while maximizing company stakeholders' ROI said Mike Daley. To this end, OrthogenRx's goal was to get PMA approval for TriVisc, the company's new 3-injection HA product.
"The 3-injection segment may be the most crowded segment, with eight other approved products, but its total revenue of ~$429M is three times the size of the 5-injection pie. Plus, 3-injection treatments are more popular and preferred over 5-injection by many orthopedists, rheumatologists and patients due to convenience. With TriVisc's launch, we are now two-thirds of the way to having a full presence in the HA market," said Daley.
What differentiates TriVisc from the other HA products?
TriVisc is a 3-injection regimen product indicated for repeat injection cycles for the treatment of osteoarthritis knee pain. It is a highly purified HA formulated via bacterial biofermentation technology and, because it is not derived from rooster comb, Daley said it is suitable for patients that have avian allergies and sensitivities.
Daley believes what really differentiates TriVisc from other HAs on the market is OrthogenRx's pricing model, which provides an attractive value proposition for physicians and payers with a fair and consistent price and low out-of-pocket cost for patients.
Meet Freddy Buntoum, SmartTRAK's Sr. Analyst, Regen Medicine
Can you give me an idea of how much better value TriVisc is vs the other products?
In a highly commoditized market without large head-to-head comparative studies where price looks to be the biggest differentiator over product attributes, safety and efficacy and competitors are luring physicians' offices and insurance payers with high discounts and rebates, Daley made it clear that one of the most important things for OrthogenRx is to remain ethical by providing fair and consistent pricing for TriVisc.
"Just to give you a perspective, out of the 15 products that are approved on this market, we are 14th in terms of our wholesale acquisition cost (WAC). This makes TriVisc one of the lowest priced products with the lowest priced fermentation-based HA product on the market. Pricing becomes very important especially if a patient is not covered for these treatments like those in the entire State of California after Anthem stopped coverage for the HA class," said Daley.
From a marketing perspective, HA product acquisition costs are also important to physicians purchasing products under a buy and bill model, as they often do not want to incur significant upfront costs to obtain HA products. Daley believes by offering fair and consistent pricing, OrthogenRx allays physician concerns about quarterly price fluctuations.
Daley believes OrthogenRx's WAC price for TriVisc is one of the lowest when comparing the six 3-injection HA products currently available on the market.
Some competitors might say that TriVisc is simply GenVisc 850 sold as a 3-injection regimen instead of a 5-injection treatment. What do you say to that?
The FDA looked at the non-inferiority data OrthogenRx provided on TriVisc vs Visco-3 and Euflexxa and this is the reason why OrthogenRx was able to get a separate PMA approval and unique J-Code (J7329).
"From the Medicare and the FDA's stand point, TriVisc had a different clinical process for approval, a different application, a different labeling, a different PMA and therefore a different reimbursement code," said Daley.
Do you feel that TriVisc is superior to other HA products?
"From a clinical standpoint, it's difficult to argue that one product is superior without large well-controlled head-to-head studies which are prohibitive. Some have more clinical data to support safety and efficacy, but all are approved by the FDA. Fermented products probably have significant advantages over those formulated from rooster comb and I think that there may be some safety concerns with the cross-linking of some products. At the end of the day, I am not going to say that TriVisc is superior to other products, just as others can't claim superiority to TriVisc, but it is certainly good that we have fair and consistent pricing. We're trying to differentiate ourselves on providing fair and consistent pricing across all stakeholders." said Daley.
What's next for OrthogenRx? Do you have plans to launch a single-injection HA product? If so, can you give us a timeframe?
OrthogenRx's strategic vision and "mantra" is to have a presence in the entire HA market, which translates into offering a portfolio of single, three and three 5-injection products. However, considering the current regulatory environment, since the FDA issued its notice in Dec 2018 to potentially classify HA products as drugs, it could be difficult to establish a timeline for OrthogenRx's launch of a new single-injection product according to Daley.
"We also have some products in the pipeline that we think will be disruptive to the HA market", said Daley.
_______________________________________________________________
After a sluggish start of the year, the US Joint Fluid market gained steam during the Q119 as demand and volumes picked up in several market segments in spite of intense competitive pricing pressures. Click to read Freddy's informative report on the Q119 Joint Fluid Market: Revenues Down, Pricing Pressures and FDA Scrutiny.