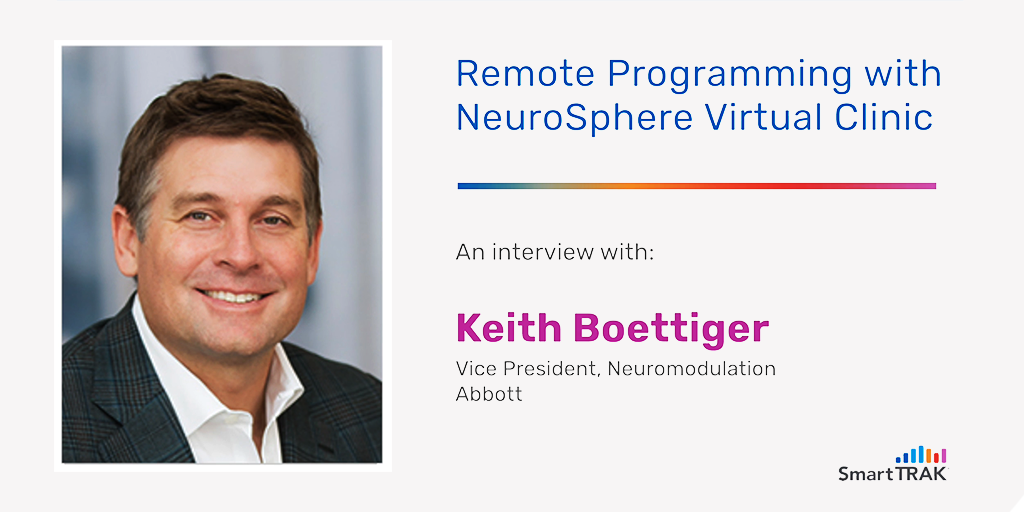 In an interview with SmartTRAK, Keith Boettiger, VP of Abbott Neuromodulation, discusses the Company's new NeuroSphere Virtual Clinic, a potentially game-changing technology that enables physicians to remotely program stim settings for patients with DBS, SCS and DRG devices in real-time.
On March 8, 2021, Abbott announced the US launch and FDA approval of the NeuroSphere Virtual Clinic, a first-of-its-kind remote neuromodulation patient-care technology that allows patients to receive new treatment settings from their physicians in real-time and remotely via cloud and Bluetooth-based technology. Using the patient controller app, a new remote programming feature, the clinician programming app and a new secure remote connection, physicians can communicate with patients and remotely optimize and digitally prescribe new stimulation settings for patients who are implanted with a deep brain stimulator, spinal cord stimulator or a dorsal root ganglion stimulator.
Keith Boettiger, VP of Abbott Neuromodulation, discusses remote programming using the NeuroSphere Virtual Clinic and what it means for physicians, patients and the market for neuromodulation devices in an interview with SmartTRAK. To listen to the interview, recorded recently via Uberconference, click on the following video (24:09 minutes). A link to download the transcript of the interview is also provided below.
SmartTRAK: Anne Staylor here with BioMedGPS. Today, I have the pleasure of speaking with Keith Boettiger, Vice President of Neuromodulation at Abbott. Hi, Keith. Thanks for talking with me today.
Keith Boettiger: No problem. Looking forward to it.

Keith, Abbott recently received approval for the NeuroSphere Virtual Clinic, a potentially game-changing innovation and first-of-its-kind technology for neuromodulation that allows for remote physician programming. Sounds pretty exciting. Can you just start by telling me a little bit about NeuroSphere Virtual Clinic, how it works, and which Abbott products will feature it?
KB: Thanks, Anne. So Abbott's NeuroSphere Virtual Clinic just got FDA approval and we expect to launch it soon. We agree that NeuroSphere Virtual Clinic is a first-of-its-kind technology, and it'll allow ...
To download a complete transcript of the "Abbott Launches Remote Programming for Neuromodulation" interview with Abbott's Keith Boettiger, just click the button below.
---
SmartTRAK is a comprehensive, easy-to-use, business intelligence solution for the Life Sciences Industry that provides breaking updates on pertinent company news, potential treatments and guidance, international survey results, statistical analysis by country, studies, trial results, financial impact and more. All subscribers receive a Daily Updates email containing the latest need-to-know news curated by our expert analysts. It's the perfect way to start your day! If you would like to learn more about SmartTRAK, just click here.