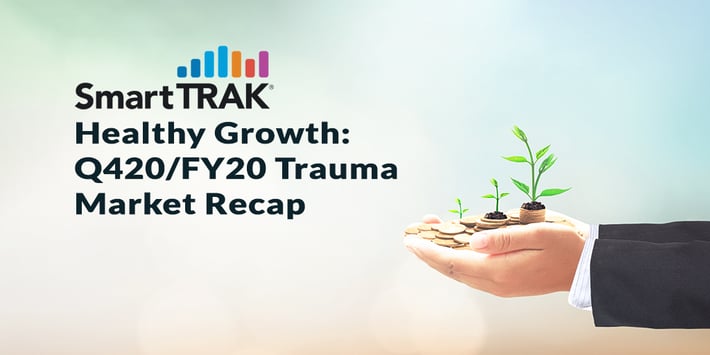 Healthy growth closes out Q420 as the trauma segment recovers in the second half of the year hitting pre-COVID levels.
Despite the rise in COVID cases during Q4, the Trauma Market fared well resulting in positive YoY revenue gains that represented healthy, pre-COVID level volumes. Trauma players cited another quarter of healthy trauma growth, as the second half of the year ended on an upswing (+5.6% vs. H219). Top US market leaders, DePuy Synthes (49.4% Q420 US share), Stryker (27.3%) and Smith & Nephew (9.8%) all reported improved sequential gains.
Among the many topics covered in the comprehensive Q420/FY20 Trauma Market Recap* are:
Complete Trauma Market Overview
Companies' Revenues and Market Shares
Ending the Year on a High Note
The Future Looks Bright
Q420 Trauma Regulatory Highlights
The top trauma players reported accelerated sequential growth for the final quarter, most notably in the US. JNJ/DePuy Synthes reported Q4 WW revenues were up +5.2% (+3.6% CC) w/ the US up +10% vs Q3's WW +1.3% (0.7% CC) and US +4.2% increase. Management reported that Q4 US market recovery and overall global success was due to ...
Read the entire Q420/FY20 Trauma Market Recap including news, data, charts, company revenues, shares and analysis*
*The entire article and the links can only be viewed by SmartTRAK subscribers to this module. For more information on how to receive a demo and subscribe, please click here.
---
SmartTRAK is kicking off 2021 with some exciting new product launches, including Pediatric Trauma. Click the button to see what we have on tap in the coming months.