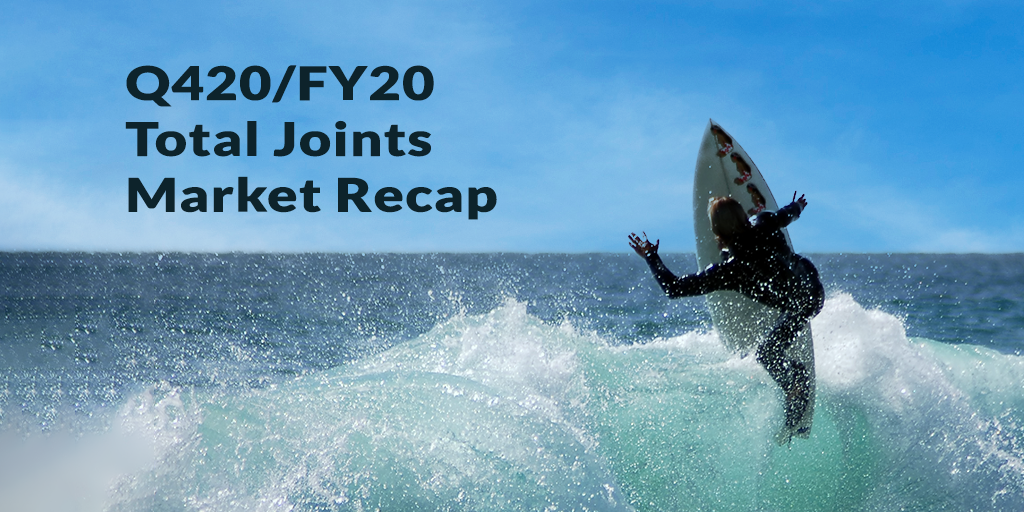 Surge in COVID-19 Wipes Out Some Procedural Recovery
The surge of COVID-19 cases in Q420 likely brought on by holiday gatherings threatened to wash away the beginning of elective procedure recovery in Q3. In some regions of the US, healthcare facilities once again found themselves underwater as they struggled to care for COVID patients. OUS, Britain and other countries continued to face shutdowns and delay of non-urgent procedures.
Among the many topics covered in the comprehensive Q420/FY20 Total Joints Market Recap* are:
Complete Market Overview
Knee Replacement Market Overview and Highlights
Hip Overview and Highlights
Q420 Regulatory Highlights
In the US, not all areas of the country were affected by the postponement of elective procedures during the quarter, resulting in YoY revenue declines but sequential revenue volume improvement over Q3. The top four US Knee Replacement Market players retained their respective place in the market despite some shifting of share in Q420. According to SmartTRAK Financial Dashboard, Zimmer Biomet* saw improvement in share to 37.4% compared to Q3 (34.3%) while Stryker* and JNJ/DePuy Synthes* ...
Read the entire Q420/FY20 Total Joints Market Recap including news, data, charts, company revenues, shares and analysis*
---
SmartTRAK is a comprehensive, easy-to-use, business intelligence solution that networks an entire organization with real-time market data and analysis. Used by the 15 top Advanced Wound Care companies and 8 of the 10 top Orthopedic companies, SmartTRAK transforms the delivery of healthcare business information into a cost-effective solution for life science corporations to increase proficiency, improve productivity and reduce cost.