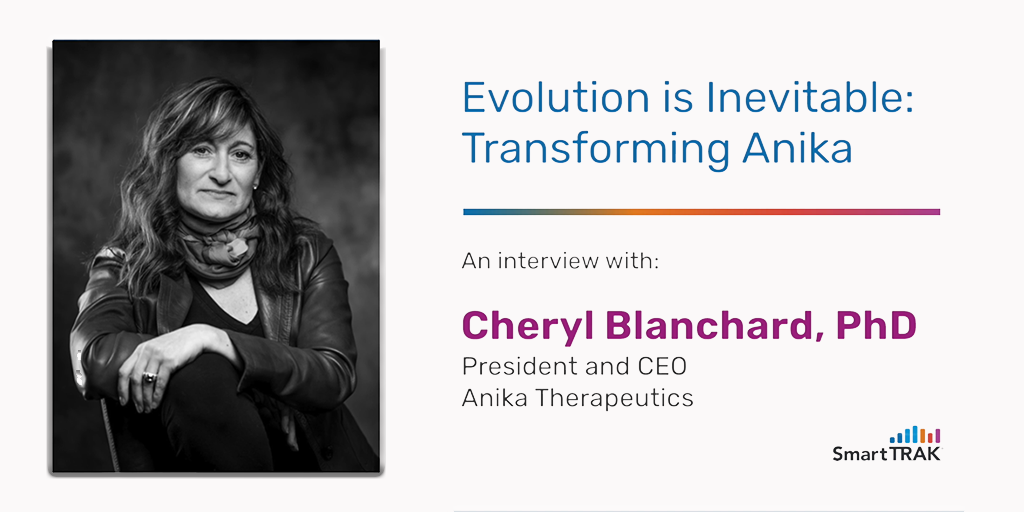 Cheryl Blanchard, President and CEO of Anika Therapeutics, discusses the Company's metamorphosis from a partnered, single product company into a customer-facing, global joint preservation market player, in an interview with SmartTRAK.
Cheryl Blanchard, PhD, discusses the Company's remarkable achievements amid a global healthcare crisis and progress made as Anika continues to execute on its Transformational Growth Strategy and grand plan in an interview with SmartTRAK at the American Academy of Orthopaedic Surgery (AAOS) 2021 in San Diego, California. To find out more, click on the following audio recording. A link to download the complete transcript of the interview is also provided below.

Freddy Buntoum here with BioMedGPS, and today I am at AAOS 2021 Annual Meeting in San Diego, California. I have the pleasure to talk with Cheryl Blanchard, President and CEO of Anika Therapeutics. Cheryl, thank you for talking with me today.
Cheryl Blanchard: My pleasure.
You were elected President and CEO of Anika. Tell us a little bit about yourself and how you made your journey to the CEO position at Anika, please?
CB: Yeah, I'm happy to. So, my background and training is as an engineer. I have three engineering degrees. The last one is a Ph.D. in Material Science and Engineering. I was always fascinated with the biomedical space and spent a number of years at a company called Southwest Research Institute, running the biomedical practice there. I had clients across a lot of the different therapeutic spaces, but I loved orthopedics. It just was a great fit for me. It really leveraged all of the engineering, and all of the patient factors, and the material science stuff that I studied. At a certain point in my career, I went to Zimmer and was eventually the chief scientific officer at Zimmer, and really had responsibility for a lot of the new product development and strategy around innovation there. And really fell in love with the regenerative solution space, the early intervention space, trying to figure out how to focus on bringing meaningful solutions to get patients active faster. And try to do it in a way where there was value brought to the whole healthcare system because I think without that a product doesn't work.
CB: It was really that, that led me into management and leadership, and made me realize that I really wanted to continue to move in that direction and bring great therapies to patients, bring great value to shareholders. After Zimmer, I ran a small drug delivery company called Microchips Biotech, sold that back in 2019. I had joined the board of Anika a couple of years before that, and when the position came open, I threw my hat in the ring, and here I am.
CB: Really at a great time for the company. And I know one of your questions is about our transformation that we're going through. So I can jump into that if you want me to ...
To download and read the complete transcript of the "Evolution is Inevitable: Transforming Anika" interview with Anika's Cheryl Blanchard, just click the button below.
---
SmartTRAK is the leading source of competitive intelligence used by the top ten global wound care & orthopedics companies. If you would like a demo of what SmartTRAK has to offer and how we can help increase proficiency, improve productivity and reduce costs for your company, just click here.