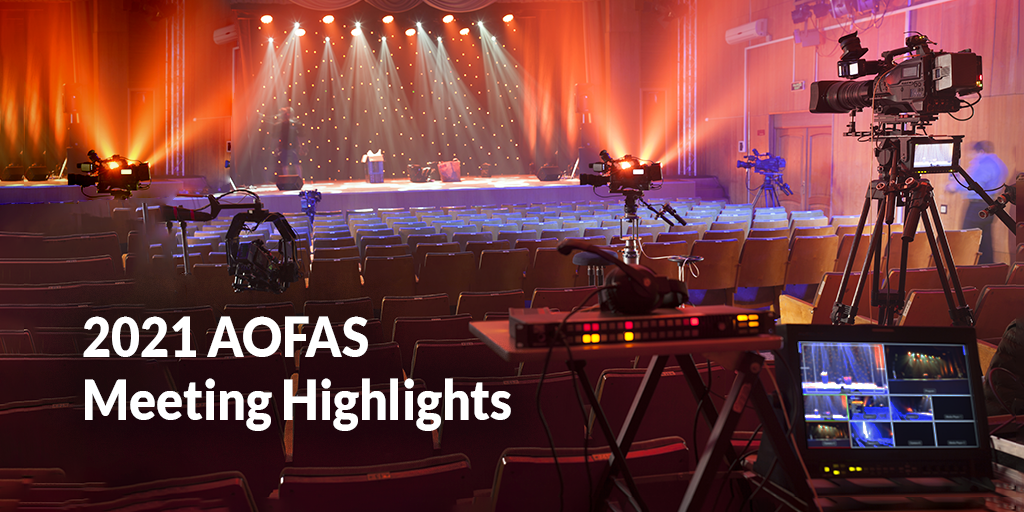 New product introductions and innovative technologies set the stage for AOFAS 2021.
At the American Orthopaedic Foot & Ankle Society (AOFAS) meeting in Charlotte, NC, SmartTRAK identified several key themes and takeaways from the meeting as manufacturers showcased innovation through new product introductions, continue to focus on hallux valgus corrections and the associated instrumentation allowing for reproducible outcomes and the advancements of 3D printed solutions.
The Luster of New Products Help Drive Healthy Foot & Ankle Competition
The foot & ankle space does not look like it is slowing down anytime soon based on the products highlighted at AOFAS. Innovation is helping to drive growth in the US market for Foot & Ankle Repair and Reconstruction, which is projected to reach a 5-year CAGR of +4.9% according to SmartTRAK's Foot & Ankle Market Overview. Newsworthy highlights include:
Hallux Valgus Corrections Take Center Stage
At AOFAS, Treace Medical showcased their new release, Adductoplasty that includes instruments and fixation implants for midfoot deformity corrections. Leveraging their impact on the Foot & Ankle Segment with the Lapiplasty System, Adductoplasty offers cut guides to support surgeons when correcting challenging midfoot pathologies.
Crossroads Extremities featured their DynaBunion 4D Lapidus System, a take on 3D bunion corrections, as Crossroads noted the 4th dimension is the compressive nature of the nitinol plate. Crossroads also revealed their new minimally-invasive (MIS) miniBunion 3D™ System* with Viking Instrumentation for bunion repair. The system enables surgeons to restore toe alignment in three dimensions through a small incision on the side of the foot that is virtually hidden from patient view. Additionally, MIS bunion surgery allows patients to have a walking recovery.
Arthrex, who currently offers MIS options, is also looking to provide an MIS all in one guide, allowing surgeons a precise targeting tool when inserting headless screws. The guide allows for reproducible corrections compared to freehand incisions and screw insertion. The MIS trend continues to grow in line with patient satisfaction rates and reduced recovery time and is a movement SmartTRAK will continue to monitor.
Spotlight on 3D Printing
There was lots of chatter at AOFAS 2021 surrounding 3D printing, from patient-specific total talus implants to generic 3D-printed screws and k-wires. While total talus implants have been around for a while, initially ceramic in material, the entry of 3D-printing technology has resulted in an evolution of how total talus implants can be developed and implanted. During the Innovation in Orthopedics Symposium, surgeons discussed the revived interest in total talus attributing the interest to failure and revisions of total ankle replacement implants. 3D printing offers the opportunity to recreate the talus. Utilizing 3D printing for the talus allows for a customized implant that can be complicated and intricate in design based upon a patient's personalized anatomical needs. Continuing to gather post-op data is important to determine when and how these implants may fail and what the revision surgery will look like. So while this area is exciting, researchers and clinicians continue to examine this ongoing shift in care.
Customized 3D printing is not the only option, multiple conversations at AOFAS revolved around the idea of offering 3D-printed generic, off the shelf implants such as wedges, screws, k-wires, etc. Companies such as restor3D, known for patient-specific, 3D-printed implants and recently merged with Kinos Medical, is focusing on offering these off the shelf items in the future.
*These links and the complete unedited article, including revenues and shares, can only be viewed by SmartTRAK subscribers to this module. For more information on SmartTRAK, including how to receive a demo and subscribe, please click the button below.

---
SmartTRAK has launched five new modules for 2021, including Pediatric Spine, Pediatric Trauma, Pediatric Extremities and Arthroscopic Technologies. Click here to see details of all the exciting new content now available on SmartTRAK.