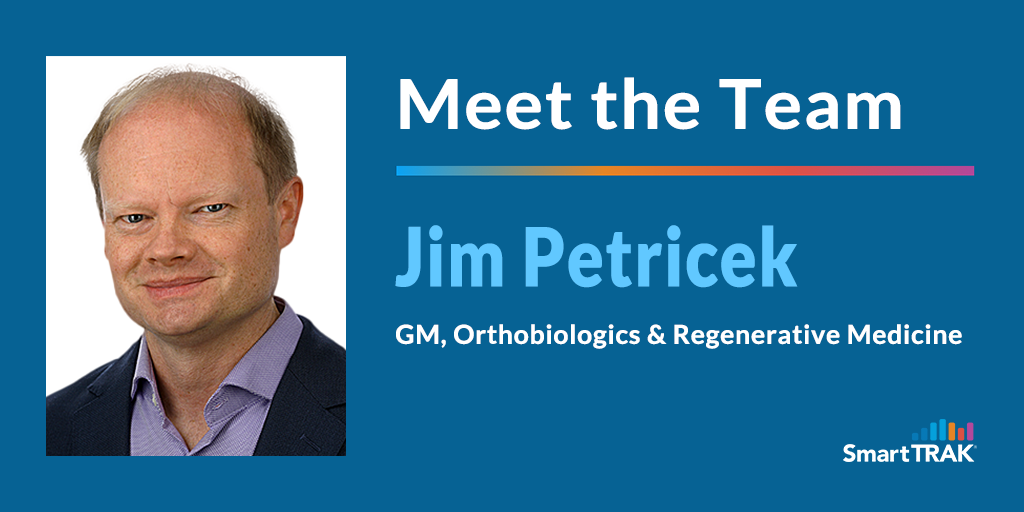 We are pleased to announce that Jim Petricek has joined the team at SmartTRAK as General Manager, Orthobiologics and Regenerative Medicine. Jim has 20+ years operational and management consulting experience in orthobiologics and regenerative medicine with roles in product development, marketing and business development, including prior management positions with BioMimetic Therapeutics and Synthes.

Meet Jim Petricek:
What is your role with SmartTRAK? General Manager Orthobiologics and Regenerative Medicine; Lead Analyst Orthobiologics

What do you like about SmartTRAK? I've had the pleasure of interacting with SmartTRAK for many years. The group is very knowledgeable in their respective fields, and while I'm sure not every day is bliss, there is a very palpable sense that everyone really enjoys being part of the SmartTRAK team.
What is something special or unique that you bring to SmartTRAK subscribers? My industry experience within orthobiologics is "holistic", in terms of spanning product development, marketing and business development. I hope to leverage this perspective to deliver information and respond to inquiries from our client partners in an impactful way.

What do you think the biggest promise of medical technology is? Regenerative medicine is widely believed to represent the "future" of orthopedics and wound repair. And over the last 20 years, this sector has delivered several seminal products to the market (e.g. BMP, cellular grafts for wound repair, engineered grafts for tendon repair). Going forward, regenerative medicine and biologic products hold promise to increase the probability of tissue healing, reduce time to healing, lower infection risk, reduce variability in surgical outcomes and, in some instances, obviate the need for surgery.

How will it change everything? As an example, many of the injectables being developed for the management of knee OA hold promise to forestall the need for knee arthroplasty for months or years. If successful, these products could significantly disrupt the traditional arthroplasty market and overall patient treatment paradigm.

What are your favorite online websites or resources that you check every day? Aside from the usual suspects and news aggregating websites, I use Google Alerts with keywords to uncover harder to find information on a variety of subjects. I also frequently comb the Securities and Exchange Commission website (SEC.gov) for information buried in technical financial filings.

How do you keep your medical device research skills sharp? Practice makes perfect and I get a lot of practice! More importantly, I believe it's critical to consider what information is most important from the perspective of the client. It's easy to get lost in the detail, but we are most valuable as consultants when we can identify the signal within the noise.

If you could have one super power what would it be? I wish I could function on four hours of sleep!

What was the last show you binge-watched? Ozark

What is your life like outside of SmartTRAK? I have a hard time sitting still, so if I'm not working in front of my computer, I'm in the garage fiddling with some project, being walked by my dog, and increasingly serving as a math tutor for my two children. In terms of stress reduction, I've found that vacationing at the beach cures most ills.
---
SmartTRAK is the leading source of competitive intelligence used by the top ten global orthopedic & wound care companies. If you would like a demo of what SmartTRAK has to offer and see how we can help increase proficiency, improve productivity and reduce costs for your company, just click the button below.