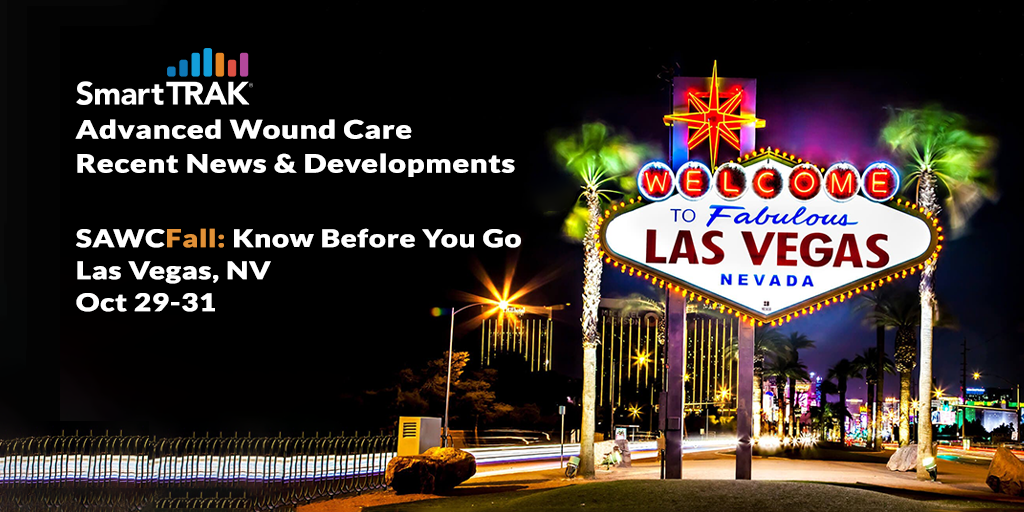 It's time to get out there again and reconnect. SmartTRAK is excited to be attending SAWC Fall, the Symposium on Advanced Wound Care in Las Vegas, Nevada, October 29-31. Gary Delhougne, our new GM, Wound, will be representing SmartTRAK at the meeting. Please reach out if you would like to meet with Gary in Nevada and see what SmartTRAK can do for you. We've also put together an overview of the latest AWC news to give you a little head start before you get to Vegas.
At SmartTRAK, we constantly monitor the worldwide MedTech industry, sifting through the noise to present to our subscribers the most relevant international news, patents, trends, new products, financial data and competitor developments in the global Life Sciences industry. The following is just a small sampling of recent Advanced Wound Care related news and updates from around the world compiled, reviewed and posted in real time every day by the expert analysts at SmartTRAK.
Markets:
Advanced Medical Solutions*


AMS announced that they became part of the NHS Shared Business Services (NHS SBS) framework in the UK w/ their range of advanced wound care dressings. The agreement covers health and corporate services including, e.g., IT, legal, estates & facilities and business services.

Foam Dressings in Europe
Foam is the leading dressing category in the TOP5 EU countries except for Italy, where antimicrobial dressings head up the market in 2020. France owns 36% of the EU Foam market followed by Germany w/ 22%, UK w/ 14%, Spain w/ 8% and Italy w/ 3%. SmartTRAK Europe Market Reports


Winner Medical*


Winner Medical

reported from their participation in the 85th China International Medical Equipment (Autumn) Expo (CMEF) in Shenzhen, China. Winner exhibited their market areas, mainly wound care and infection prevention, for professional care and home care.<

Revenues:
Allmed Revenue Decline

Allmed announced a performance forecast for the first 9 mos of 2021, where they projected revenue to decline ~65% compared to Q1-Q320. The main reason is lower sales of COVID-19 related protection equipment. Other product areas are performing well, but logistics are challenging.

Mölnlycke*


In Q321, Mölnlycke Wound care grew +8% organic in constant currency w/ continued strong performance in the US and France. Total company declined -16% due to a decline in COVID-related PPE sales. Surgical declined -37%. Wound care represented 49% of total sales in the last 12 mos.
New Products:
New Smart Bandage




NUS researchers develop smart bandage using wearable sensors to detect multiple biomarkers for onsite chronic wound monitoring and assessment w/in 15 minutes. Next step is further development & to meet safety, regulatory and mass production considerations. Ntl Univ of Singapore

LUOFUCON Super Absorbent* - Foryou Medical Devices Co*
ForYou Medical's Loufucon Superabsorbent Dressing received NMPA approval and is now available for the Chinese market. Approval id: 20212141276

MolecuLight*
PMoleculight announced the launch of MoleculightDX. Features of DX include comprehensive EMR integration, pt-centric user interface, docking system and administrator workflow and system configuration capabilities. The DX offers automatic wound measurement vs use of stickers.
Deals/Financing:
Zhende*


Zhende announced the acquisition of Santerui (Nantong) Medical Materials Co., Ltd for $17.3MM (CNY 111.7MM). Santerui (Nantong) Medical Materials is a sterilization company.

Kent Imaging*
Kent Imaging announced they entered a Platinum Partnership agreement with Medline. The agreement will add SnapshotNIR as a key solution within Medline's sales and services initiatives across 10 select states.


Essity/BSN Medical*
Essity announced that it has raised $709MM (EUR 600MM) in the bond market under its Euro Medium Term Note (EMTN) program. The purpose of the issue is to refinance maturing loans and to finance operations.
Clinical/Regulatory:
Sorbact Gel* - ABIGO Medical AB*


Abigo Medical has sponsored a CT to examine binding of bacteria & fungi to Dialkylcarbamoyl Chloride (DACC)-Coated dressings (Sorbact) from hard-to-heal wounds in 30 pts w/ primary outcome of bacteria & fungi bound to the dressing at 2 dys (+1). Est completion is Feb '22. clinicaltrials.gov

Prophylactic Dressings


SmartTRAK welcomed the update from Prof. Amit Gefen on the Prophylactic Dressing Standards Initiative (PDSI) Taskforce during EPUAP 2021. The project is aimed to be finalized by 2023 and industry members are seen as important stakeholders in the process. EPUAP2021

PalinGen Flow (Wound)* - Amnio Technology*
Amnio Technology announced authorization to begin a Phase 2 clinical trial under an Investigational New Drug (IND) application for its amniotic tissue-based product, PalinGen Flow for tx in adults w/ chronic ulcers in lower extremities due to venous stasis or diabetic etiologies.
Patents:
Smith & Nephew*


SNN's US Patent Application"BESPOKE WOUND TREATMENT APPARATUSES AND METHODS FOR USE IN NEGATIVE PRESSURE WOUND THERAPY " was published for systems providing bespoke or customized wound fillers for the treatment of a wound. 20210322226

Novel Absorbent Dressing
Sree Chitra Tirunal Institute of IN had its US Patent Application "Lint Free Crosslinked Chitosan-PVA Sponge as an Absorbent Wound Dressing and Method of Preparation Thereof" published relating to a wound dressing material for burns, surgical, other wounds & ulcers.20210322225

Coloplast was granted US Patent "Moisture assessment system and method for wound care " describing a system containing one or more electrochemical moisture sensors for measuring a moisture profile of a wound.11,141,100
*These links can only be viewed by SmartTRAK subscribers. For more information on SmartTRAK, including how to receive a demo and subscribe, please click here.

Are you going to SAWC? If you would like to meet with us while in Las Vegas and find out what SmartTRAK can do for you, just click the button below.
---
SmartTRAK
is a comprehensive, easy-to-use, business intelligence solution for the Life Sciences Industry that provides breaking updates on pertinent company news, potential treatments and guidance, international survey results, statistical analysis by country, studies, trial results, financial impact and more. All subscribers receive a Daily Updates email containing the latest need-to-know news curated by our expert analysts. It's the perfect way to start your day! If you would like to learn more about SmartTRAK, just click
here
.