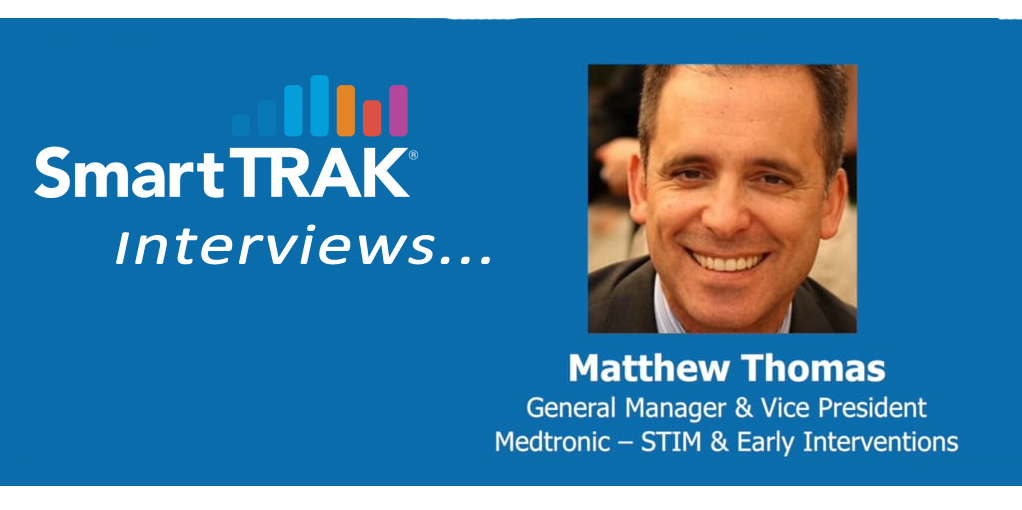 Medtronic's Matt Thomas discusses the Company's strategies for driving growth in spinal cord stimulation and plans for innovation in an interview with SmartTRAK at ASIPP 2018.
Matt Thomas, General Manager and Vice President of Medtronic's STIM & Early Intervention business discusses the Company's growth strategies, plans for innovation, and what's next in spinal cord stimulation in a podcast interview with SmartTRAK at the American Society of Interventional Pain Physicians (ASIPP) 2018 held March 15-17, 2018 in Orlando, FL
Click the Podcast Link to hear the interview, recorded live at ASIPP 2018. (18:55 minutes.)
To receive a downloadable transcript, click the button below...
SmartTRAK's Anne Staylor, Managing Editor, Business Intelligence and Senior Director, Advanced Technologies, conducted the fascinating and informative interview at the ASSIP conference. Mr Thomas speaks specifically about Medtronic's STIM business, an exciting category that's growing 20% a year in the US and globally. With the abuse of opioids and other pain treatment alternatives, it's a great category and an important need.
If you would like to download a complete transcript of the interview, just click the button below.
Anne will also be attending ASRA- the American Society of Regional Anesthesia and Pain Medicine on Nov 15-17, 2015 at the JW Marriott San Antonio Hill Country resort in San Antonio, TX. Please contact us if you would like a meeting.