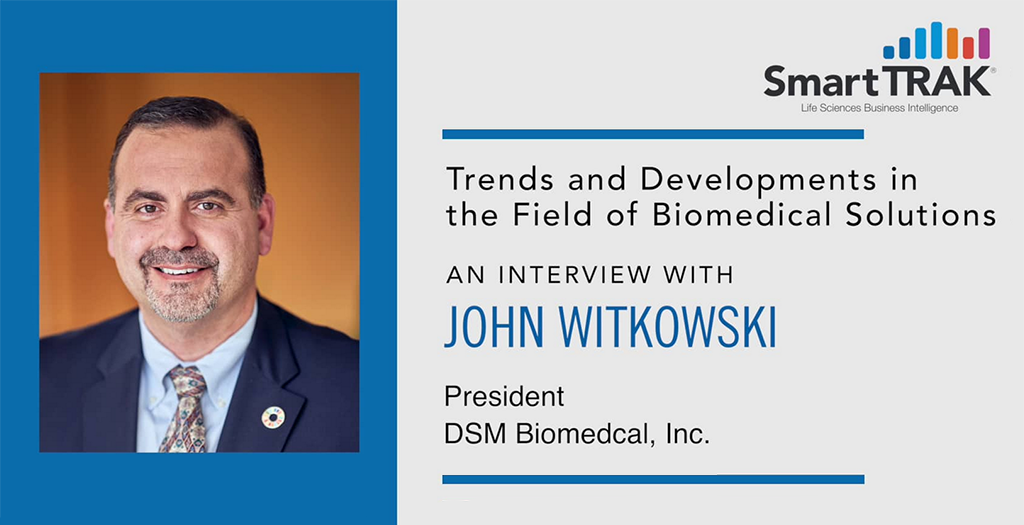 SmartTRAK discusses the latest advancements in biomedical solutions with DSM President John Witkowski
DSM, a global leader in biomedical solutions for more than 30 years, helps improve the health of 3.5 million patients annually. While biomaterials have been around for decades, DSM Biomedical is advancing biomaterial science, providing the latest synthetic biomaterials and stem cell-based technologies that are used in various applications, including spine, general orthopedics, sports medicine, general surgery and wound.
To learn more about the latest advancements in DSM Biomedical biomaterials and technologies and what's next for the business, click on the following video to listen to SmartTRAK's interview with John Witkowski, President of DSM Biomedical. A transcript of the interview can also be downloaded below.
Transcript:

This is Kim French, General Manager of OrthoBiologics for SmartTRAK. Today I get the pleasure of interviewing DSM Biomedical President, John Witkowski. DSM Biomedical is recognized for innovative biomaterials and biomedical solutions, partnering with numerous medical device and pharmaceutical companies worldwide.
John, thank you for the opportunity to discuss the latest happenings in the biomedical space. Congratulations on your first year anniversary at Biomedical.
JW: Thank you, thank you. It's a fantastic company. And it's actually quite an honor for me to represent the team at Biomedical here today.
Wonderful. Let's start with a topic that is unfortunately on many minds, COVID-19. This pandemic is disrupting the medical community. How has it affected Biomedical? And what are you doing to manage the challenges?
JW: DSM Biomedical has weathered the storm as well as we could have hoped for at this point. We are an essential business, and our employees remain committed to coming into work, so our customer supply chain is not interrupted. We instituted many robust processes to ensure the safety of our employees and the customers and the patients. A couple of things we're doing, we have hourly cleaning of door handles and common areas. Every other week we conduct a deep cleaning in the facility. There's also ...
If you would like to download the complete transcript of SmartTRAK's exclusive interview with John Witkowski, please click the button below.
---
SmartTRAK is the leading source of competitive intelligence used by the top 10 global orthopedic & top 15 wound care companies. If you would like a demo of all SmartTRAK has to offer and how we can help increase proficiency, improve productivity and reduce costs for your company, just click here.