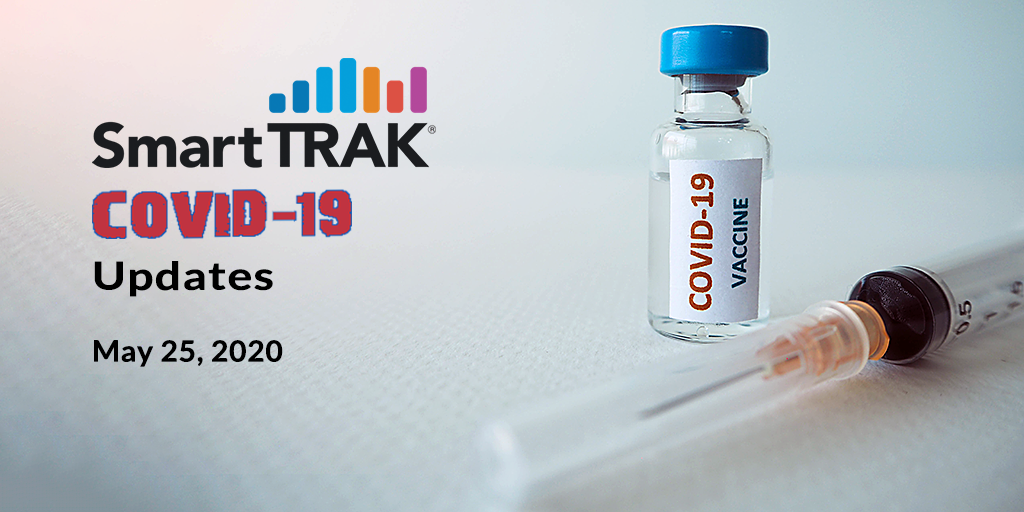 With social distancing and travel restrictions easing worldwide, and WHO warning of a possible second peak of the pandemic, the work continues on potential vaccines to prevent COVID-19 and treatments for those already affected by the virus. The following is a small sampling of the COVID-19 updates compiled, reviewed and posted in real-time by our SmartTRAK analysts, who are constantly monitoring the situation and sifting through the noise to present the most relevant news to our subscribers:
Remdesivir Shortens Recovery Times in COVID-19
Preliminary results of a double-blind, randomized, placebo-controlled trial of IV remdesivier in adults hospitalized w/ COVID-19 and lower respiratory tract infection showed remdesivir was superior to placebo in shortening recovery times (11 days vs 15 days; p=0.001). NEJM
Orthopedic Surgery During COVID-19
This JBJS article discusses medically necessary orthopaedic surgery during the COVID-19 pandemic and recommends safe surgical practices and a classification to guide tx. JBJS
US Plans Massive COVID-19 Testing Effort to Deliver Vaccine by YE20
The US plans a massive testing effort involving more than 100K volunteers and ~6 of the most promising vaccine candidates in an effort to deliver a safe and effective one by YE20, compressing what is typically 10 yrs of vaccine development/testing into a matter of months. Reuters
COVID-19: Vaccine Shows Promise in Early Trial
Moderna reports preliminary data suggests its COVID-19 vaccine is safe and appears to be eliciting an immune response in test subjects. The FDA has given the Company approval to begin a Phase II study w/ ~600 volunteers. A Phase III study may begin by July. NPR
New Funding to Support COVID-19 Testing in the US
The CDC announced the US Dept of HHS is delivering $10.25B in new funding to states, territories and local jurisdictions to support testing for COVID-19. The IHS will also provide $750MM to IHS, tribal and urban Indian Health programs to expand testing capacity/capabilities.
FDA Issues Alert Re: Potentially Inaccurate COVID-19 Testing
US FDA issued an alert to the public concerning early data suggesting Abbott ID NOW point-of-care testing for COVID-19 is potentially returning inaccurate results. FDA has received 15 adverse event reports about the device. FDA.gov
Consumers Planning to have Postponed Procedures within Six Months
A new online survey (N=1,000) assessing US consumer sentiment & perceptions of healthcare after COVID-19 showed 43% of adults have had a healthcare service canceled or delayed due to COVID-19 and 80% plan to schedule/reschedule their procedures w/in 6 mos. Sapphire Digital Survey
Hospitals Urging Patients to Return
Six major health systems in Los Angeles are launching a campaign to let pts know that hospitals and clinics are open and available to treat all kinds of ailments outside of COVID-19. la.bettertogether.health
MedTech Europe
MedTech Europe, the European trade association for the medical technology industry, published an overview document regarding personal protective equipment (PPE) to support the prevention activities due to COVID-19 pandemic.
Post COVID-19 Transformations in Shoulder Surgery
The Codman Shoulder Society has published transformation suggestions for orthopedic surgery post-COVID-19, including increased telehealth use, a greater shift in surgeries from hospitals to ASCs and stricter need to follow evidence-based guidelines. J Shoulder and Elbow Surg
Spotlight on Infection Control
The COVID-19 crisis has put the spotlight on infection control w/in hospitals and further reinforces the importance of the infection preventionist (IP) in the "new normal" healthcare setting. IC webinar
COVID-19: Drop in England ER Visits and Routine Care
Prior to the COVID-19 pandemic, about 2MM pts/mo in England were visiting ERs but that number dropped to ~916.6K in April. Also, the number of pts seeking routine treatment and surgery such as knee and hip replacement dropped by 1/3 in Mar from ~305.4K to ~207.8. BBC.com
---
SmartTRAK is a comprehensive, easy-to-use, business intelligence solution for the Life Sciences Industry that provides breaking updates on pertinent company news, potential treatments and guidance, international survey results, statistical analysis and impact by country, studies, trial results, financial impact and more. All subscribers receive a Daily Updates email containing the latest need-to-know news curated by our expert analysts. It's the perfect way to start your day! If you would like a demo of all SmartTRAK has to offer, just click the button below.