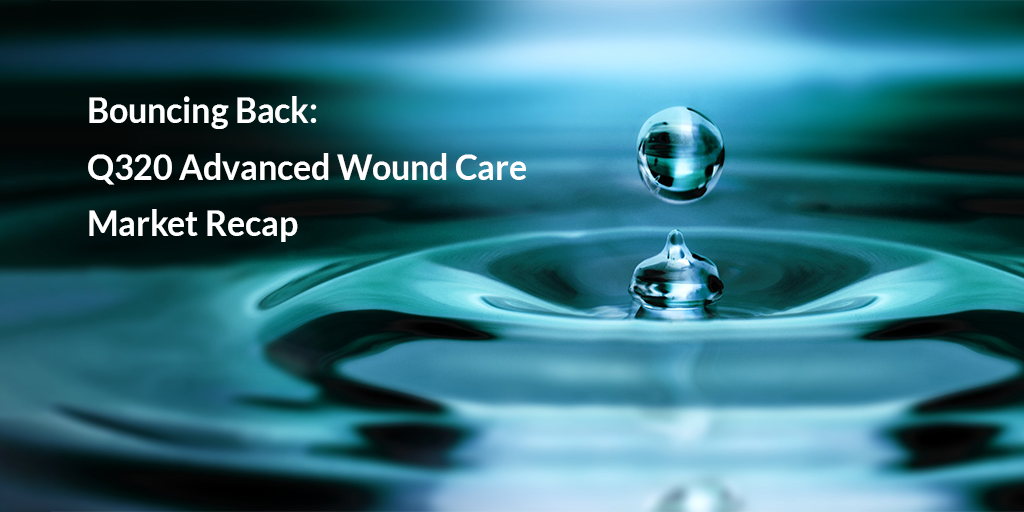 In Q320, Advanced Wound Care bounced back to almost normal levels amidst the COVID-19 pandemic with patients returning for chronic wound treatment.
For Q320, according to BioMedGPS' SmartTRAK Financial Dashboard, WW Advanced Wound Care (AWC) revenues for Advanced Dressings, External Devices and Biologics increased slightly YoY.
3M* remained the WW market leader, up +1.5% YoY, driven by tentative signs of improvement in elective procedures. WW Advanced Dressings returned to positive growth, with mixed performance among leading players. US Skin/Dermal Substitute (CTP) revenue rebounded over Q319, driven by a whopping performance by Organogenesis, while WW NPWT was down slightly YoY, with single-use down and traditional devices flat.
Among the many topics covered in the comprehensive Q320 Advanced Wound Market Recap* are:
Complete Market Overview and Highlights
Companies' Revenues and Market Shares
The Trend in Smaller Deals
Sequential Improvements Seen Among AWC Market Leaders
Wound Biologics – Wide Differences in Performance Among Market Leaders
NPWT – Gaining Traction
Advanced Dressings – A Slight Uptick
Q320 Growth in Constant and Reported Key Companies
BioMedGPS' SmartTRAK Financial Dashboard estimates Q320 revenues for WW Advanced Dressings, Biologics and External Devices (primarily NPWT) come in relatively flat at $

*, up

%* YoY. Global shares for Q320 came in relatively stable YoY with the US up slightly and EU and ROW down slightly. The US saw increases of ...
Read the entire Q320 Advanced Wound Care Market Recap including news, data, charts, company revenues, shares and analysis*

*The entire article, including revenue, shares and links can only be viewed by SmartTRAK subscribers to this module. For more information on how to receive a demo and subscribe, please click the button below.
---
SmartTRAK is a comprehensive, easy-to-use, business intelligence solution that networks an entire organization with real-time market data and analysis. Used by the 15 top Advanced Wound Care companies and 8 of the 10 top Orthopedic companies, SmartTRAK transforms the delivery of healthcare business information into a cost-effective solution for life science corporations to increase proficiency, improve productivity and reduce cost.