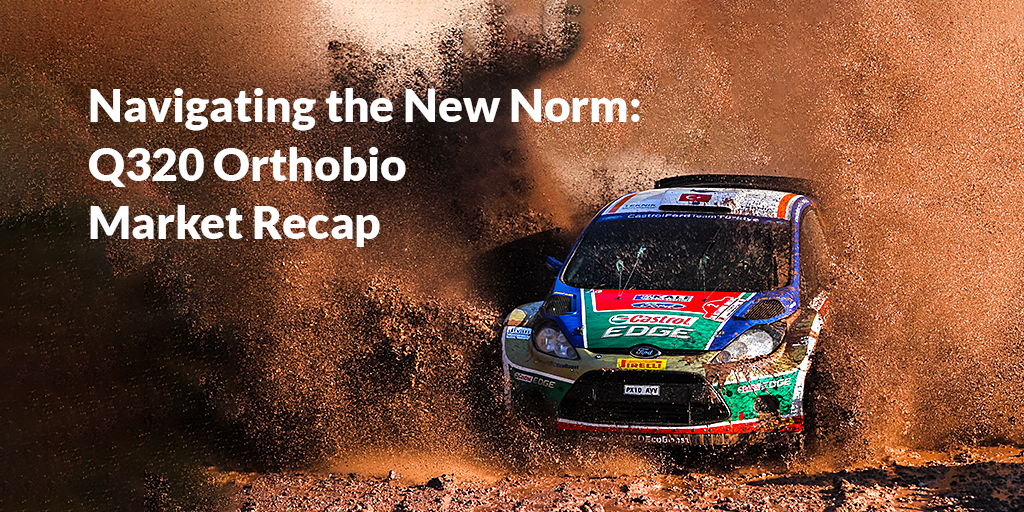 Orthopedics market stages a third-quarter rally while navigating a new norm.
As the US healthcare system adjusts to the "new" norm brought on by the COVID-19 pandemic, the US Orthobiologics market rallied in Q320, ending the quarter up +2.3% YoY.
Among the many topics, including company revenues, shares, charts and expert analysis, covered in the comprehensive
Q320 Orthobio Market Recap*
are:
Complete Q320 Orthobiologics Market Highlights
Key Factors Fueling Positive Growth
Dynamics Impeding Growth
Trends Impacting Near-term Growth
Q320 Regulatory Highlights
During Q320, elective surgeries commenced and revenues neared pre-COVID levels, with some companies rebounding with positive year-over-year growth. While surgeons worked through backlog cases and the medical community navigated through the pandemic, companies pivoted, adjusting near-term tactics and longer-term strategic imperatives to remain solvent or take advantage of the new norm. Several factors contributed to Q3 results and some are likely to shape the landscape going forward ...
Read the entire Q320 Orthobio Market Recap including news, data, charts, company revenues, shares and analysis*

*The entire article, including revenue, shares and links can only be viewed by SmartTRAK subscribers to this module. For more information on how to receive a demo and subscribe, please click the button below.
---
SmartTRAK is a comprehensive, easy-to-use, business intelligence solution that networks an entire organization with real-time market data and analysis. Used by the 15 top Advanced Wound Care companies and 8 of the 10 top Orthopedic companies, SmartTRAK transforms the delivery of healthcare business information into a cost-effective solution for life science corporations to increase proficiency, improve productivity and reduce cost.