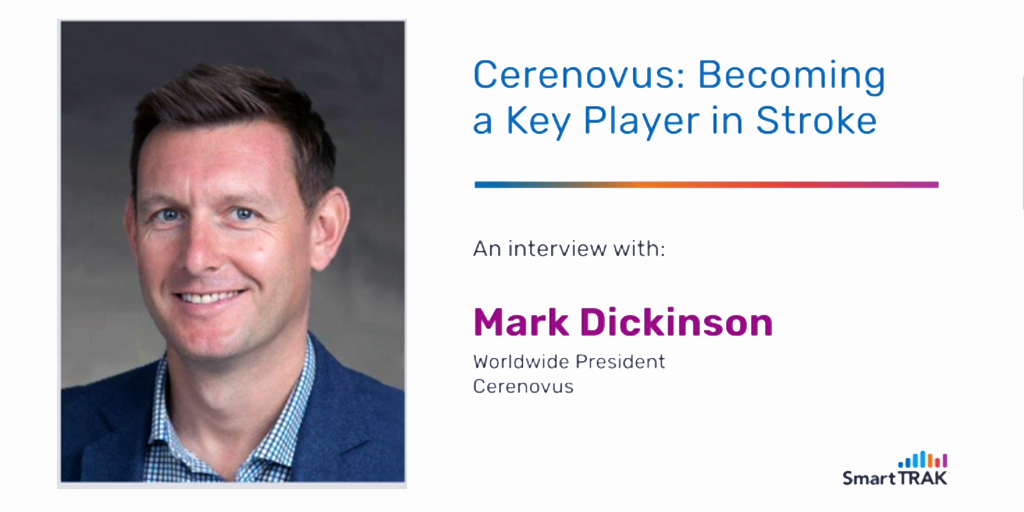 Mark Dickinson, Worldwide President of Cerenovus, discusses the Company's focus on patients, innovation and physicians and becoming a key player in the market for stroke devices in a recent interview with SmartTRAK.
To find out more about Cerenovus, its latest innovations and the Company's strategies for growth, click on the following video to listen to the interview recorded via Uberconference. (31:11 minutes) Specific interview topics by timecode are also outlined below.
To download a complete transcript of the interview, click here.
Interview Topics by Timecode:
00:43 Mark Dickinson discusses how his 21 years at J&J in various roles and divisions (Ethicon and Biosense Webster) informs his current role at Cerenovus and his strategy for success in neurovascular.
02:17 How Cerenovus has been dealing with the pandemic, the Company's biggest challenges and how COVID-19 has changed the company's commercialization strategies, including sales, physician engagement and product launches.
07:43 The current status of Cerenovus' neurovascular business, stroke caseloads vs pre-COVID levels and the expected return to "normal."
09:54 Cerenovus' latest innovation for AIS, including the Cerenovus Large Bore Catheter (LBC), EmboTrap III and the Cerebase DA catheter launched at the virtual SNIS meeting, including a discussion regarding the key differentiators, distal access and available device sizes/lengths.
14:59 The latest on the Company's Geometric Clot Extractor (now called Nimbus), ongoing research and an overview of Cerenovus' hemorrhagic portfolio, including the Bravo device.
17:31 Cerenovus' product lines and focus on acute ischemic stroke, US vs OUS growth, the company's growth strategies, above-market growth and overall growth in the AIS market.
20:42 What's currently going on in the AIS market, the impact of patient education on patient's fear of COVID and seeking stroke care and factors that will drive growth in AIS devices over the next five years.
24:14 Neurovascular products most likely to see the most growth over the next five years and why; how robotics will play into the overall market growth equation.
26:38 Important research that Cerenovus is working on, including the EXCELLENT study, it's primary outcomes and how the pandemic has affected the Company's clinical research studies.
29:29 Looking ahead, Cerenovus' biggest priorities and what's next for the Company.
If you would like to download the complete transcript of the interview with Mark Dickinson, please click the button below.
---
SmartTRAK is a comprehensive, easy-to-use, business intelligence solution that networks an entire organization with real-time market data and analysis. Used by the 8 of the top 10 orthopedic companies and by 15 of the top 15 advanced wound care companies, SmartTRAK transforms the delivery of healthcare business information into a cost-effective solution for life science corporations to increase proficiency, improve productivity and reduce cost.