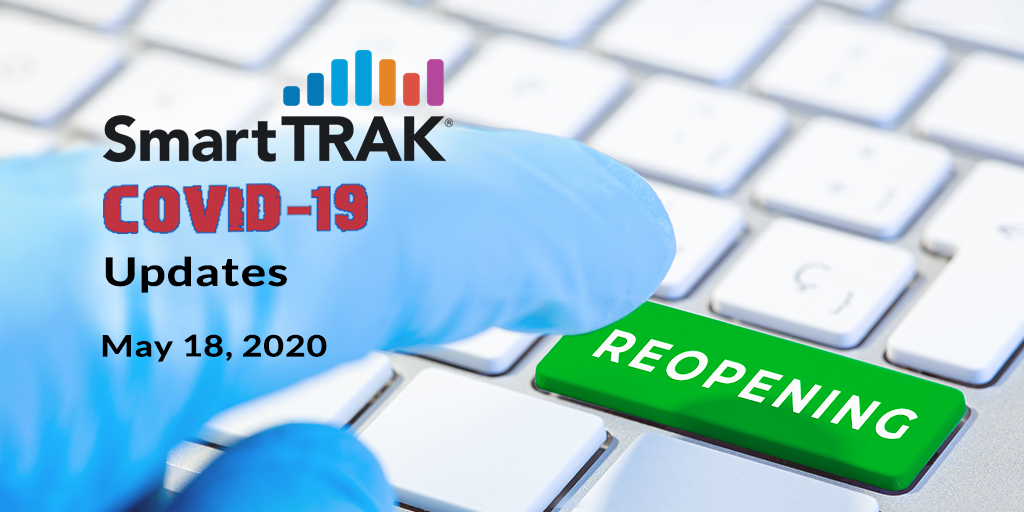 As restrictions begin to ease around the world, the Life Sciences industry prepares to deal with the impending ramifications. While progress is being made on vaccines and treatments as new surgery guidelines are developed, the potential long term consequences of the pandemic must be addressed. The following is a small sampling of the COVID-19 updates compiled, reviewed and posted in real-time by our SmartTRAK analysts, who are constantly monitoring the situation and sifting through the noise to present the most relevant news to our subscribers:
COVID-19: WFS Call on Reopening America
During a Wells Fargo call, Dr. Ashish Jah, Dir of Harvard Global Health Institute, projected the US economy will ramp up to 80% open by fall w/ an increase of elective procedures in the summer to 100% or higher. He doesn't anticipate a fall return of COVID halting procedures.
Impact of COVID-19 on Spine Procedures
Based on conversations with healthcare and industry professionals, SmartTRAK expects deferred spine procedures to reschedule more quickly than many other procedures due to the non-elective nature of spine cases – particularly those w/ neurological deficit or progressive pain.
Pfizer's COVID-19 Vaccine in Human Trials
Pfizer working alongside German drugmaker BioNTech injected its potential COVID-19 vaccine in first human participants last week and hopes to test up to 360 people in its clinical trial. If the vaccine is found safe and efficacious it could be available starting in Oct. CNBC.com
FDA Approves 1st Study Using hUCMSCs To Treat COVID-19 Patients
After successful emergency use of umbilical stem cell for COVID-19 cases, RESTEM, a cell-based therapeutics company, has received approval from the FDA for a 60-pt Phase I/IIa study using hUCMSCs to treat pts w/ severe COVID-19. The study will be the first of its kind in the US.
French President To Meet w/ Sanofi CEO Over COVID-19 Vaccine Concerns
In an interview w/ Bloomberg News, Sanofi CEO Paul Hudson indicated that since the US was 1st to fund the Company's research for a COVID-19 vaccine, it may get it first, triggering outrage in France, w/ President Emmanuel Macron requesting to meet w/ Hudson on May 19.
COVID-19: Drop in England ER Visits and Routine Care
Prior to the COVID-19 pandemic, ~2MM pts/mo in England were visiting ERs but that number dropped to ~916.6K in April. Also, the number of pts seeking routine treatment and surgery such as knee and hip replacement dropped by 1/3 in Mar from ~305.4K to ~207.8. BBC.com
Spotlight on Infection Control
The COVID-19 crisis has put the spotlight on infection control w/in hospitals and further reinforces the importance of the infection preventionist (IP) in the "new normal" healthcare setting. IC webinar
ACSM Annual Meeting & World Congresses Goes Virtual
Pursuant to cancellation of the 2020 ACSM Annual Meeting & World Congresses (May 26-30), the Program Committee released new info re delivery of content initially planned and has introduced ACSM 2020 Virtual Experience, to be avail in early summer (no exact dates were provided).
COVID-19: Projected Losses of Job-Based Health Insurance
According to a Kaiser Family Foundation report, nearly 27MM Americans may have lost their employer-based health insurance because of COVID-19 related layoffs. An estimated 12.7MM may be eligible for Medicaid w/ another 8.4MM qualifying for subsidies. CNN.com
FDA Issues Alert Regarding Potentially Inaccurate COVID-19 Testing
US FDA issued an alert to the public concerning early data suggesting Abbott ID NOW point-of-care testing for COVID-19 is potentially returning inaccurate results. FDA has received 15 adverse event reports about the device. FDA.gov
25 Hospitals Getting Biggest Portion of Federal Bailout
In NY, NJ and LA, 25 hospitals are receiving the most funding from the $12B in federal bailout funds being sent out by the US Dept of Health and Human Services. The funds are being provided to 395 hospitals that provided inpt COVID-19 care for 100 or more pts. Beckers Hospital
---
SmartTRAK is a comprehensive, easy-to-use, business intelligence solution for the Life Sciences Industry that provides breaking updates on pertinent company news, potential treatments and guidance, international survey results, statistical analysis and impact by country, studies, trial results, financial impact and more. All subscribers receive a Daily Updates email containing the latest need-to-know news curated by our expert analysts. It's the perfect way to start your day! If you would like a demo of all SmartTRAK has to offer, just click the button below.