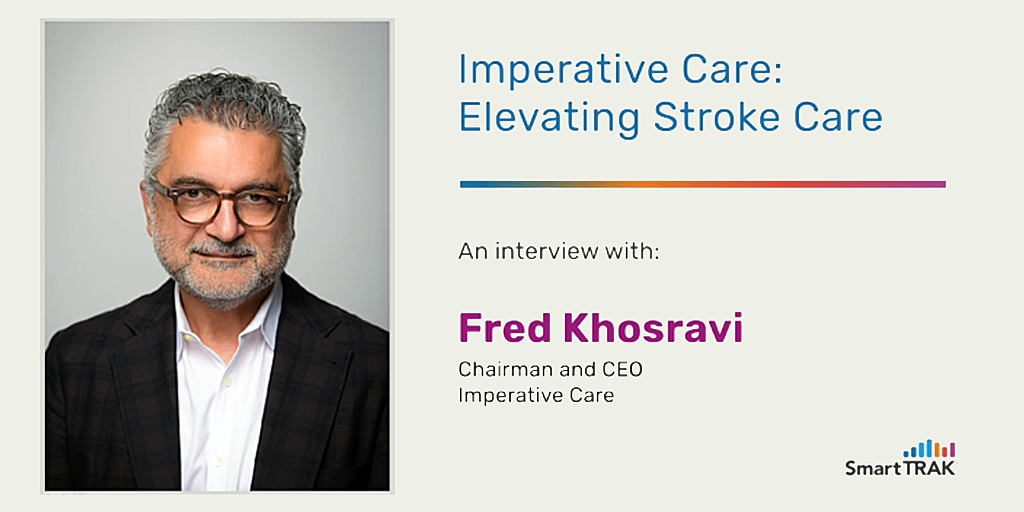 With plans to become a stroke strategic, Imperative Care Chairman and CEO Fred Khosravi discusses elevating stroke care through technology and streamlined care in an interview with SmartTRAK

With plans to become a stroke strategic and leader in in the market for neurovascular products, Imperative Care Chairman and CEO Fred Khosravi says Imperative Care is a clinically driven company focused on elevating stroke care by bringing innovation to the market that addresses unmet clinical needs, expands patient access, democratizes the delivery of care and improves first pass efficiency.

The Company secured $85MM in Series C financing in December 2019 and has introduced two new products to the marketplace--the Zoom Aspiration System and the TracStar LDP (large distal platform), a new category of intracranial access device that combines the stability of a long sheath with the flexibility of an intermediate catheter. According to Khosravi, TracStar LDP (0.088" inner lumen) is capable of reaching farther into the brain than other access devices (to the base of the middle cerebral artery), a feat that allows interventionalists to track farther and get closer to the treatment site for both ischemic and hemorrhagic stroke procedures.

To find out more about these new products, how Imperative Care is faring amid COVID-19 and the Company's plans for 2020 and beyond, SmartTRAK recently sat down with Khosravi for a wide-ranging interview conducted via Uberconference. To listen to a recording of the interview, click on the following video (48:15 minutes). Specific interview topics by timecode are also outlined below as is a link to download the complete transcript.
Interview Topics By Timecode:
00:20 Background on Fred Khoshravi, why he founded Imperative Care and how it has evolved to where it is today, including the real impetus behind the technologies, filling technology gaps and executing on the clinical vision of its founders.
04:38 Financing, challenges related to COVID-19, including launching products and connecting with customers during a pandemic.
08:54 Innovation in acute ischemic stroke, the Company's newest products (TracStar LDP, Zoom Aspiration Catheter), what differentiates them in the market. The importance of intracranial placement of a neurovascular access system and what it means from a clinical and competitive point of view.
20:04 Imperative Care's news at the virtual SNIS including product news, clinical results related to new devices. The need for larger studies to support first pass efficiency, new indications, and a 0.088 aspiration device. Research into expanded treatment time up to 24 hours post stroke and imaging-based selection criteria.
27:40 Cases performed to date with Imperative Care's technology, how Imperative Care plans to compete with the bigger players in stroke care, making a meaningful impact and 2020 operational plans to meet the market's needs.
31:36 Long-term plans for the Company, building the Company to become a large distribution commercial player worldwide with the goal of being the first stroke strategic in the world. Reaching an inflection point in the Company's curve of growth.
33:25 Becoming a stroke strategic, expanding the Company's portfolio and plans for innovation.
36:08 Status of clinical research, including the PROBE RCT, US/OUS commercialization strategy. What's going on in the AIS market, growth drivers in the neurovascular product market over the next five years. Products and techniques that will see the most growth, cost is key to long-term technology adoption, democratizing care and the role of robotics.
45:50 Looking ahead, Imperative Care's top priorities, including elevating stroke care and improving first-pass efficiency, and what's next for the Company.
If you would like to download the complete transcript of the interview with Imperative Care's Fred Khosravi, please click the button below.
---
SmartTRAK is a comprehensive, easy-to-use, business intelligence solution that networks an entire organization with real-time market data and analysis. Used by the 8 of the top 10 orthopedic companies and by 15 of the top 15 advanced wound care companies, SmartTRAK transforms the delivery of healthcare business information into a cost-effective solution for life science corporations to increase proficiency, improve productivity and reduce cost.