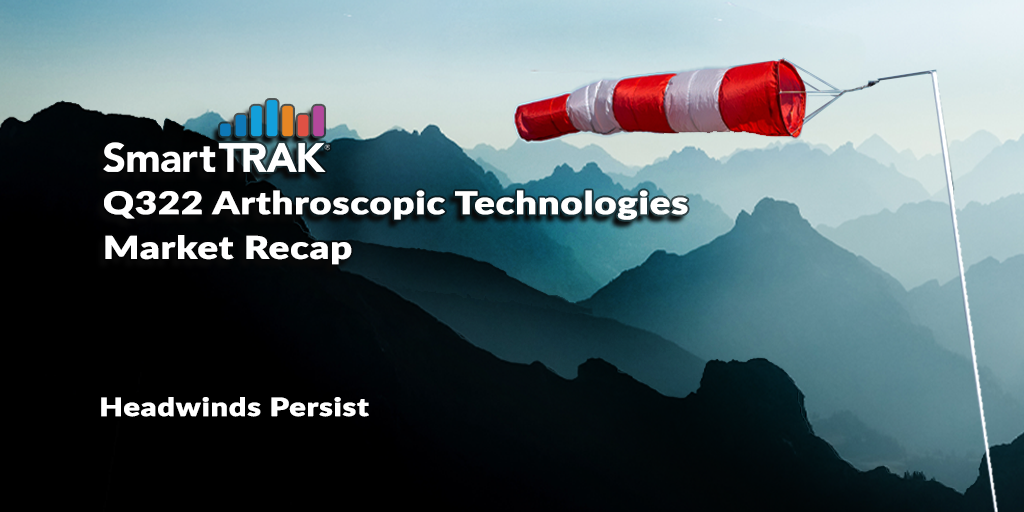 Headwinds persist for the Arthroscopic Technologies Market in Q322
With most of the major headwinds caused by COVID-19 in the rear-view mirror, the Arthroscopic Technologies (AT) Market showed growth in the third quarter with WW Arthroscopic Technologies revenues up +4.2% over Q321. The quarter saw a continued rise in procedural volumes globally that resulted in growth for the AT disposables market which trends with case volumes. On the capital side of the AT Market, capital spending and demand remained strong for items such as arthroscopic camera systems with new equipment purchases as well as an increasing need for replacement capital driving demand.
Among the many topics covered in detail in our comprehensive Q322 Arthroscopic Technologies Market Recap* are:
Complete Q322 Arthroscopic Technologies Market Overview
SmartTRAK's Expert Market Analysis and Insights
All Company News, Revenues, Data, Charts and Shares
Staffing Shortages Continue to Plague Industry
Inflation and Supply Chain Issues
Push Into ASCs
Deals and New Product Introductions
Q322 Regulatory Highlights
Arthroscopic Technologies products are key for companies as they look to make the push into the booming ASC market. Companies such as Smith & Nephew* (SNN) and Stryker (SYK), among others, are assembling ASC-specific sales teams which will look to ...

Read the entire Q322 Arthroscopic Technologies Market Recap, including SmartTRAK's expert analysis, news, data, charts, company revenues and shares*
*These links and the complete unedited article can only be viewed by SmartTRAK subscribers to this module. For more information on SmartTRAK, including how to receive a demo and subscribe, please click the button below.
---
SmartTRAK is a comprehensive, easy-to-use, business intelligence solution for the Life Sciences Industry that provides breaking updates on pertinent company news, potential treatments and guidance, international survey results, statistical analysis by country, studies, trial results, financial impact and more. All subscribers receive a Daily Updates email containing the latest need-to-know news curated by our expert analysts. It's the perfect way to start your day! If you would like to learn more about SmartTRAK, just click here.