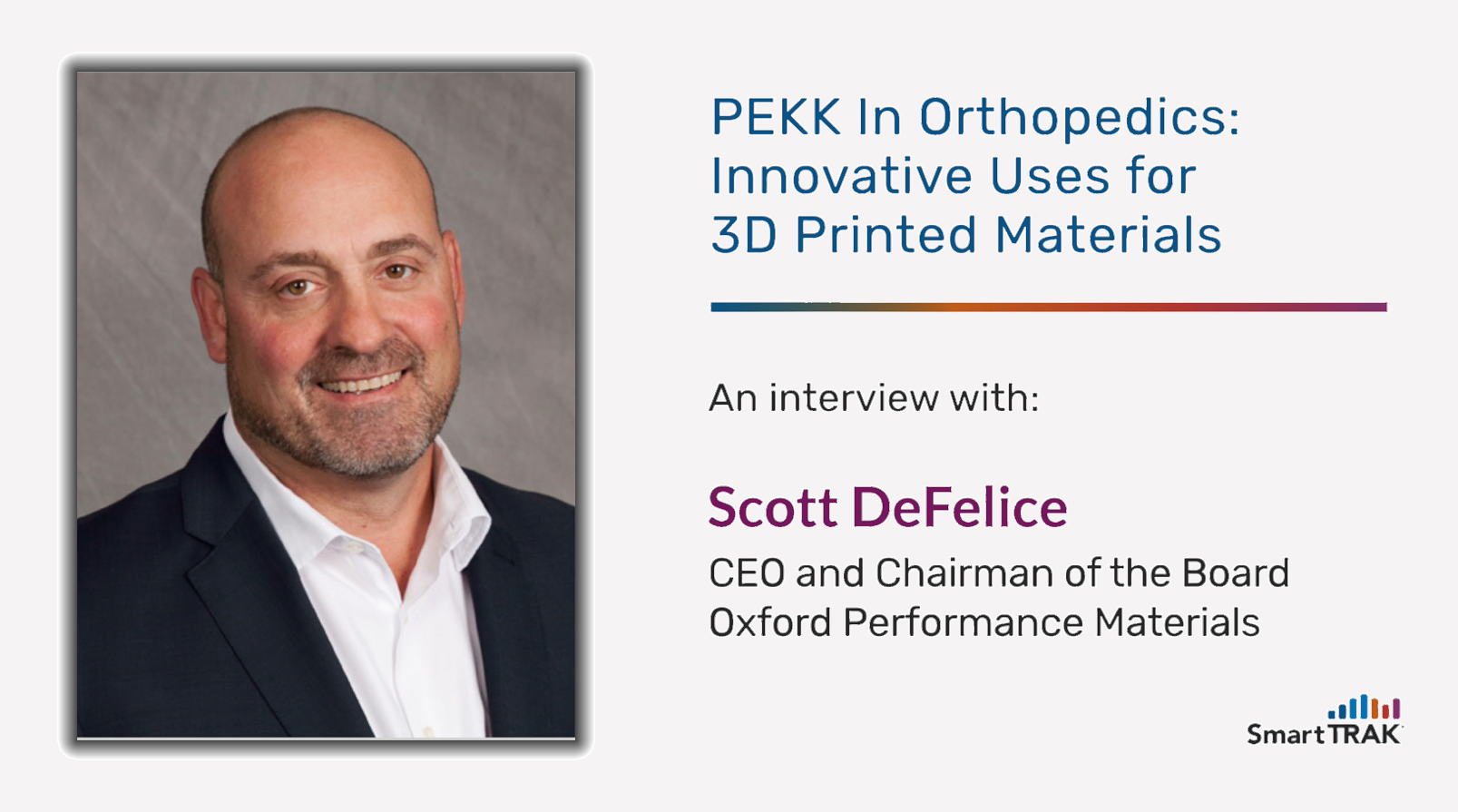 SmartTRAK interviews Oxford Performance Materials CEO Scott DeFelice to learn more about the company's PEKK-based materials solutions in orthopedics.

In an interview with

SmartTRAK, Oxford Performance Materials' (OPM) CEO Scott DeFelice explains the history of his company, the difference between PEKK, PEEK and titanium-based implants and the Company's future plans in the orthopedic space.



To find out more, including OPM's plan to expand into the custom trauma market and its planned release of an all-polymer total knee, just click on the following video to listen to the full interview. (29:13 min). A link to a transcript of the complete interview is also provided below.



SmartTRAK: This is Nick with SmartTRAK and I'm here with Scott DeFelice with Oxford Performance Materials. Scott, can we start off by you explaining a little about yourself, your experience in the 3D printing world, and the mission of Oxford Performance Materials?
Scott DeFelice: My background is really in materials, not so much in 3D printing per se, even though we've been in 3D printing in terms of orthopedic implants for well over a decade. The background is in high-performance polymers and thermoplastics. OPM has been involved in developing high-performance materials in process technologies and application technologies for 20 years. We come at 3D printing not from the point of view of the process per se, but from the point of view of first thinking about what are ideal materials for orthopedic implants, and then subsequently moved down into unique processing of additive manufacturing and focusing on orthopedic implants.
You said the ideal materials for implants. Can you dive into that more and explain what you mean by that?
SD: The orthopedic industry really, if you go back a hundred years, is working in a few material sets. Stainless steel, titanium, cobalt, chrome and primarily metallic. The evolution in there has been to evolve from two more biologically desirable materials. When you talk about biologically desirable, you were talking about purity biocompatibility on one hand and on the other hand, cell response. Does it cause infection? Does bone grow on it? When we're talking about the direction we see that evolution going, it's to materials that are more pure. That means that they don't pollute things, that means that they don't create bad reactions, and materials that have a degree of functionality. The two big drivers there in terms of the functionality, are ...
To download and read the complete "Oxford Performance Materials: The Future of PEKK in Orthopedics" interview with Scott Felice, CEO & Chairman of the Board of Oxford Performance Materials, just click the button below.
---
SmartTRAK is a comprehensive, easy-to-use, business intelligence solution for the Life Sciences Industry that provides breaking updates on pertinent company news, potential treatments and guidance, international survey results, statistical analysis and impact by country, studies, trial results, financial impact and more. All subscribers receive a Daily Updates email containing the latest need-to-know news curated by our expert analysts. It's the perfect way to start your day! If you would like to learn more about SmartTRAK, just click here.