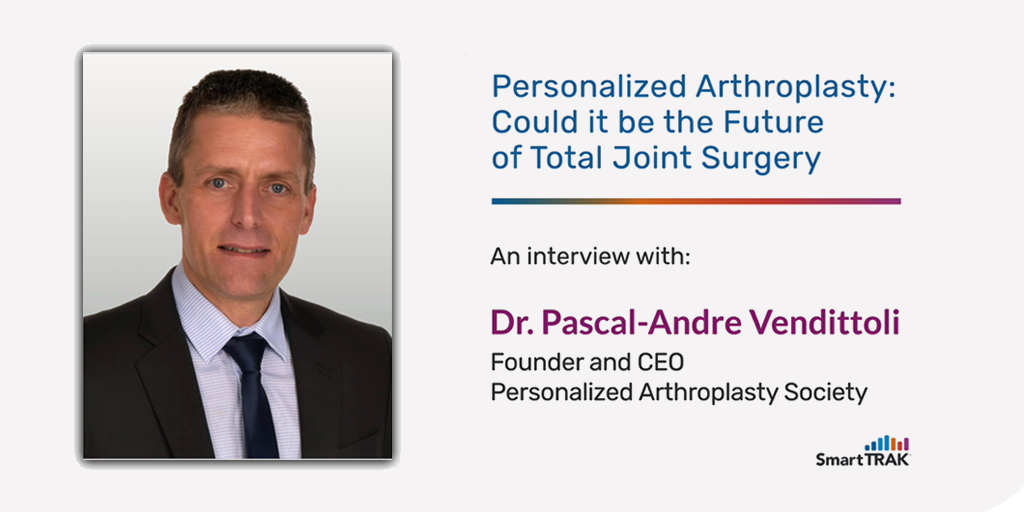 SmartTRAK interviews Dr. Pascal-André Vendittoli to learn more about the Personalized Arthroplasty Society and this year's annual meeting.

Dr. Vendittoli explains the difference between mechanical and kinematic alignment, what he looks for in total joint computer-assisted surgery systems and why he thinks personalized arthroplasty is the future of joint surgery. To find out more, listen to the SmartTRAK interview with Dr. Vendittoli in the video below (14:56 min). A link to download the transcript of the complete interview is also provided below.


SmartTRAK: Hey, SmartTRAK listeners. This is Nick here with Dr. Pascal-André Vendittoli. Dr. Vendittoli is a past president and the CEO of the Personalized Arthroplasty Society, and he's also an orthopedic surgeon and a senior clinical research scholar in the joint reconstruction research unit at the Hospital Rosemont in Montreal, Quebec.
Dr. Vendittoli: Yes, that's right. I'm working at Academic Hospital, Hospital Maisonneuve-Rosemont and also in private at the Duval Clinic in Laval.
Dr. Vendittoli, I attended last week's Personalized Arthroplasty Society educational series and annual meeting and congrats on the success. I really appreciate you inviting SmartTRAK. Can you tell us more about how you became involved with the Personalized Arthroplasty Society?
PAV: Yes, thank you. This first annual meeting was really a success. The Personalized Arthroplasty Society was founded by Dr. Charles Riviere and myself about five years ago. We had it in mind to create a society to speed up the transition from systematic arthroplasty techniques to a more personalized and patient-specific medicine because there was a need to improve patient outcome, and we taught that the change from this systematic approach was taking too much time. So this is really our goal that we were looking for.
Why personalized arthroplasty right now and how would you define it?
PAV: Traditionally, joint replacement, there was a lot of challenges in the early years like preventing complications, making the prosthetic last for years. All these challenges, I think, we have succeeded over the years to provide the patient a safe surgery with a life expectancy of the implant that is now more than 15 years, 20 years. But there was a part that was missing. It was ...
To download and read the rest of this fascinating interview "Personalized Arthroplasty: Could it be the Future of Total Joint Surgery?" with Dr. Pascal-André Vendittoli, the Society's Founder and CEO, just click the button below.
---
SmartTRAK

is a comprehensive, easy-to-use, business intelligence solution for the Life Sciences Industry that provides breaking updates on pertinent company news, potential treatments and guidance, international survey results, statistical analysis and impact by country, studies, trial results, financial impact and more. All subscribers receive a Daily Updates email containing the latest need-to-know news curated by our expert analysts. It's the perfect way to start your day! If you would like to learn more about SmartTRAK, just here.