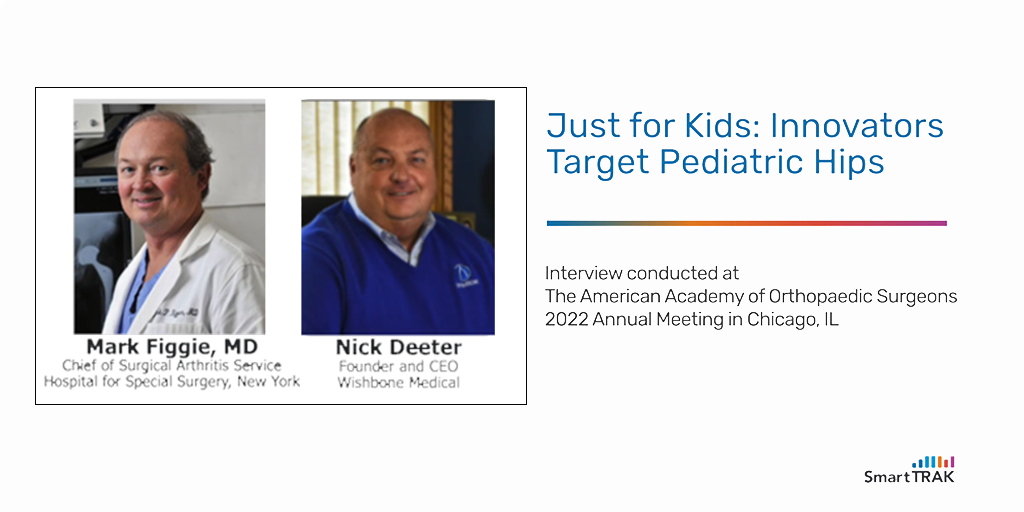 Dr. Mark Figgie, Hospital for Special Surgery, and Nick Deeter, Founder & CEO WishBone Medical discuss their journey to develop a pediatric-specific hip replacement system in an interview with SmartTRAK

Dr. Mark P. Figgie, Chief of Surgical Arthritis Service at Hospital for Special Surgery (HSS) in New York City, and Nick Deeter, Founder and CEO of WishBone Medical discuss their collaboration on the development of the first off-the-shelf hip replacement system for pediatric patients in an interview with

SmartTRAK.

Dr. Figgie shares how his 30-year experience with complex joint replacements, many in juvenile patients, led to his collaboration with WishBone medical to create a hip system specifically tailored for pediatric and young adult patients.



To find out more, including the indications for a pediatric hip replacement, the global market implications, and the next steps Dr. Figgie and WishBone will be taking to bring this hip system to the market, click on the video below to listen to the recorded interview (17:53 min). A link to download the complete transcript of the interview is also provided below.
SmartTRAK: Hi I'm Lisa Mahan, VP and Sr. Analyst Total Joints for SmartTRAK. I'm pleased to have this opportunity at AAOS 2022 to speak with Dr. Mark Figgie, Chief of Surgical Arthritis Service at Hospital for Special Surgery in New York, and Nick Deeter, Founder and CEO of WishBone Medical, about their collaboration to develop a pediatric hip replacement system.
I was at Canaccord this week sitting in on the WishBone presentation, and so excited to hear about the pediatric hip, and would love to get some more background on it. So how did that come about?
Dr. Mark Figgie: This is a good, easy story for me to tell because I've been doing complex joint replacements for 30 some years. A lot of patients with juvenile inflammatory arthritis, which, fortunately, those numbers have decreased because of better medications but there are still quite a few of them out there. Skeletal dysplasia patients, developmental dysplasia, where the bone doesn't form properly, and in many instances, we had to make custom implants for those patients. Well, it's getting harder and harder, and more expensive to make custom implants. There's a long design time, there's a process to go through the FDA, there's the expense of the design, the manufacturer. And if it doesn't fit properly, you're over the edge of the cliff without a rope.
So what I wanted to do was to help design an implant that would be appropriate for these cases and try to design something that would cover 80% of the cases that I've done customs on. And make that available to the general public so that other people could use them as well.
And so they wouldn't have to go through the cost of customs. And it would be better for the patient, better for everybody. So I bounced this idea off Nick several years ago, and he came back to me and said, "I think we're ready to do this." And so we partnered up with the Hospital for Special Surgery, where I am. Their biomechanics department is fantastic. And they're the ones that have helped me design these custom implants over all the years.
And we went back, we had a whole library of CAT scans, and x-rays, and patient data, and we started working on design. And then we basically, virtually implanted via the computer into the CT scan data and see if it fit. And went through several iterations of that. And then came up with a modular type design that would help to correct the different angles and offsets and bony deformities that are common in these patients. Because when they get arthritis at a young age, it affects their future growth, but it also affects the development or the alignment of the bone because they start off with one, it's called anteversion of the neck on the stem. And it gradually corrects until they get to about 16. But if the arthritis affects them in the interim, and it ceases their growth and then the angle of the hip is all off. So we need to be able to correct that intraoperatively.
So we had a great partnership between WishBone and the hospital and the surgeons and started meeting on a regular basis and working on the design. And we're now at the point where we're ready to ...
To download the complete transcript of the "Just for Kids: Innovators Target Pediatric Hips" interview with Mark Figgie, MD, and Nick Deeter just click the button below.
---
SmartTRAK is a comprehensive, easy-to-use, business intelligence solution for the Life Sciences Industry that provides breaking updates on pertinent company news, potential treatments and guidance, international survey results, statistical analysis by country, studies, trial results, financial impact and more. All subscribers receive a Daily Updates email containing the latest need-to-know news curated by our expert analysts. It's the perfect way to start your day! If you would like to learn more about SmartTRAK, just click here.