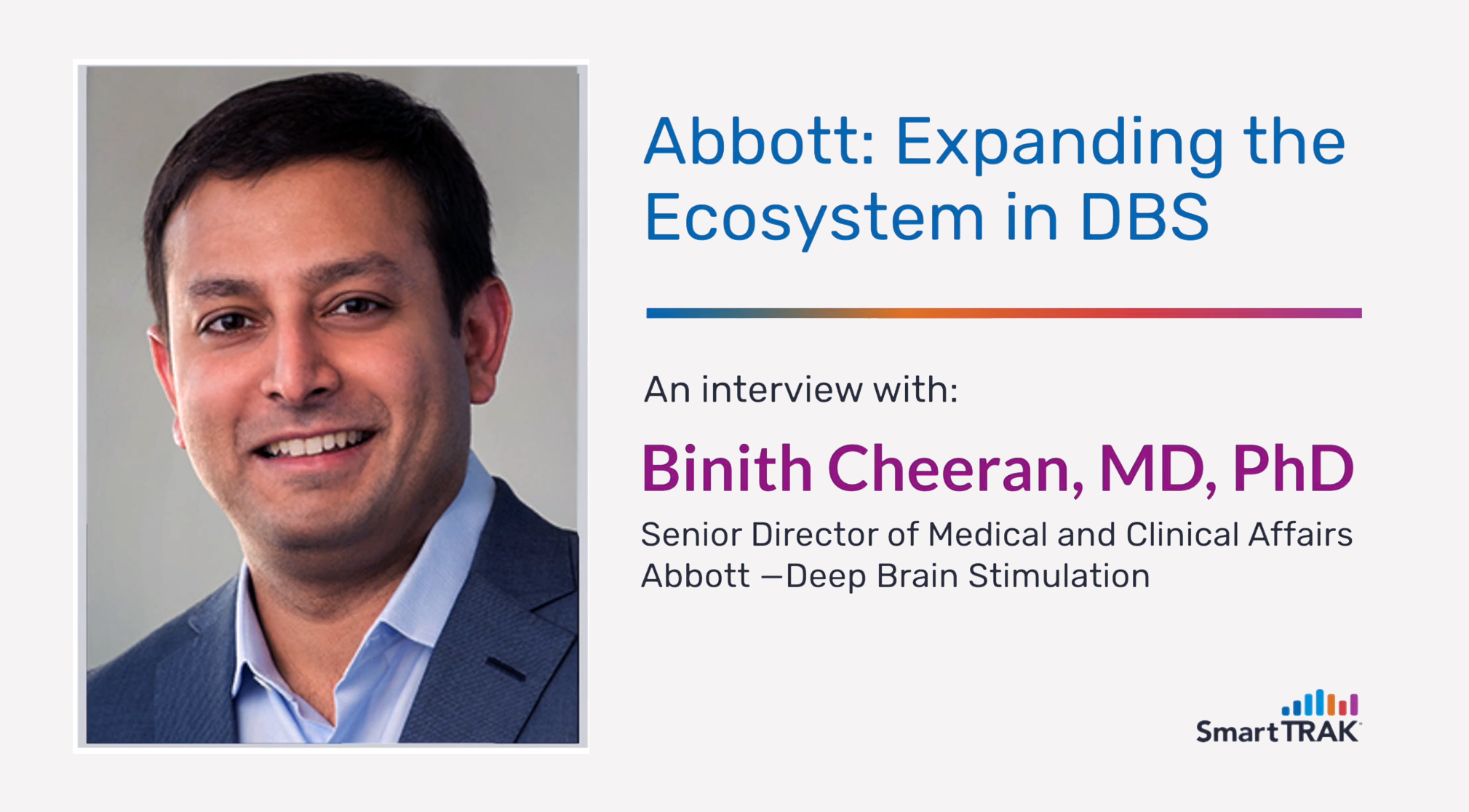 Abbott's Binith Cheeran, MD, PhD discusses the latest trends in DBS as well as the Company's strategies for growth in an interview with SmartTRAK
Binith Cheeran, MD, PhD, Abbott's senior director of medical and clinical affairs for deep brain stimulation (DBS), discusses the latest trends, research and innovation in DBS in an interview with SmartTRAK. Abbott is focused on growing the market through patient education, improving access to care through its NeuroSphere Virtual Clinic and expanding the ecosystem in DBS through the Company's connected devices.
To find out more, including Dr. Cheeran's thoughts on primary cell vs rechargeable devices, use of specific image guidance systems, closed-loop DBS and empowering patients through digital health solutions, click on the video below to listen to the interview recorded online via Zoom (32:45 min). A link to download the transcript of the interview is also provided below.


SmartTRAK: I'm Anne Staylor, executive editor at BioMedGPS. Today, I'm talking to Binith Cheeran, MD, PhD, who is a neurologist and senior director of medical and clinical affairs for Abbott's deep brain stimulation business. Dr. Cheeran, thank you for talking with me today.
Binith Cheeran, MD, PhD: Thank you for having me, Anne. It's a pleasure to be here.
So, how has COVID impacted Abbott DBS?

BC: When we look at the impact of COVID and the people that we serve, the patients that we serve in the clinician community and also on Abbott itself. When we look at the impact on our patient community, it's been widely reported. This has really impacted people's ability to get the care they need when they need it. Elective outpatient appointments have been canceled. A lot of elective care switched to telehealth. Neurology services up to 90% switched to telehealth in the depths of the pandemic. And so, one of the things that, as you're aware, we've done is provided a first-ever telehealth solution for DBS, which has gone a long way to help the people that we serve.
When we look at Abbott and DBS specifically, we look at that in terms of our ability to continue with evidence generation, like our clinical trials. We've been able to adapt and our team has been able to perform to an extent where we have actually performed to target or above target with things like recruitment into our ADROIT study or preparing to launch our remote programming and remote optimization study. So we've been able to adapt as a company to keep things on track through this pandemic.

In terms of the challenges, are you seeing challenges in patient recruitment or in patients getting the care they need? I'm sure it has affected the number of de novo implants more so than replacements. So, how have you addressed some of those kinds of challenges in getting patients the treatment that they need other than, of course, the NeuroSphere?

BC: I think the challenges for patients and physicians offering a DBS service is that elective care largely shut down. So assessment of people who needed the care was really affected. And then aftercare for people who had a DBS implant was affected, and we think that ...
To download the complete transcript of the "Abbott: Expanding the Ecosystem in DBS" interview with Binith Cheeran, MD, PhD, just click the button below.
---
SmartTRAK is the leading source of competitive intelligence used by the top ten global wound care & orthopedics companies and has recently added some exciting new modules to the platform, including Deep Brain Stimulation. To learn more, just click here.