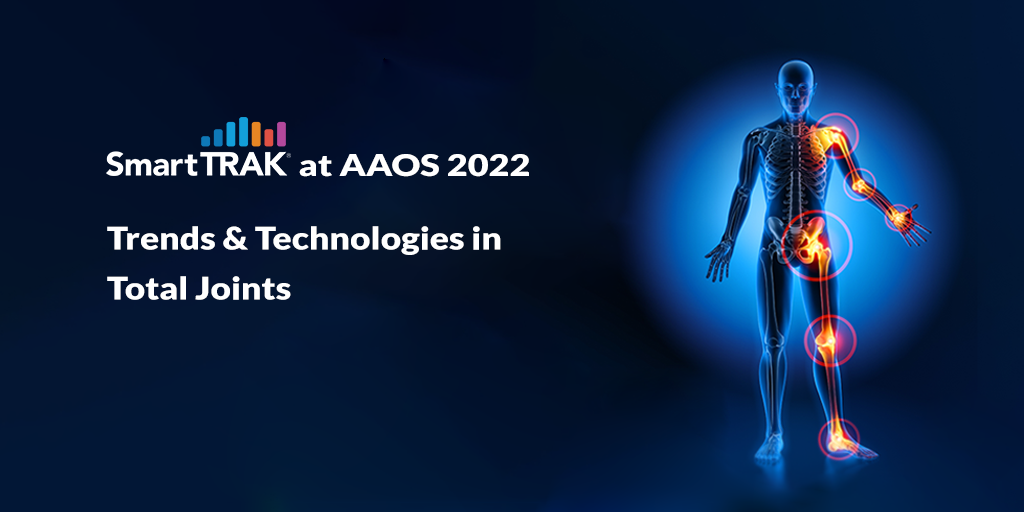 New products and signs of procedural recovery lighten the mood at AAOS 2022
The mood at the American Academy of Orthopedic Surgeons (AAOS) 2022 Annual Meeting was upbeat despite scaled-back attendance and exhibit space. Surgeons and exhibitors alike were excited to get back to in-person discussions about issues in orthopedics, new products hitting the market and the potential for recovery from the impact of COVID. While at the meeting, SmartTRAK met with industry professionals from clinicians to company representatives identifying key takeaways from market drivers and limiters to new product introductions.
(Continue reading to find out how to receive FREE SmartTRAK DAILY UPDATES)

Early 2022 Procedural Recovery

SmartTRAK discussions at the meeting revealed that elective procedural recovery seemed to progress as Q122 evolved but volumes have not yet reached pre-pandemic levels. Several surgeons indicated that hospital staffing issues and COVID surges negatively impacted elective procedures more heavily in January. While procedures seemed to be showing signs of recovery, there was no real consensus on what the drivers are behind the recovery. Some surgeons attributed the recovery to built-up demand since elective procedure shutdowns early in the pandemic while others felt the increase was from the rescheduling of procedures postponed over the last few months. Despite pent-up demand and volumes picking up, hospital staffing shortages continue to be a challenge dampening the recovery. For example, Wells Fargo Securities reported one surgeon they spoke to at the conference is unable to add additional OR time to work through his backlog of patients because of the ongoing staffing shortage. Ongoing inflation and supply chain issues are also top of mind as challenges to be faced in 2022.

New Products Introductions: It's Not Just about Robotics

While robotics and assistive technologies generated buzz amid AAOS attendees, new implant introductions also shared the spotlight at the 2022 meeting. From a new hip stem to a complete knee system, products launched at the meeting address various concerns surgeons still face when treating their total joints patients.

Stryker* announced the introduction of its Insignia Hip* designed with the intention of optimizing patient fit and facilitating ease of implantation using muscle-sparing approaches such as the direct anterior approach (DAA) for total or partial hip arthroplasty. The collared, fully HA-coated hip stem features a low-profile shoulder, short stem lengths and distal relief for ease of insertion. Insignia can also be implanted using MAKO robotics and the new Total Hip 4.1 software which allows for 3D CT-based surgical planning. Don Payerle, President Stryker Joint Replacement, told SmartTRAK he believes Insignia will bring more hip surgeons to Stryker because it addresses a broader part of the market. The stem, appropriate for all conventional hip surgical approaches as well as robotic surgery, has received positive surgeon feedback. Payerle also expects Insignia to accelerate the utilization of hips on MAKO..

At AAOS 2022, two new knee systems with advanced surface treatments made their official debut. However, each took a slightly different tack in addressing surgeon needs.

Total Joint Orthopedics* (TJO) launched the Klassic Knee* with Aurum technology. The Klassic femur features a titanium substrate, 50% lighter than CoCr, with a titanium nitride coating. The implant, which was 510(k) cleared in July 2021, is the first step in a multi-year plan TJO is following to reduce the use of cobalt chrome in orthopedic implants. Studies have shown that cobalt chrome implants have been associated with wear and corrosion that lead to periprosthetic tissue inflammation. The knee is manufactured using a patented ion beam enhanced deposition (IBED) process to ballistically bond the titanium nitride (TiN) coating to the titanium femur substrate, which results in improved wear resistance, abrasion resistance and hardness according to the Company. Also, with the titanium being 50% lighter, the femur more closely replicates the weight of native bone.

LINK* announced that its LinkSymphoKnee System* introduced at AAOS 2022 is currently being launched in the US market. LinkSymphoKnee is a complete system for primary and revision knee replacement that includes components with advanced surface treatment, TiNbN (PorEx) coating to components for complex revision cases. LINK developed the system including streamlined instruments to be easily utilized for same-day surgery whether in a hospital outpatient or ASC setting. The system also includes femoral and tibial augments, femoral and tibial cones and extended sizes of femoral and tibial stems to address bone defects during complex revision cases.

On the Horizon

At the 2022 Canaccord Genuity Musculoskeletal Conference just prior to AAOS, WishBone Medical* shared that the Company is continuing to develop a total hip for pediatric patients. WishBone is collaborating with Mark Figgie, MD, and the Hospital for Special Surgery to develop an off-the-shelf hip system designed specifically for the anatomy of pediatric patients to address juvenile idiopathic arthritis among other conditions.
ConforMIS* reported that it remains on track to introduce two new implants in 2022. The Company plans to launch a cementless version of its Imprint Knees*, the Company's off-the-shelf alternative to its custom knee implants, and a short proximal hip stem by the end of 2022. ConforMIS confirmed it is also transitioning existing customers to its Platinum Services Program (PSP) over the next six-to-nine months. With the PSP, patients have the option to pay out-of-pocket for an upgrade to fully custom ConforMIS implants. New customers can fully participate in the business model now.
* These links can only be viewed by SmartTRAK subscribers. For more information on SmartTRAK, including how to receive a demo and subscribe, please click here.
If you want to Be the Ortho Expert who develops the Next Big Thing, just click the button below to sign up for 30 days of Free SmartTRAK Updates and a 15-minute Crash Course where you'll learn:
The kinds of products you should be developing

What very few people know about the world of Ortho
---
SmartTRAK is a comprehensive, easy-to-use, business intelligence solution for the Life Sciences Industry that provides breaking updates on pertinent company news, potential treatments and guidance, international survey results, statistical analysis by country, studies, trial results, financial impact and more. All subscribers receive a Daily Updates email containing the latest need-to-know news curated by our expert analysts. It's the perfect way to start your day! If you would like to learn more about SmartTRAK, just click here.