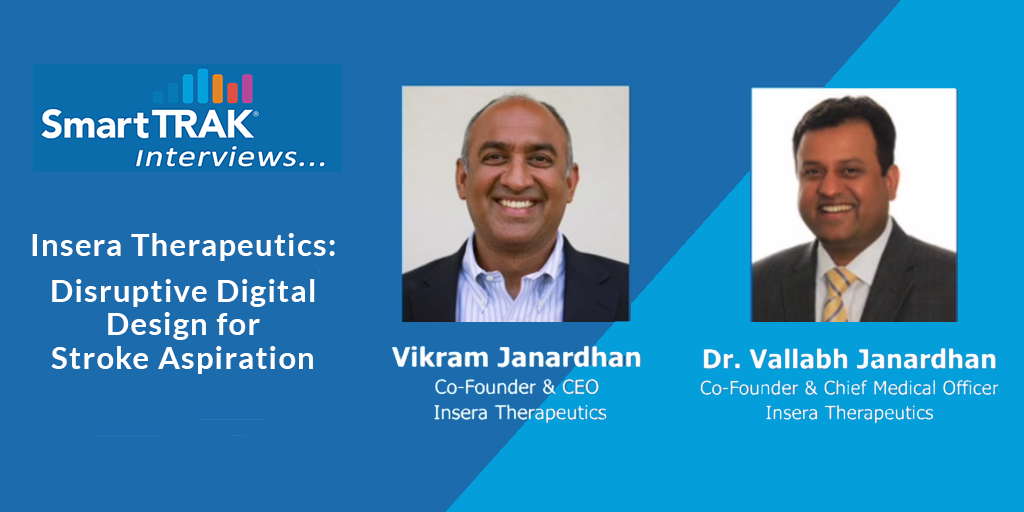 Insera Therapeutics takes vacuum aspiration therapy to a new level with a disruptive digital design and cyclical aspiration for mechanical thrombectomy
Insera Therapeutics' co-founders and brothers Vikram Janardhan and Vallabh Janardhan, MD saw an opportunity in the market for acute ischemic stroke and have developed a next generation, all digital vacuum aspiration system for mechanical thrombectomy designed to take suction aspiration to a new level. Unlike traditional analog electromechanical vacuum aspiration systems, which provide uniform, static aspiration, the Company's CLEAR Aspiration System allows users to layer cyclical or pulsatile aspiration on top of uniform aspiration. By marrying a computer to a vacuum pump, Insera's Clear Aspiration System can be finely controlled, and allows users to create their own cyclical wave patterns remotely using an iPad controller.
The Company recently received CE Mark for the Clear Aspiration System with a broad indication beyond stroke, and research to date suggests the technology provides better transmission suction to the tip, improves the first pass effect and decreases emboli in new territory.
To find out more about Insera Therapeutics, the technology and what's next for the Company, SmartTRAK interviewed CEO Vikram Janardhan and Chief Medical Officer Vallabh Janardhan, MD, at the Society of Neurointerventional Surgery (SNIS) Annual Meeting in Miami Beach, FL held July 22-26, 2019.
Click on the following video to listen to SmartTRAK's interview with Vikram and Vallabh Janardhan, MD, recorded live at SNIS 2019. To download a transcript of the interview, please click the button at the end of this post.
To download a transcript of the interview, click below.