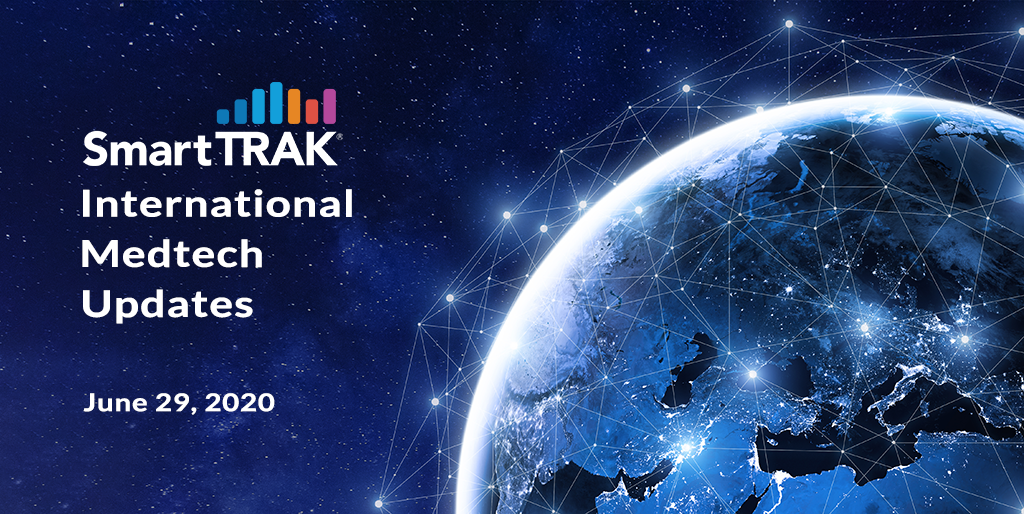 As the international response to COVID-19 shifts to preparing for a potential second wave, the Medtech industry pushes forward with the development and approval of new devices. The following is just a small sampling of the past week's international updates that were curated, compiled, reviewed and posted throughout the day by the expert analysts at SmartTRAK. They sift through the noise to discover the latest international news, industry trends, financial data and competitor developments in the global Life Sciences industry.
Pandemic Reserve in Germany
In Germany, as a result of the past months, BVMed proposed to the Minister of Health to build stock for masks and protective equipment for 6 months to be used in pandemics.
How To Build Wound Care Knowledge
The Odense University Hospital in Denmark built up a blended learning concept in wound care for nurses to support them in gaining confidence when carrying out wound care. E-learning modules, study visits and workshops are mixed to address the needs.
Medical Device Promotion in France
In France, The National Agency for the Safety of Medicines and Health Products (ANSM) published a guideline on how advertising visas should be handled for medical devices during the state of emergency (until July 10, 2020) and through the year.
Restricted China Export Boost Local Market
Freight costs have increased dramatically during the COVID-19 outbreak. Chinese medical dressing export are mainly low cost, less advanced dressings. Manufacturers are now looking more to grow sales on their local China market, to replace imported more advanced dressings.
Skin Lesion Study in Spain
The National Group for the Study and Advice of Pressure Ulcers and Chronic Wounds (GNEAUPP) in Spain will carry out an epidemiological study on skin lesions associated w/ the use of PPE in healthcare professionals during the COVID-19 pandemic in Spain.
Skin Injuries Caused by PPE During COVID-19
A multi-center study among 4,308 health care professionals from 161 hospitals in China, to investigate skin injuries caused by personal protective equipment (PPE) in medical staff, found a prevalence of 42.8%. Only 17.7% took prevention actions and 45.0% were treated.
Hartmann Group
Hartmann in Russia is
focusing
on dressings that are useful when on vacation or at home. The campaign is until the end of August. Dressings involved are Hydrofilm, Cosmopor E, Branolind N and Peha-haft range.
NMPA Approved Devices in May 2020
In May 2020, the NMPA approved a total of 135 registered medical device products. Among them, 79 were Chinese Class III, 21 imported Class III, 32 imported Class II. Nine COVID-19 antibody detection kits were approved.
Huibo Medical's China Patent "Long-acting antibacterial hydrogel and preparation method thereof" was published, describing a gel w/ microcapsules containing chitooligosaccharides and silicone quaternary ammonium salts. CN201710773022.5
Evaluation of Superabsorbent Dressing
An open-label, 50-pt non-comparative study was performed in the UK w/ Zetuvit Plus from Hartmann. Objectives were to evaluate the fluid management capabilities of the dressing and to assess its impact on undisturbed healing.
---
SmartTRAK is a comprehensive, easy-to-use, business intelligence solution for the Life Sciences Industry that provides breaking updates on pertinent company news, potential treatments and guidance, international survey results, statistical analysis by country, studies, trial results, financial impact and more. All subscribers receive a Daily Updates email containing the latest need-to-know news curated by our expert analysts. It's the perfect way to start your day! If you would like to learn more about SmartTRAK, just click the button below.