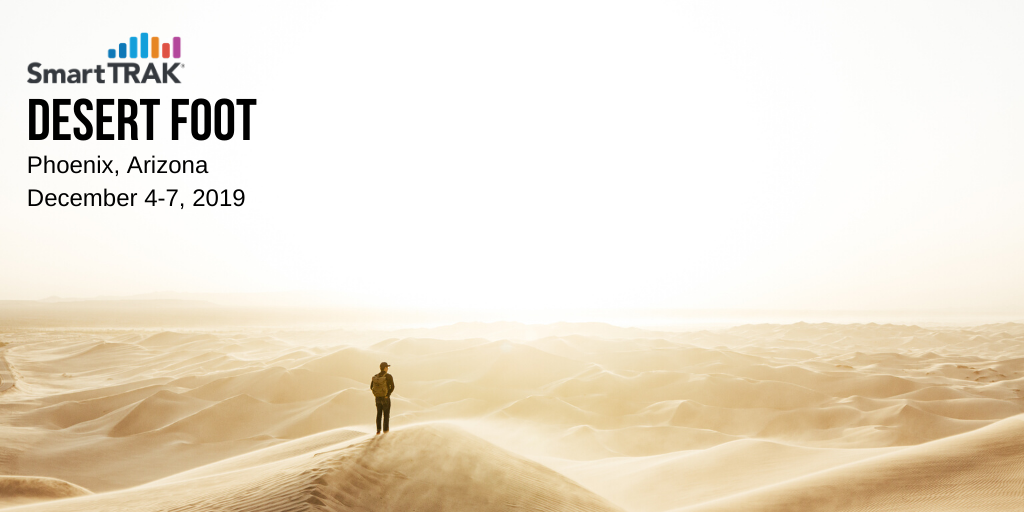 Headed to Desert Foot? We have you covered.
SmartTRAK's Senior Analyst for Advanced Wound Care, Terry Hayslett, is headed to Phoenix, Arizona for the 2019 Desert Foot Conference. We caught up with him ahead of the December 4-7th meeting as part of our new Know Before You Go series.
Desert Foot is one of the premier advanced wound care meetings. The meeting is held annually in Phoenix. "The conference brings together six groups involved with limb salvage preservation of the lower extremity from the Veterans Administration, VA Podiatric Residency Directors, Arizona Podiatric Medical Association, Association for the Advancement of Wound Care (AAWC), the Department of Defense, and healthcare professionals in the private sector, from across the country to a single conference to best meet their educational needs." Desert Foot
1. Terry, you will soon be attending Desert Foot. What is it about this meeting that you are most excited about?
This will be my first-time attending Desert Foot, but I've heard a lot of good things about the conference. It's always exciting to get out in the field to interact with clinicians and company representatives. It's great to get more of a first-hand account of what's happening in the market. I'll also be looking forward to talking with our SmartTRAK subscribers and those who may be interested in learning more about SmartTRAK's business intelligence.
2. Are there any new technologies, innovations, or companies you'll be keeping your eye on?
I cover External Devices and Compression within the wound space and will be interested to see what is new and notable in that area. I'll be focusing particularly on negative pressure wound therapy (NPWT), topical oxygen therapy, and vascular therapy. I would add, there are always interesting things happening with skin substitutes and lately, we've seen some new things in diagnostic aids as well.
3. We know it's great to walk the exhibit floor and talk with attendees but we're also curious about the sessions. Are there any sessions that you think are "not-to-be-missed"?
Absolutely. There are a lot of great sessions that I'm looking forward to attending. In no particular order, here are a few that I think are going to be interesting:
New Devices and Technologies for Managing Chronic Wounds
Innovations to Address Challenges in Closure of Foot and Ankle Surgical and Chronic Wounds
Topical Oxygen Therapy
Wound Assessment Paradigm Shift: Real-time Fluorescence Imaging as a Biomarker for Bacterial Load and Location
Different by Design: New Biologic Innovations for Complex Surgical Wounds Management