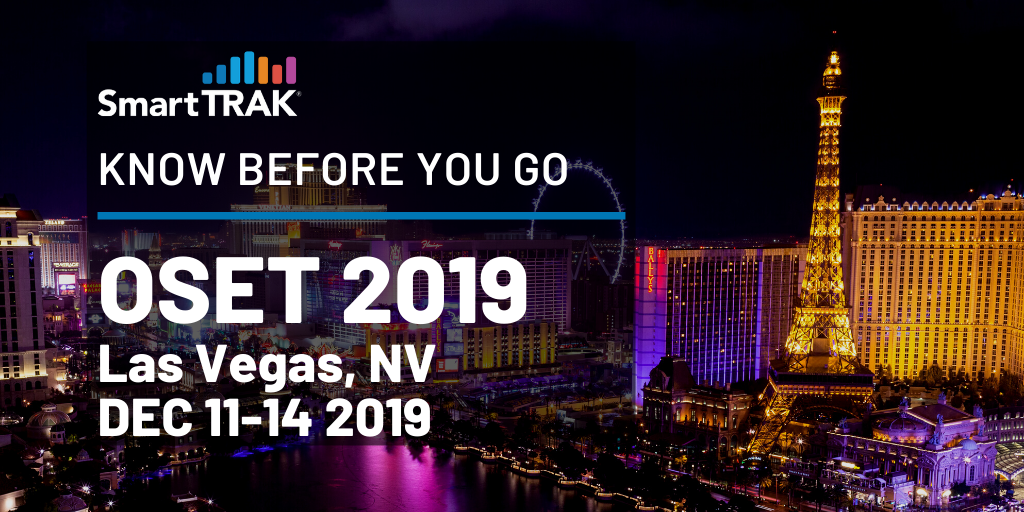 Are you headed to Vegas for this year's Orthopaedic Summit (OSET)? We sat down with Kristina Meyer, SmartTRAK's Senior Analyst for Sports Medicine, for our new series, Know Before You Go, to get the scoop on what she's looking forward to ahead of the meeting.

OSET will take place December 11-14th at the Bellagio in Las Vegas. The meeting touts itself as the "premier gathering of Total Joint (Knee, Hip, Shoulder), Foot & Ankle, Sports Medicine, Arthroscopic, Spine and Trauma Surgeons, Physician Assistants, Nurse Practitioners, Athletic Trainers, Physical and Occupational Therapists from across the globe." Orthopaedic Summit



SmartTRAK's team is excited to attend and exhibit. Stop by the SmartTRAK booth, #128, to talk with Kristina and the SmartTRAK team about the latest news, trends and intelligence impacting the orthopedic industry.

1. Kristina, you are currently gearing up to attend OSET 2019. What are you looking forward to the most about the meeting?
Since OSET spans several different specialties, it attracts many of the top surgeons and key opinion leaders from across the orthopedics industry. On the sports medicine side, you have surgeons like Dr. Marc Philippon and Dr. Tom Byrd, who solely focus their practice on advancing hip arthroscopy and Dr. Neal ElAttrache, from Kerlan-Jobe Institute who works with many of the top athletes across the world. (I would secretly just love to sit and hear all his stories and patient experiences!) These doctors are real thought leaders in the industry. It's very exciting to me to hear from such wonderful people at the forefront of treatment and listen to them speak in these panel-type discussions where they compare and contrast their approaches to injury treatment. The OSET meeting blurs the line between "the science of medicine" and "the art of medicine" and it's just fascinating to me.

2. As an Analyst, are there any companies or new technologies on your radar for the meeting?


Absolutely! I will have my eye on a couple of different things during the meeting. My colleague, Freddy Buntoum, will be joining me at OSET. She is our Senior Regenerative Medicine Analyst. We are actively assessing how biologics are playing a bigger role in the continuum of care in orthopedics. Each year we see more biologic companies exhibiting and hear more surgeons speak about working biologics into their practices. This is interesting from a science perspective but is also really interesting from a business perspective. We are seeing a lot of acquisitions and alliances between implant and biologics companies to round out their portfolios and better address surgeons' needs.

Second, we are also slowly starting to see wound care companies move more into the orthopedic space. I saw that KCI is putting on a spotlight session during OSET to discuss clinical evidence evaluating closed incision negative pressure therapy (CiNPT) to reduce postoperative complications. During the session, they will also address the emerging role of negative pressure in improving functional outcomes.

Lastly, I am personally interested in the growth and adoption of procedures like meniscal root repair and superior capsule reconstruction. We are hearing a lot of talk about these procedures from many different companies and it's interesting to watch how this evolves.

3. There are always a lot of great sessions at these meetings. In your opinion, what's the one session you can't miss?
That's a tough one as there are a lot of great sessions and topics that are going to be discussed during this meeting. If I had to choose, I would say the knee session on Friday, December 13th discussing sports, the meniscus, cartilage, osteotomies, and multi-ligament repairs. For many of these conditions, it feels like a gold standard of care is still being decided upon. It will be interesting to hear if any of these are moving in a certain direction. Companies like Smith and Nephew are running their "Save the Meniscus" campaign and the first talks of the day are titled "Meniscal repairs are in!" It will be interesting to see how surgeons support or refute some of the industry claims that are supporting product lines. Additionally, the use of biologics and in-office arthroscopies vs MRI will all be discussed and these are "newish" topics that will certainly provide some food for thought.
---
If you would like to meet with Kristina, SmartTRAK's Sr. Analyst for Sports Medicine, while attending OSET 2019, just click the button below to schedule a meeting.