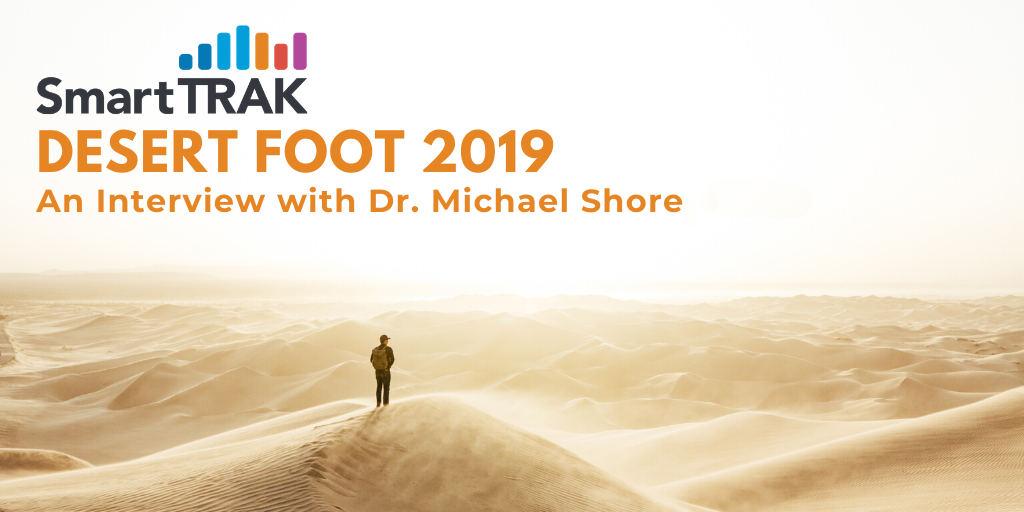 Ahead of the Desert Foot conference, SmartTRAK interviewed Dr. Michael Shore, Director of Medical Education and a founding member of PRESENT e-Learning Systems, to preview the conference which is being held Dec 4-7, 2019 in Phoenix, AZ
The multi-specialty conference provides comprehensive education for the overall management of the high-risk foot and lower extremities for podiatrists and other clinicians. Attendees will benefit from a wide variety of presentations, hands-on workshops and scientific research and will see cutting edge technology presented by the largest medical device and pharmaceutical companies in the industry.
To find our more about Desert Foot 2019, as well as PRESENT e-learning Systems, click on the following video to listen to SmartTRAK's interview with Dr. Shore. (16:45 min)
A topic outline of the video by timecode is provided below. If you would like to download a complete transcript of the interview, just click here.
Timecode:
00:26: First of all, can you tell me what the relationship is between PRESENT e-Learning Systems and Desert Foot?
05:04: Can you tell me a little bit about some of the things we'll see at this year's Desert Foot meeting?
09:52: What would you say differentiates Desert Foot from other wound care conferences?
11:13: I noticed the conference focuses on federal service healthcare programs, such as the VA and the Department of Defense. So what's the connection there or why is there a focus on these programs?
12:31: Are there certain products available to patients in these programs that may not be available to podiatrists or other physicians treating Medicare or some of the other private health insurance patients?
13:44: Do you know if there would be any new studies that we should look out for at the meeting this year?
14:52: Lastly, what would you say are some of the top technology trends you see right now in wound care?
---
For a complete transcript of Terry's interview with Dr. Michael Shore, just click the button below.