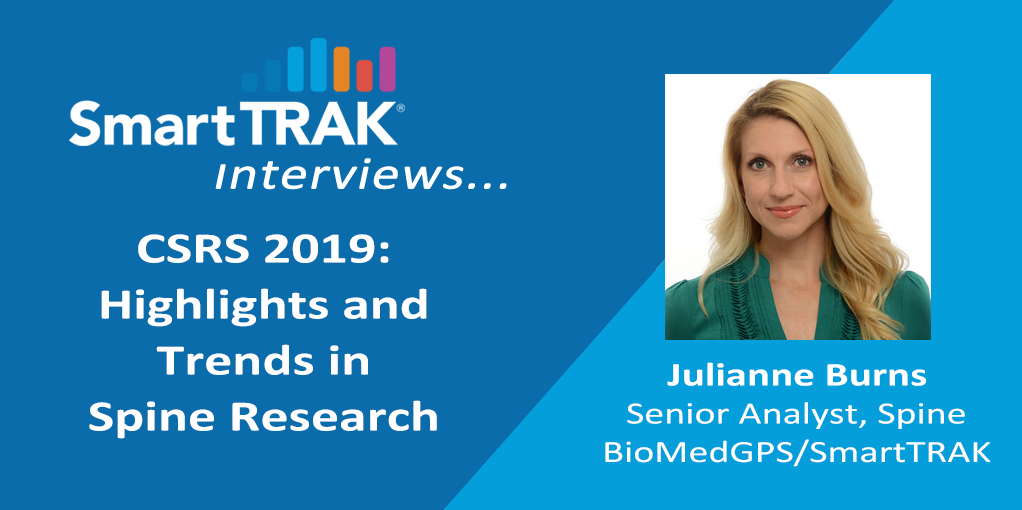 Julianne Burns, SmartTRAK's Senior Analyst, Spine, just returned from attending the 2019 Cervical Spine Research Society's (CSRS) 47th Annual Meeting in New York City.
Julianne discusses highlights from the meeting, including what's on the horizon for the cervical spine market and the trend toward moving cervical spine procedures to an ASC setting in an interview with SmartTRAK Managing Editor Anne Staylor.
Click the video below to hear the interview, and scroll down to read the transcript.
Anne Staylor: Anne Staylor with SmartTRAK. Today I'm talking with Julianne Burns, SmartTRAK Senior Analyst and expert extraordinaire for the spine market. Hi, Julianne. How are you doing today?

Julianne Burns: I am well, thanks, Anne. How are you?

Anne Staylor: Pretty good. Julianne, you just attended the Cervical Spine Research Society Annual Meeting in New York. Thought we could just chat a little bit. You want to talk a little bit about the meeting itself? What were your impressions of that meeting?

Julianne Burns: CSRS is a really interesting meeting because there is such a strong emphasis on spine and research, obviously by design, so we don't talk a lot about at CSRS specific technologies or really trends from kind of an industry perspective. It's much more focused on which approaches can give our patients the best outcomes. There was actually a lot of discussion as well about how to best track those outcomes, which patient-reported outcomes are the most reliable, things like that.

Anne Staylor: So, as far as the meeting itself, were there, was it well-attended? What about industry side, what were your impressions there?

Julianne Burns: It did seem well-attended. The industry folks that I met with while I was there seemed very pleased with the attendance. It's a smaller meeting, so you didn't have the huge exhibit hall. We didn't have the robot setup, the imaging and navigation setups. It was very intimate and allowed for great conversations between industry and surgeons.

Anne Staylor: What were some of the trends you saw at the meetings that are important for companies with cervical spine technology?

Julianne Burns: Well, some of the trends that we've been tracking are obviously cervical disc arthroplasty and that continued to be a topic of conversation as it has been in years past. Another trend that we've been actively tracking is the trend in moving cervical fusion and disc arthroplasties from an inpatient to an ASC setting, and we were actively interviewing surgeons at CSRS on their opinions on that.

Anne Staylor: Based on your research at the meeting and some of your feedback you received, where are we at in terms of outpatient for cervical spine?


Julianne Burns: Both cervical fusion and cervical disc arthroplasty are approved to be performed in an ASC. They are reimbursed in an ASC setting. However, we're still, I think, in the early stages of those procedures moving primarily to an ASC setting. We did some interviewing of surgeons, as I mentioned, at CSRS, and obviously this is a very academic surgeon population, so maybe not indicative of the market in general. But very few of those surgeons had moved any of their cervical fusion or disc arthroplasty procedures to an outpatient or an ASC setting. The vast majority of those were still performing their cases inpatient. However, we did speak to a few surgeons who have moved almost all of their procedures to an ASC setting, so it's a really interesting dynamic right now.

Anne Staylor: So it's a mixed bag at this point.

Julianne Burns: Absolutely.

Anne Staylor: Based on the research presented at the meeting, what is on the horizon for the cervical spine market?

Julianne Burns: Well, one of the things that I noted that was a little bit interesting to me is that we're starting to really differentiate between the cervical disc arthroplasties on the market. Much of the data to this point have been just cervical disc arthroplasty in general versus fusion. And now I think we're starting to get a little more into the weeds in terms of how each of the disc arthoplasty is performed and how their biomechanics might make them better suited for different patients or pathology. I'll be discussing that in more detail in an upcoming article on my findings from the CSRS meeting.

Anne Staylor: Okay, sounds great. Well, we look forward to reading your article. Thanks so much.

Julianne Burns: Thanks, Anne.
---
If you would like more information about SmartTRAK, the leading source of competitive intelligence used by the top ten global orthopedic & wound care companies, and how it covers the Orthopedics and Spine Markets, just click the button below.