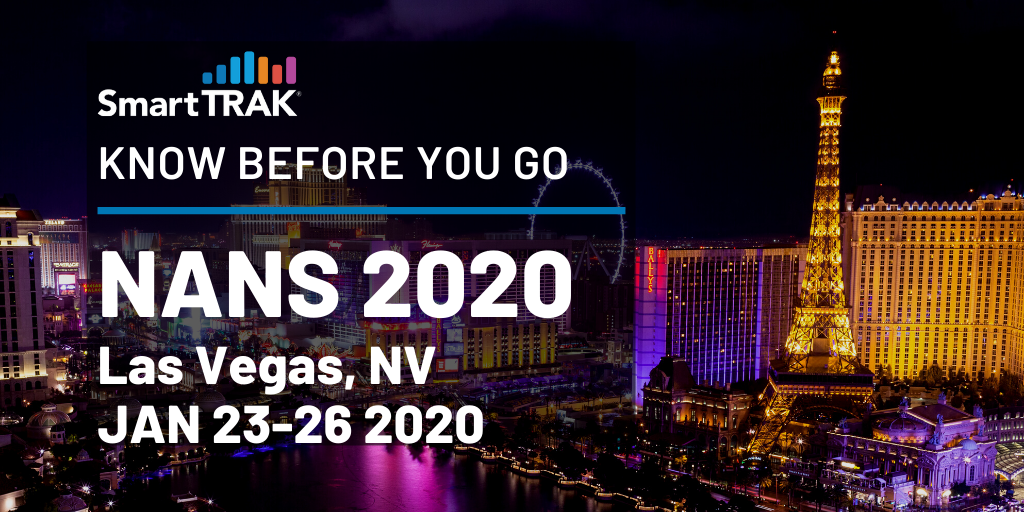 Are you getting ready to head out to Las Vegas to attend NANS 2020 - the North American Neuromodulation Society 23rd Annual Meeting? We sat down with Anne Staylor, SmartTRAK's Managing Editor and Senior Director of Advanced Technologies for our new series, Know Before You Go, to find out what she's looking forward to ahead of NANS 2020.

NANS 2020, billed as the premier meeting in the field of neuromodulation, is being held this year at Caesars Palace in Las Vegas, NV, and will showcase the latest scientific research and technical advancements in neuromodulation.
To hear Anne's take on the upcoming meeting, just click on the following video to listen to the full interview. A transcript of the interview is also provided below the video.
SmartTRAK: Hi, this is Tom Wallick and I'm speaking with Anne Staylor, the Managing Editor and Senior Director of Advanced Technologies at SmartTrak. Hi, Anne, how are you today?
Anne Staylor: I'm good, thanks for talking to me, Tom.
Sure. So you're currently gearing up to attend NANS 2020. What are you looking forward to the most about the meeting?
AS: Well, of course NANS is the premier meeting, or one of the premier meetings, in all of neuromodulation. So I'm really looking forward to finding out more about the latest research, the technologies, and talking to all the companies. From a journalist's perspective, there's so much at this meeting, it's like drinking out of a fire hose. But I am looking forward to getting the scoop on what's new, taking industry's pulse, and finding out more about what's going on in the market.
Great. And as an analyst, are there any new technologies, innovations, or companies on your radar for the meeting?
AS: Well, of course, everyone tries to launch their big technologies or the latest innovation at this meeting. So, there's so much to cover, but I'm just going to highlight a few things about innovation that I'm looking for.
I think everybody probably has on their radar that Medtronic acquired Stimgenics recently, as well as their DTM spinal cord stimulation. That's differential targeted multiplex spinal cord stimulation. I'm interviewing Marshall Stanton at the meeting, so I'm looking forward to finding out more about that technology and Medtronic's strategy for gaining share in spinal cord stimulation with that.
Also, Nevro since Keith Grossman took the reins of that company, it seems he's turned it around quite a bit, and they'll be showcasing the new Omnia platform, which includes multiple wave forms in addition to HF10 therapy. So that's something I think everyone should have their eyes on, and I hope to find out more at the meeting.
And then in September, Abbott launched their Proclaim XR, recharge free neurostim system using the BOLD study results in microdosing. And so that has been out a while, as far as Proclaim, but the new BOLD study and microdosing is an important innovation and I think I'll be finding out more about that. But among all the technologies, those I think are just some highlights.
That sounds great. And we know it's exciting to walk the exhibit floor and talk with the attendees, but we're also curious about the sessions. Are there any sessions that you think are not to be missed?
AS: There's so many important sessions at this meeting, but I think, from my perspective, the most important presentations will be about the latest research. On the Medtronic front, researchers will be presenting three-month results from a randomized controlled trial evaluating Medtronic and Stimgenics' DTM spinal cord stim versus conventional stimulation. So I think everybody is going to have their eyes on that. DTM is delivered on Medtronic's Intellus platform, and it has a really novel mechanism. It modulates both neurons and glial cells. And the RCT will follow patients up to 12 months. So that's a very important presentation I think that people should be looking for. Dr Vallejo, Ricardo Vallejo, presented a 25-patient prospective observational study on this technology at INS 2019, which was very positive. So the results of the three-month results from that RCT are expected to be quite positive as well.
And then Nevro…I think that Friday morning there will be a series of abstracts on various indications that Nevro is pursuing, including nonsurgical refractory back pain, upper limb and neck pain, chronic abdominal pain, pelvic pain, and refractory migraine. Nevro has been leading the charge in terms of research on expanding indications, so a lot of people will be interested in those results as it could potentially expand the market for spinal cord stim.
But Saturday morning, I think all eyes will be on Dr. Peterson's presentation, Nevro's three-month primary results from the Senza PDN study, the painful diabetic neuropathy study. Although PDN is currently on-label today for lower back/leg pain, and some are already being treated for limb pain, research on this indication could help expand reimbursement. Nevro has estimated the market opportunities for painful diabetic neuropathy at 2 million patients. So that can affect a lot of the companies and patients.
Saluda has already announced 12-month results of the Evoke pivotal trial. It's published in Lancet Neurology, but they'll be presenting. Abbott has some studies. Dr. Al-Kaisy will be presenting the final results from the CRISP study, which evaluates the safety and efficacy of anatomic midline-based burst stimulation. And Dr. Tim Deer will be presenting final results from the BOLD study looking at the microdosing stimulation. So that's also important. And then, Boston Scientific, of course, they'll have important study results, including Navitas, COMBO and the HALO study.
So, I could go on and on. But for me, those are the studies that I'm looking at. Those are the studies I think will be the most important if you look at it from a company perspective. So I think there is so much for people to see, and I'm really looking forward to covering it all.
Thanks, Anne. We look forward to your reports from NANS 2020.
AS: Thank you. Bye-bye.
Bye.
---
SmartTRAK is the leading source of competitive intelligence used by the top ten global orthopedic & top 15 wound care companies. If you would like a demo of what SmartTRAK has to offer and how we can help increase proficiency, improve productivity and reduce costs for your company, just click the button below.