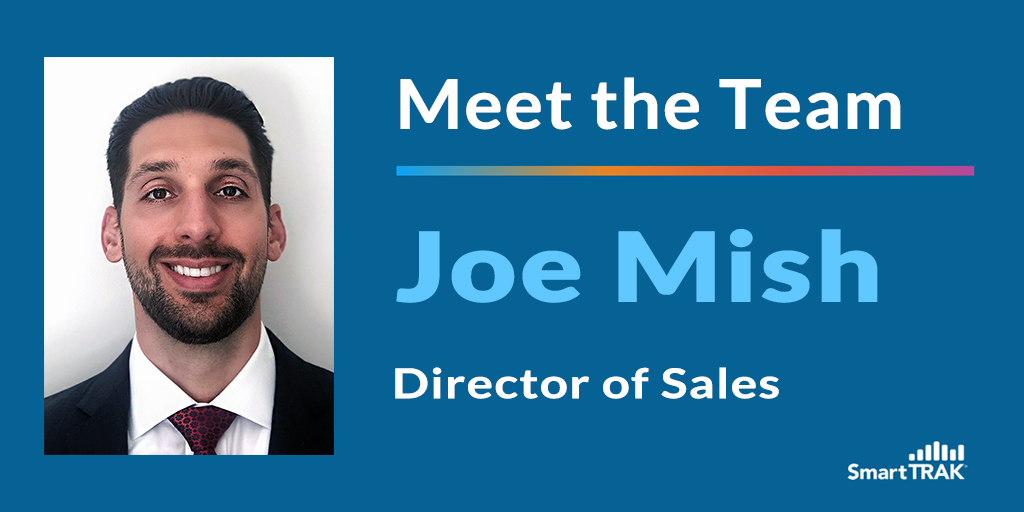 We are pleased to announce that Joe Mish has joined the team at SmartTRAK as Director of Sales. Joe has 10+ years experience in medical device sales, with concentration on Joint Replacement and Spine & Robotic Technologies. Prior to joining SmartTRAK, Joe sold and implemented analytic software to manage value-based care and bundled payment, working with Stryker, LDR/ZimmerBiomet and Stryker Performance Solutions.
Meet Joe Mish:
What is your role with SmartTRAK? I will be joining the commercial team as Director of Sales.
What do you like about SmartTRAK? I'll give you two perspectives here. First, with regards to the technology, I love the value proposition to our current and prospective customers. With the world being so volatile and business being severely disrupted (especially for surgery and device companies) being able to offer a solution to reduce risk, improve profitability and productivity makes this a fantastic time to partner with organization's and build strong, long-lasting relationships. This was truly a deciding factor in making a career/company change. Second, with regards to the company, I love the people. Coming from multiple large Fortune 500 companies with very specific cultures, individuals and team comradery is often and easily overlooked. I have been so impressed with the professionalism, transparency and family vibe from every person I have engaged with and I have only been on board for a week! This feels like a very special group of incredibly talented people and I am honored to be a part of it.
What is something special or unique that you bring to SmartTRAK subscribers? I would have to say the diversity of my background and simply being able to connect with people and understand their needs. I have extensive knowledge in orthopedics and can talk shop with the best of 'em but when I left the OR to sell analytic tools for value-based care programs and business development I really began to understand the whole picture. With constant pricing concessions my whole story was told around strategic partnerships and how I can make my customers lives easier and more productive. I was taught at a young age that people still buy from those they like and trust and I have never forgotten that!
How/why did you get into the life sciences industry? I have always had a passion for healthcare and loved the operating room setting. I was finishing my post grad pre-requisites as my plan was always to attend PA school and had to observe surgical hours prior to starting. As I watched my very first orthopedic case I was enamored by this young, wildly impressive individual who seemed to run the whole room, even telling the surgeon what to do and why. I had no clue why he wasn't also scrubbed in and just assumed he was a partner of the surgeon or worked for him. Immediately following the case I asked him if I can buy him a coffee and learn more about his role and what his story was. It turns out he was the local Stryker Joint Replacement sales rep. After learning about his clinical and patient responsibilities coupled with the selling aspect of all his products and technologies for about 3 hours, I ripped up my PA program application and had an interview with Stryker about a week later. This rep, whose name is John, became my mentor about a month later when he hired me as his sales associate and we later became business partners and managed the entire state of Connecticut together! I essentially made a spontaneous decision based solely on my gut instinct and never looked back!
What are your favorite online websites or resources that you check every day? I love sports so I check ESPN daily, although it has been quite depressing during the pandemic! I have always loved following the real estate market so a quick Realtor.com app search usually finds its way into my morning as well.
How do you stay current on what's going on in the industry? Prior to joining the team, I subscribed to Becker's Hospital Review, Forbes Healthcare and get a ton of updates through industry connections on LinkedIn. Now, I simply open my SmartTRAK daily update email as early as 4:30 and feel like a market genius by 5!
If you could have one super power what would it be? Definitely mind reading! As a seller if you always knew what the customer was thinking or truly needed at that very moment, life would be much easier and both sides could have some extra time in their day! I also feel as though it could be quite handy on the home front with my wife!
What was the last show you binge-watched? Most recently my wife and I binged out on Ozark. Really good series and highly recommended for those who haven't watched! The most aggressive binge however would have to be Game of Thrones. We came in late and crushed about 4 seasons in a matter of weeks to catch up and then felt like we had to overcome a breakup when we had to wait months on end for the new seasons/episodes to come out! Spoiler alert, one of the most entertaining shows I have ever watched with arguably the worst final season ever!!!
What is your life like outside of SmartTRAK? (family, kids, pets? What can we find you doing when you're not working?). I am married to my beautiful wife Alex and have been for 6 ½ years. She is a truly remarkable woman and I can't wait to introduce her to the team! We don't have kids (yet) but do have an 8-year-old English Bulldog named Hank who is a handful! We have a large Italian family so gatherings are usually often and Sunday dinners are loud, animated and full of legendary meals.
Outside of work I am a die-hard golfer and skier and find peace being outdoors and active. We love to travel and see new places and I have a huge passion for wine (I learned from my first day on video chat that many others share the same passion) so we are already starting off on the right foot!
---
SmartTRAK is the leading source of competitive intelligence used by the top ten global orthopedic & wound care companies. If you would like a demo of what SmartTRAK has to offer and how we can help increase proficiency, improve productivity and reduce costs for your company, just click the button below.