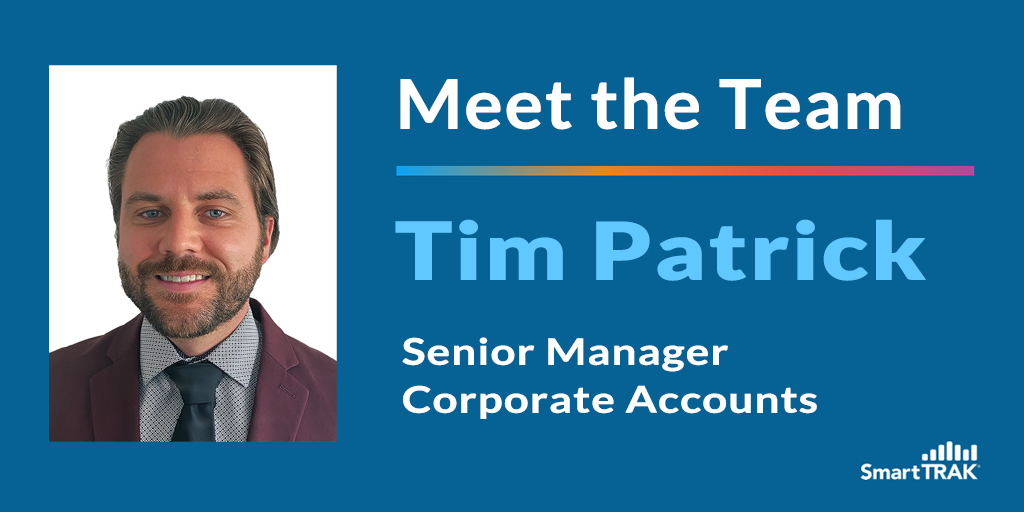 We are pleased to announce that Tim Patrick has joined the team at SmartTRAK as Senior Manager of Corporate Accounts. Tim has 5+ years experience in Medical Device Sales and Healthcare IT. Tim had prior roles at Zimmer Biomet and Abbott Laboratories.
Meet Tim Patrick:
What is your role with SmartTRAK? I've joined the commercial team as a Senior Manager of Corporate Accounts.

What do you like about SmartTRAK? It's tough to keep this question to a paragraph, but I will do my best! The space, product and people are what really intrigues me about SmartTRAK. The Medtech/Software space is ever changing and as dynamic of a space that I've been involved with. The product is absolutely incredible. The type of data we provide at your fingertips is a must have. Lastly, I've come from large Fortune 500 companies who have claimed to be a tight knit team but nothing compares to what we currently have at SmartTRAK. From the other reps, analysts, and up to the CEO it truly is the best culture I have ever been a part of.
What is something special or unique that you bring to SmartTRAK subscribers? My first instinct is to say my background. I have extensive experience in the Healthcare and Healthcare IT spaces. I also love working with people and helping them fill needs. These traits coupled with my work ethic will truly bring something memorable to SmartTRAK subscribers.

How/why did you get into the life sciences industry? I've always been intrigued by healthcare and technology. Wanting to make a difference and doing so while selling disruptive technology is what drove me to this space.

What are your favorite online websites or resources that you check every day? I've been obsessed with sports my entire life. Between my favorite sports and fantasy teams you will catch me on Yahoo and ESPN quite a bit. I also like to keep up to speed on the stock market. I utilize the app Robinhood and other news markets to gather information.

How do you stay current on what's going on in the industry? LinkedIn is a great source for information. Following KOLs, health systems and companies you can find a lot of information. Most recently I wake up to my daily updates from SmartTRAK and stay connected!
If you could have one super power what would it be? The ability to fly! Traveling is one of my favorite hobbies. To skip the airport and simply walk out my front door to travel would be perfect.

What was the last show you binge-watched? My girlfriend and I just blew through Yellowstone. What a crazy 3 seasons so far!

What is your life like outside of SmartTRAK? I've been dating my lovely girlfriend for almost 5 years now! No family or pets yet but we are excited for that day to come. One of the main reasons for moving to San Diego was for the weather. We spend more time outside than in. Our time is split pretty evenly between the beach, working out, hiking and golfing!

What are you the most excited about for your upcoming year at SmartTRAK? As we (hopefully) turn the corner of this pandemic; I am beyond excited to help companies get back in the swing of things. Getting back to the new normal and helping these companies achieve their full potential gets me out of bed every morning!
---
SmartTRAK is the leading source of competitive intelligence used by the top ten global orthopedic & wound care companies. If you would like a demo of what SmartTRAK has to offer and how we can help increase proficiency, improve productivity and reduce costs for your company, just click the button below.