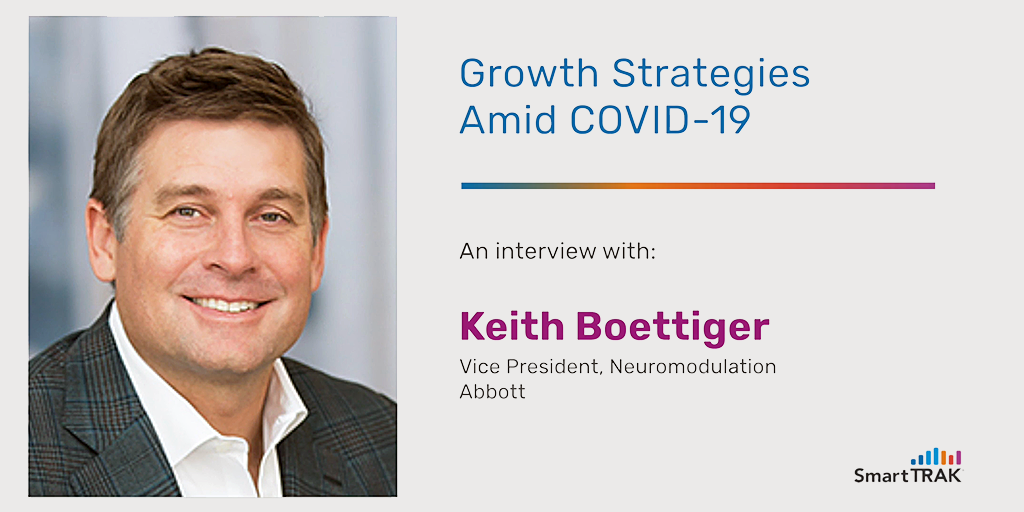 Keith Boettiger, Vice President, Neuromodulation, Abbott discusses COVID-19 and the Company's strategies for growth in an interview with SmartTRAK
Keith Boettiger, Vice President, Neuromodulation, Abbott discusses how COVID-19 has impacted the Company, its growth strategies, the market for neuromodulation and what's next in terms of innovation in an interview with SmartTRAK.
To find out more about Abbott and the Company's latest initiatives, including digital health, remote care and remote programming, click on the following video below to listen to the interview recorded live via Uberconference (35:38 min). Specific interview topics by time code are also outlined below. To download a complete transcript of the interview, click here.
Interview Topics By Timecode:
00:18 Impact of COVID-19 on Abbott and the interventional pain market. How COVID-19 has impacted different neuromodulation market segments (SCS, DRG, DBS, RF).
05:05 How Abbott Neuromodulation is addressing the challenges of doing business amid COVID-19, the role of Abbott's diagnostic division and the shift of cases to the ambulatory surgery center (ASC) setting.
09:55 Factors affecting neuromodulation market growth in the next six-to-12 months and the biggest growth drivers for Abbott Neuromodulation in the next two-to-three years.
12:33 Review of Abbott's latest products and future innovations, what differentiates them in the market and what they mean for Abbott Neuromodulation, including a patient controller app for pain and movement disorders, a new radiofrequency ablation system and the Company's vision for remote programming for DBS and SCS.
24:13 Discussion about digital initiatives, patient-reported outcomes, DRG technologies and Abbott's interest in emerging pain technologies and interventions, including interventional spine procedures and spine injectables/biologics.
32:24 The status of clinical trials and the impact that the pandemic has had on Abbott's clinical research. Abbott's work in expanded indications.
33:49 Abbott's biggest priorities over the next 12 months and what's next for Abbott Neuromodulation, including returning to growth, refining digital and remote care strategies and developing smaller, smarter and connected devices.
If you would like to download the complete transcript of the interview with Keith Boettiger, please click the button below.
---
SmartTRAK is a comprehensive, easy-to-use, business intelligence solution that networks an entire organization with real-time market data and analysis. Used by the 8 of the top 10 orthopedic companies and by 15 of the top 15 advanced wound care companies, SmartTRAK transforms the delivery of healthcare business information into a cost-effective solution for life science corporations to increase proficiency, improve productivity and reduce cost.