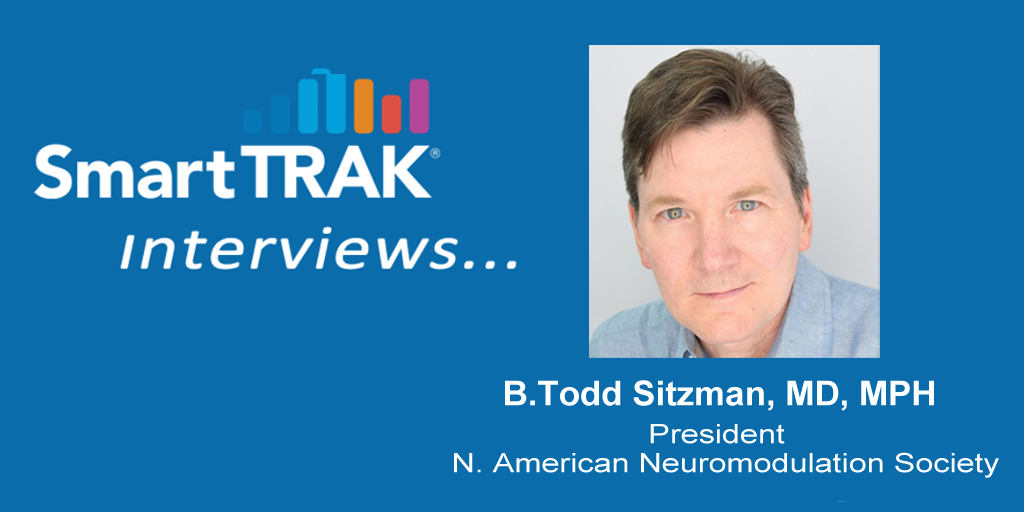 In an interview with SmartTRAK, B. Todd Sitzman, MD, MPH, President of the North American Neuromodulation Society (NANS), provides a preview of the educational opportunities, key research and emerging technologies that will be at the NANS 22nd Annual meeting to be held January 17-20, 2019 in Las Vegas, NV. Dr. Sitzman expects NANS 2019 to be the biggest meeting yet for the premier neuromodulation society, with up to 3000 attendees and 300+ abstracts presented, organized around the theme of "The Science Behind Successful Outcomes."
To find out more about the meeting, click on the video below to listen to SmartTRAK's interview with Dr. Sitzman, recorded via Skype from his office in Hattiesburg, Mississippi (11:53 minutes).
Interview Topics by Timecode:
00:33 What are some of the exciting things we'll see at this year's NANS?
00:57 Can you provide examples of key research that will be presented at the meeting?
03:38 What can we expect on the technology front?
04:14 Tell me about intra-operative monitoring? What is the purpose of that in spinal cord stimulation?
05:59 I've also heard you talk about a registry. Will the NANS Registry have a role at this year's meeting?
08:24 What are some of the top technology trends you see right now in neuromodulation?_________________________________________________