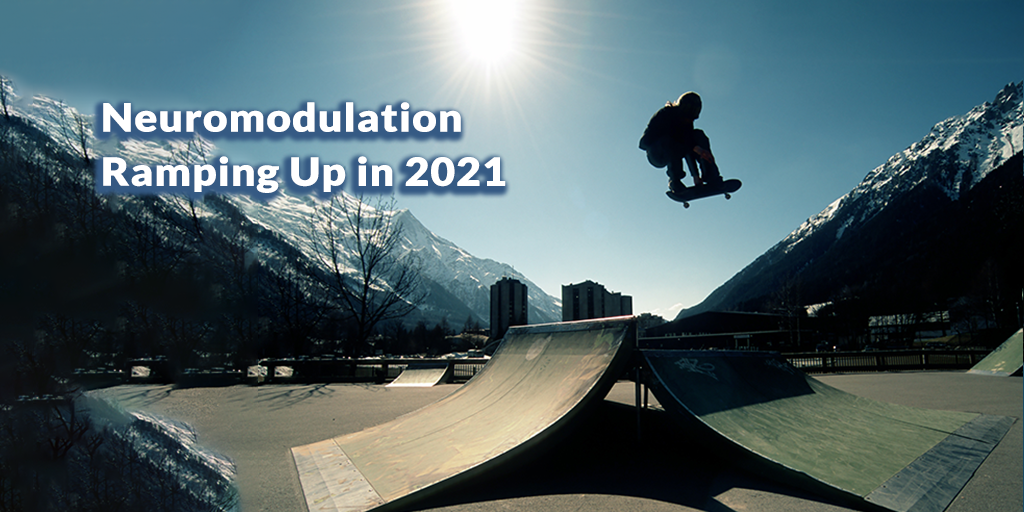 As in-person meetings start to ramp up in 2021, SmartTRAK identifies the latest research, technologies and trends from ASPN and the mid-year NANS meetings
In this article, SmartTRAK identifies the latest research, technologies and trends at two recent neuromodulation meetings: the mid-year North American Neuromodulation Society (NANS) 2021 meeting, held July 15-18 in Orlando, FL and the American Society of Pain and Neuroscience (ASPN) meeting held in Miami, FL July 22-25. Following are the highlights of the neuromodulation news from these meetings in the areas of expanding indications, digital solutions and peripheral nerve stimulation (PNS) as covered by Anne Staylor, SmartTRAK's Executive Editor, VP & GM, Nuero Therapies.
To read this fascinating and informative article in it's entirety, you must be a subscriber to SmartTRAK...here's how to subscribe.
SCS for Painful Diabetic Neuropathy

In regards to expanded indications, the biggest news during the mid-year NANS meeting happened on Friday, July 16th when FDA approved Nevro's* (NVRO) HF10 for ...

Non-Surgical Refractory Back Pain.

During NVRO's industry luncheon, Aaron Calodney, MD presented six-month data on 10 kHz SCS for non-surgical refractory back pain (NSRBP) vs CMM ...

Advances in Digital Solutions

All the major players in neuromodulation continue to advance patient care through innovative digital solutions and platforms designed to improve patient engagement and outcomes, track objective pain measures and ...

Boston Scientific: Using AI to Predict and Treat Pain

In an interview with

SmartTRAK

, Nilesh Patel, MD, vice president of medical affairs at Boston Scientific* (BSX), discussed the Company's latest research into digital initiatives and the IBM project, which is using advanced analytics, artificial intelligence (AI) and digital technologies to better understand, predict and ...

Medtronic Piloting CareGuide Pro

Charlie Covert, VP/GM of MDT's Pain Therapies, told SmartTRAK that MDT is currently in a pilot phase with the CareGuide Pro, a software app designed to manage the patient's care journey from pre-implant through follow-up. It will include ...

Abbott Advances Remote Programming

ABT was the first company to bring remote programming for neuromodulation to the US market through its NeuroSphere Virtual Clinic, which the Company launched in March 2021. Since then, the Company ...

Nevro Looks to Boost Omnia Utilization through HFX Connect

At NANS, NVRO highlighted its HFX brand platform and its Senza Omnia SCS powered by HFX Connect, the centerpiece of its digital strategy. The full launch of this recent upgrade is currently ...

Peripheral Nerve Stimulation Ramping Up

There is a growing number of companies, products and research studies in PNS as device manufacturers look to address more focal chronic pain conditions that can be more difficult to treat with SCS or other pain therapies. The market for PNS ...


Stimwave Technologies

Stimwave was showcasing its recently launched next-gen Freedom* PNS and SCS products at the mid-year NANS meeting, an upgraded platform based on ...

Mainstay Medical: Slow, Deliberate Launch in 2021


Mainstay Medical initiated a limited market launch of its ReActiv8 implantable Restorative Neurostimulation System in June for the treatment of intractable, mechanical chronic low back pain associated with dysfunction of the lumbar multifidus muscle, a key stabilizing muscle of the low back. The implantable therapy includes ...


Moventis PNS

At the mid-year NANS meeting, newcomer Pain Specialists Group was showcasing the Moventis PNS, a novel PNS system that received FDA 510(k) clearance in ...

Other Important Neuromodulation News


Including detailed data, study results and new product info
If you are already a subscriber to SmartTRAK, just click here to read the article in its entirety. If not, click the button below to learn more.
*The complete article and these links can only be viewed by SmartTRAK subscribers. For more information on SmartTRAK, including how to receive a demo and subscribe, please click here.
---
SmartTRAK is a comprehensive, easy-to-use, business intelligence solution for the Life Sciences Industry that provides breaking updates on pertinent company news, potential treatments and guidance, international survey results, statistical analysis by country, studies, trial results, financial impact and more. All subscribers receive a Daily Updates email containing the latest need-to-know news curated by our expert analysts. It's the perfect way to start your day! If you would like to learn more about SmartTRAK, just click here.